Hydroproject
The main project of Pingjiang Pumped-storage Power Station officially started
The total investment of the project is 8.8 billion yuan, and the first unit will be put into operation at the end of 2025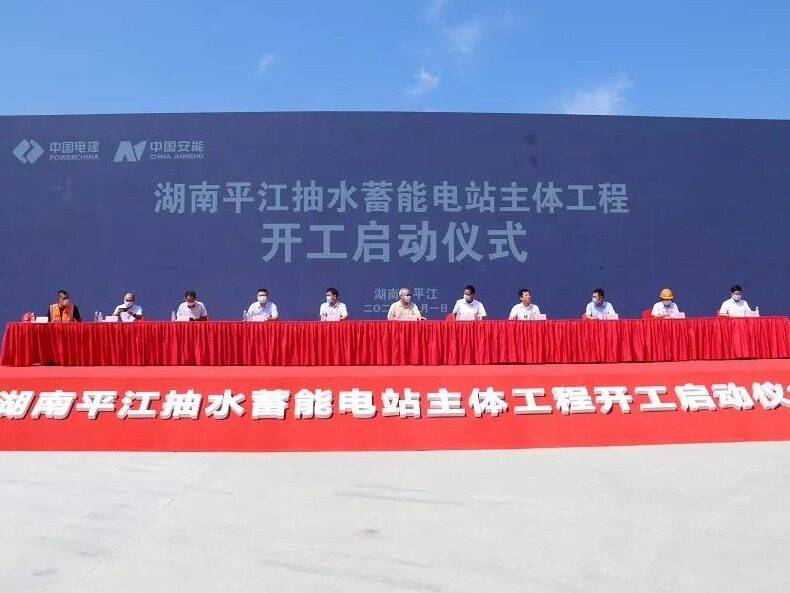 On August 1, 2021, the groundbreaking ceremony for the main civil construction and metal structure installation project of the Pingjiang Pumped-storage Power Station in Hunan Province, jointly undertaken by China Aneng First Bureau and China Hydropower Eighth Bureau, was held in Fushoushan Town, Pingjiang County. The construction of Zhupingjiang Pumped Storage Power Station officially started.
Pingjiang Pumped Storage Power Station
According to reports, the Pingjiang Pumped-storage Power Station is the second pumped-storage power station in Hunan Province, with a total installed capacity of 1.4 million kilowatts and a total investment of 8.8 billion yuan. The first unit is planned to be put into operation by the end of 2025. After the power station is completed, it will undertake tasks such as peak shaving, valley filling, frequency modulation, phase modulation, and emergency backup to provide a strong guarantee for the safe and stable operation of the Hunan and Central China power grids.
The contract amount is 1.781 billion yuan, and the total construction period is 3106 days. The main construction tasks include civil engineering construction such as the upper reservoir, lower reservoir, water delivery system, underground cavern group, underground powerhouse, housing construction engineering, and the embedment of metal structures and their accessories , Installation and commissioning. Aneng First Bureau is mainly responsible for the construction of the upper reservoir and the upper flat tunnel and upper inclined well of the water delivery system.
The Pingjiang Pumped-storage Power Station project is the first main project of a pumped-storage power station undertaken by the State Grid after the transformation of China's Aneng First Bureau. In the next step, the Engineering Bureau will closely focus on the goal of creating high-quality projects and earnestly fulfill the social responsibilities of transferring military to state-owned enterprises. According to the standard of sprinting at the beginning and decisive battle at the beginning, it will actively participate in the construction of people's livelihood in Pingjiang in a working state of dancing around the clock, working day and night, and rain or shine. , Strive to contribute the wisdom of Aneng to the high-quality development of Pingjiang, build a new brand of Aneng in China, and establish a new image of military transformation. Editor/He Yuting
0
Collect