Municipal
Dalian Zhongyi Dream Coastal Project officially starts construction
The project has an investment of 6 billion yuan and will become a new landmark of Dalian Jinshitan Cultural Tourism after completion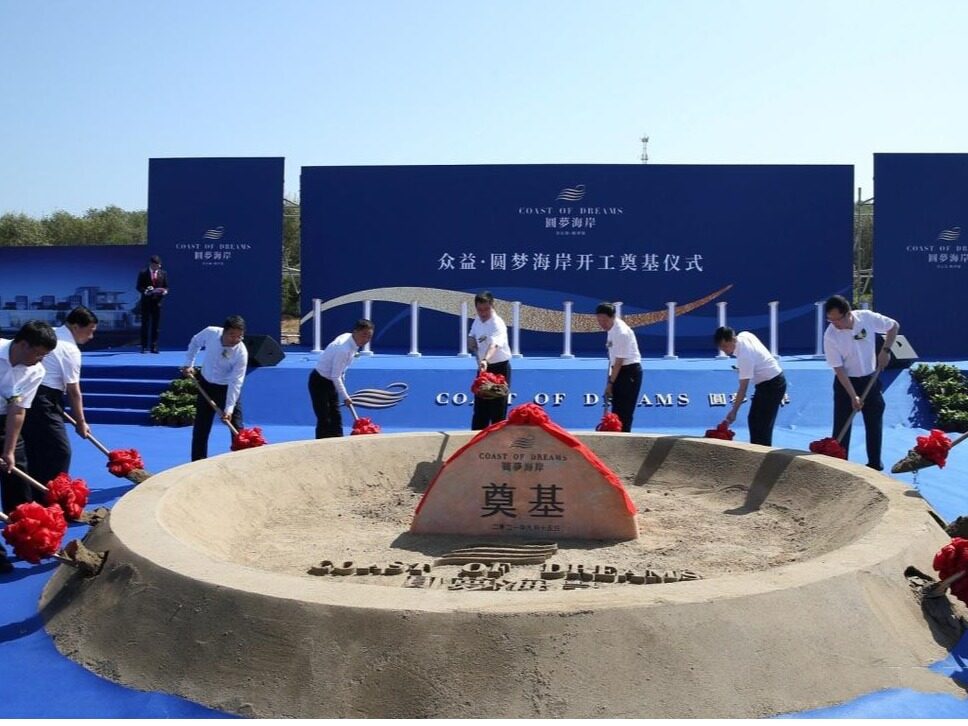 On September 15, 2021, the signing ceremony of Zhongyi·Banyan Tree China and the foundation stone laying ceremony of the Dream Coast will be held in Dalian Golden Pebble Beach National Tourism Resort. Li Pengyu, member of the Standing Committee of the Dalian Municipal Party Committee, Secretary of the Party Working Committee of Jinpu New Area, and Director of the Management Committee, and Zhang Zhihong, Deputy Mayor of Dalian, attended the ceremony and laid the foundation for the project together.
Cultural Tourism Landmark Project
Zhongyi Dream Coast is invested and constructed by Zhongyi Group. It covers an area of about 700,000 square meters. It is planned to invest about 6 billion yuan. It is located in the sea erosion wonder area of the southeast of Dalian Golden Pebble Beach National Tourism Resort. It mainly builds coastal resort hotels and hot springs. Resort hotels, tourist service centers, mountain luxury hotels, boutique homestays, coastal style commercial streets, fishing tourism cultural and creative theme blocks, wharf passenger transport centers, artistic interpretation squares, artistic life gathering areas, wedding theme squares, etc.
At the ceremony, Zhongyi Group signed a contract with Banyan Tree China, and the two parties will work together to build the first Banyan Tree hotel in Liaoning-Zhongyi Golden Pebble Beach Yueyuan Hotel. This is Banyan Tree China's first hotel project in Northeast China. After completion, it will rely on Banyan Tree's brand advantages to focus on health products such as hot springs, spas, and SPAs.
Zhang Zhihong, Deputy Mayor of Dalian City, said in his speech that the partnership between Golden Pebble Beach and Banyan Tree Group is not only an innovation of Dalian's resort tourism business, but also provides a development path for Dalian to deepen the structural reform of the tourism supply side and promote high-quality development. Make useful explorations, and at the same time demonstrate the unique location advantages, resource endowments and innovative consciousness of Jinpu New District to build a "cultural tourism aircraft carrier", and reflect the quality, taste and taste of Jinshitan to build a "world-class coastal tourist resort and a beautiful romantic love sanctuary" Brand pursuit.
Since 2021, Jinshitan has attracted a number of cultural tourism projects and leading enterprises with large investment scale, high construction standards, and strong radiation driving to settle down, including the Maritime Culture and Tourism City with a total investment of 8 billion yuan and a total investment of 2 billion yuan. Shengtang·Lanshan Resort Town and so on. Editor/He Yuting
0
Collect