Product
XCMG counterbalanced forklift successfully rolled off the assembly line
XCMG Port Machinery will continue to improve its intelligent production capacity and manufacturing capacity of key structural parts
After a series of commissioning, XCMG XCF1206K counterbalanced forklift successfully rolled off the assembly line recently and went to Hebei overnight to assist customers in handling, loading and unloading.
In order to meet the needs of large-load industrial handling at home and abroad, XCMG Port Machinery has successively developed a series of durable, high-end counterbalanced forklifts.
Guided by the market, focusing on customer needs, after more than 100 days of arduous R&D and testing, the first 12-ton load-class counterbalanced forklift was successfully rolled off the line. The successful roll-off of this product marked the development and The production capacity is more mature, and it is another masterpiece dedicated to the large-load industrial handling of domestic and foreign customers.
The XCF 12-ton forklift combines the characteristics of exquisiteness, flexibility, high stability, and high cost performance. It is another new star in the spectrum of XCMG's heavy-duty forklift models.
The XCF 12-ton forklift has a standard lifting height of 3000mm, a load center distance of 600mm, and a turning radius of 4250mm. Its performance has reached the mainstream level of the industry.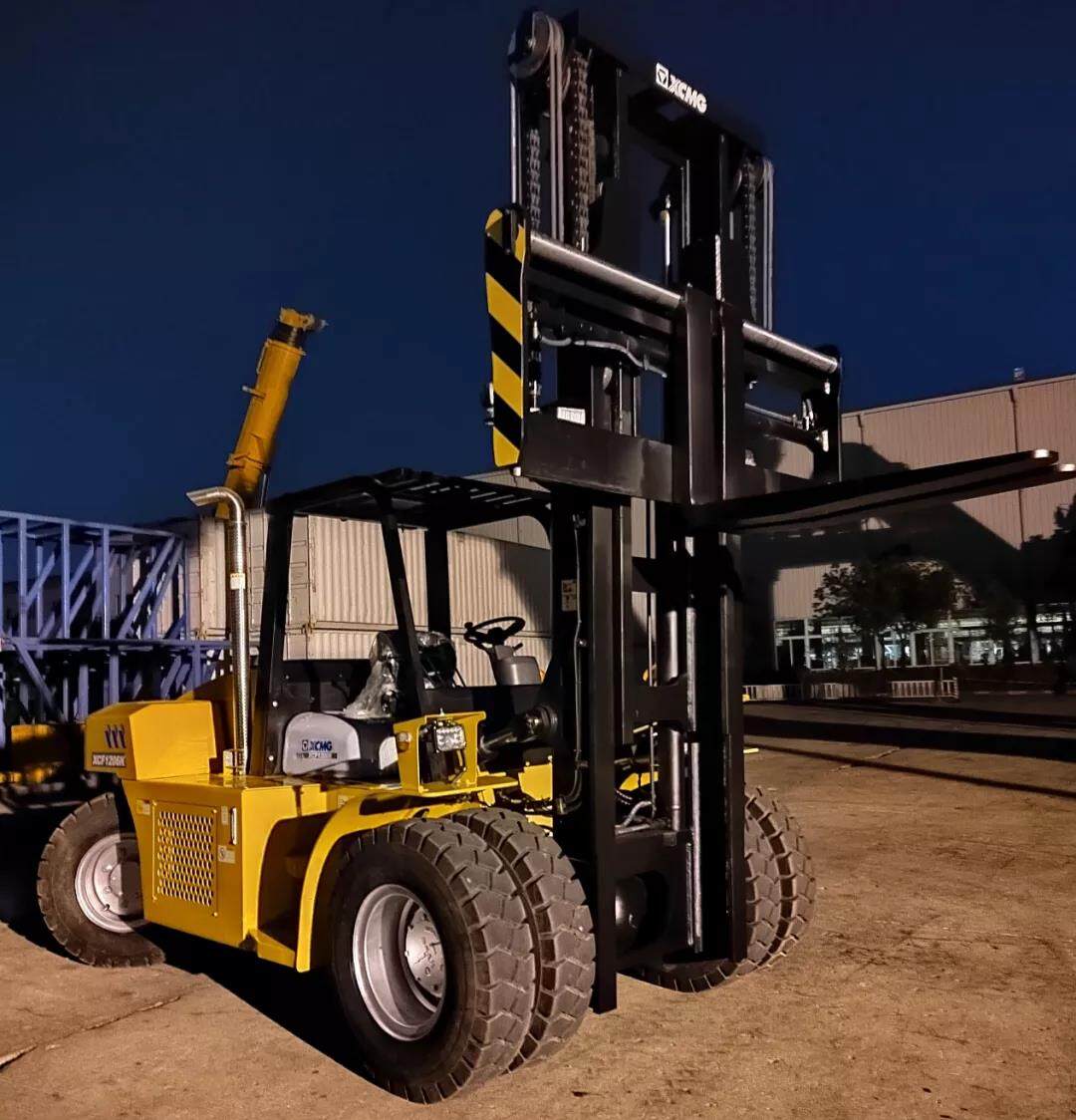 After a long period of assessment and market feedback statistics verification, XCMG counterbalanced forklifts continue to innovate, make breakthroughs, upgrades, and can adapt to harsh working conditions such as heavy dust, heavy load, and high strength, and can continue to operate efficiently in high-cold and high-temperature environments. Become the first choice for handling machinery in markets such as Central Plains and Northwest China.
●Based on the development and design of the new generation heavy fork platform of HAECO, XCF1206K is equipped with a high-strength, high-efficiency and high-stability lifting system, and is equipped with side-shift forks, making fork handling more convenient and safer
● Following the family streamlined shape, the visual effect is fuller and tougher
● High-end models will also be equipped with smart brakes, dynamic anti-rollover, enclosed cab, high-power air conditioning and other configurations
● Can be widely used in logistics areas such as freight yards, warehouses, ports, docks, railway and highway transfer stations
With the XCF1206K counterbalanced forklift slowly moving out of the port machinery production line, it is bound to embark on a new mission and journey to serve first-line customers and help customers create value.
Grasping the pulse of the market, XCMG Port Machinery will continue to improve its intelligent production capacity and the manufacturing capacity of key structural parts, further improve the model spectrum of heavy forklift products, provide more professional solutions for industrial handling needs, and improve the market competitiveness of counterbalanced forklifts. Occupancy rate sets a benchmark for the industry. Editor/Sang Xiaomei
0
Collect
Scan QR code
to subscribe