Exhibition
Escorting Wind Power | HAWE at the 2021 Beijing Wind Energy Conference
Harvey is committed to developing hydraulic solutions with technological innovation and cost advantages in the Chinese market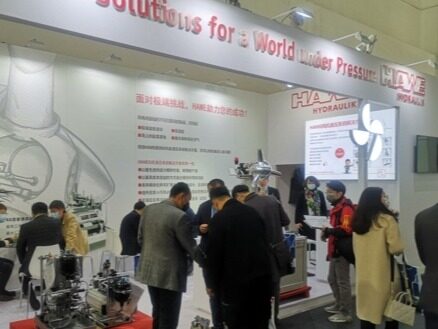 On October 18, 2021, the world's top wind power industry event, known as the industry barometer and trend indicator,-Beijing International Wind Energy Conference and Exhibition CWP, opened in the new hall of the China International Exhibition Center in Beijing. With the theme of Harmony-New Opportunities for Wind Power Development, it gathered many big names in the wind power circle, and the number of exhibitors exceeded 600. For a while, many new technologies and new products in the wind energy industry were unveiled one by one, showing all aspects. The cutting-edge technology and latest products of the entire wind energy industry chain.
As a leader in hydraulic technology in the wind power industry, Hawe Hydraulics focuses on new opportunities for the development of the wind power industry under the goal of carbon neutrality, and brings the latest wind power hydraulic solutions to the Wind Energy Conference, showing the development and innovation of Hawe in the wind power industry over the years. The innovative achievements of industry hydraulic solutions have also shared with many industry professionals Hawe Hydraulics products and services related to the wind power industry.
As a kind of green energy, wind power is an important direction of the global green and low-carbon transition. Under the background of "carbon peak and carbon neutrality", China's wind power industry has ushered in a period of major opportunities for rapid development. Each link of the industrial chain puts forward higher requirements, and among the many user fields of Hawe, wind power companies are the most typical ones.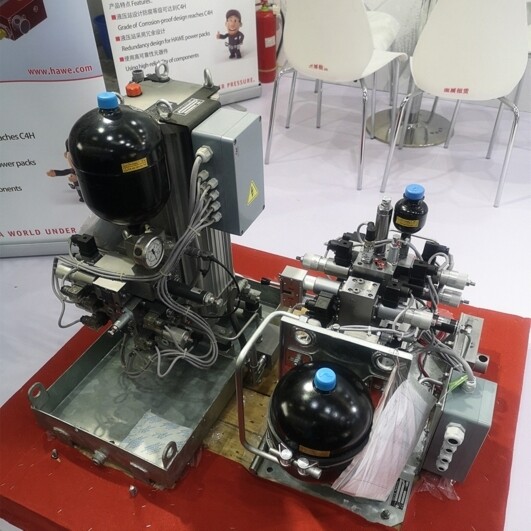 Wind turbines are a special kind of machinery. Almost every piece of equipment has a different installation location. In addition, it is difficult to maintain and maintain, so the requirements for hydraulic components of the wind turbine are naturally higher. At this conference, Hawe Liquid brought a compact and highly reliable hydraulic solution designed for wind power generation. 3MW fan brake and control hydraulic pump station and direct-drive fan brake control hydraulic pump station has control functions such as fan spindle brake, yaw brake, residual pressure and lock pin. It adopts radial plunger pump and can turn at any direction. , No need to worry about the phase sequence problem. It adopts oil-immersed motor, compact structure, small size, high reliability, and stable quality. It solves many industry problems such as the special working environment of wind turbines and the narrow installation space of pumping stations. Hawe Oil Hydraulic Technology (Shanghai) Co., Ltd. Marketing Vice President The manager said, "In the future, heavy machinery and equipment will no longer exist, and lightweight and miniaturization will gradually become the mainstream."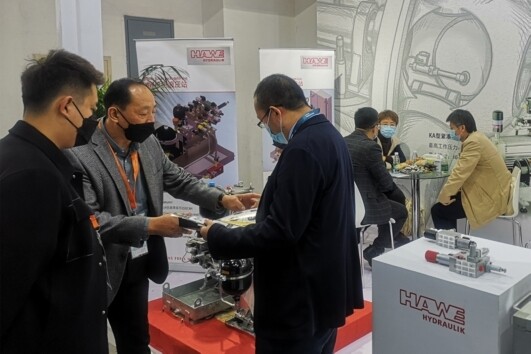 Great ideas inspire innovation. Harvey application engineers continue to optimize various functional modules based on the industry's rich experience. Harvey's latest wheel locking module and brake module improve safety and ease of operation. Leading shut-off valve technology makes the pumping station The pressure holding performance is outstanding, and the tens of thousands of pumping stations in operation prove that the quality of Hawe products is trustworthy!
Hawe Hydraulics has more than 70 years of experience in the development and production of high-pressure components and systems, and more than 20 years of professional experience in the electronic field. "In the future, we hope to increase cooperation with Chinese universities and make some real contributions to the development of China's hydraulic components. Said Yang Zheng, deputy general manager of marketing of Hawe Oil Hydraulic Technology (Shanghai) Co., Ltd.
The development in China is becoming more and more important for foreign-funded enterprises that are committed to international development. The huge market scale and abundant resources provide Hawei with a good growth soil. With the excellent quality of its products, Hawei Hydraulics is in Beijing this year. The wind energy conference gained widespread recognition from the market and customers.Editor/Baohongying
0
Collect