Central enterprises
China Power Construction Hainan has established a new company!
With the great wisdom accumulated in the field of infrastructure construction, POWERCHINA is achieving a leapfrog upgrade of itself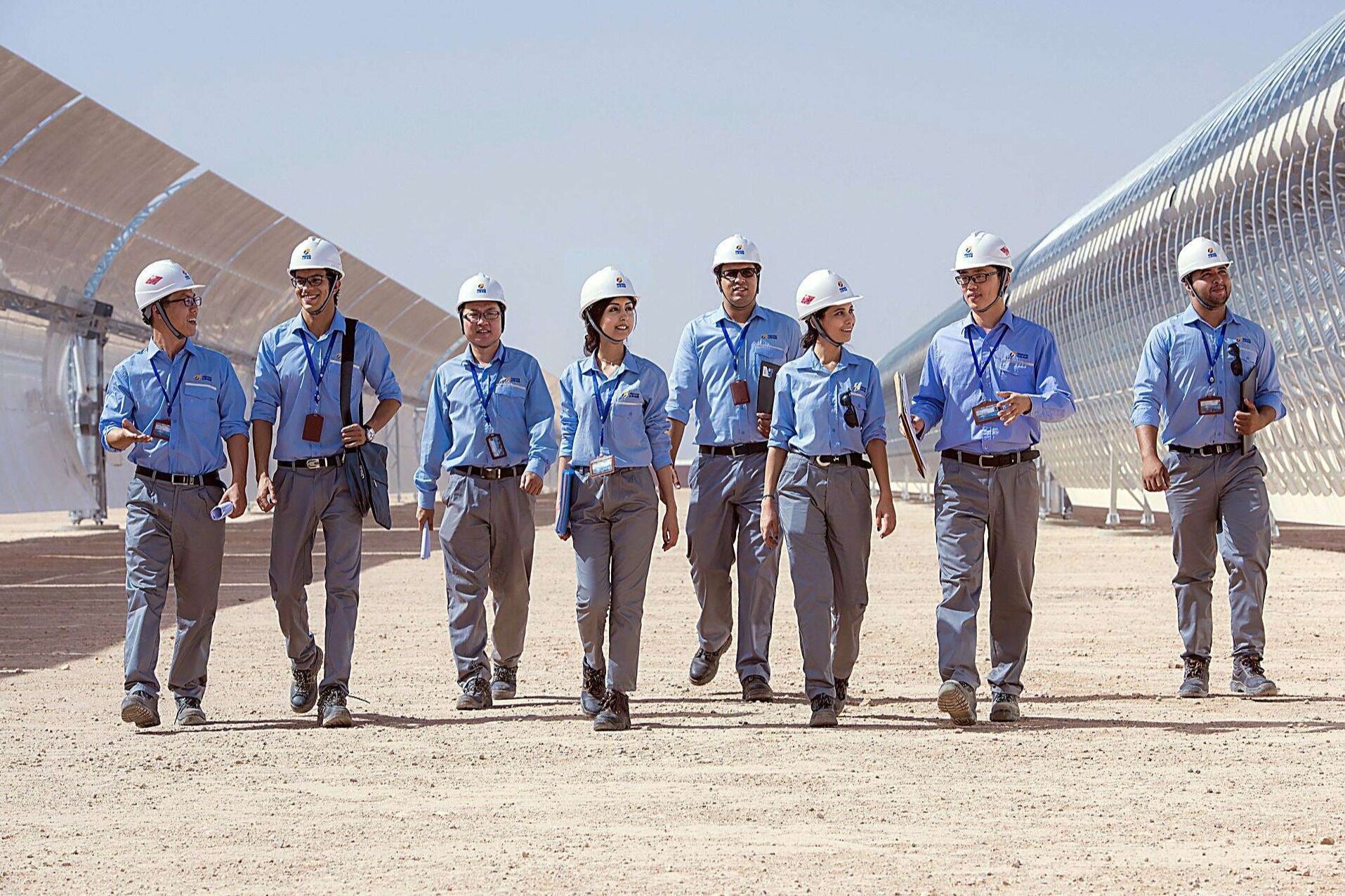 As an important force for Chinese companies to "go global," PowerChina relies on a smart development strategy to pursue the dream of a world-class enterprise with global competitiveness. Recently, China Power Construction has a happy event, that is, the establishment of China Power Construction Hainan Construction Investment Co., Ltd., the legal representative is Pan Jilu, the registered capital is 3 billion yuan, and the business scope includes power generation business, power transmission business, and power supply (distribution) business; Tap water production and supply; investment activities with own funds; corporate headquarters management, etc. The shareholding structure of China Power Construction and China Power Construction Southern Investment Corporation each account for 50%.
Why set up a company in Hainan
At present, Hainan is in a critical period of building a free trade port, and PowerChina, as an important partner of Hainan, is reasonable to establish a professional construction and investment company in Hainan. At the same time, it also means that China Power Construction will further take root in Hainan and integrate into Hainan's major deployments, and it will also lay a solid foundation for further expansion of Hainan's market development layout.
Important nodes of the historical relationship between China Power Construction and Hainan:
On March 22, 2019, Yan Zhiyong, Secretary of the Party Committee and Chairman of China Power Construction, called on Liu Cigui, then Secretary of the Hainan Provincial Party Committee and Director of the Standing Committee of the Provincial People's Congress. During the talks, Yan Zhiyong said that PowerChina actively responded to the call of the Party Central Committee to support the construction of free trade pilot zones and free trade ports with Chinese characteristics, implemented the development concept of green water and green mountains as golden mountains and silver mountains, and was willing to actively participate in energy, power, and water resources. Investment and construction in areas such as environment, infrastructure, Internet+, and the Belt and Road fulcrum. At the same time, it deepens cooperation in the reform of provincial state-owned enterprises and exchanges of cadres and talents, so as to provide China's power construction wisdom for the construction of Hainan Free Trade Zone and Free Trade Port. and strength.
In 2017, POWERCHINA built the world's first smart desalination project-Sansha City Zhaoshu Island Wind and Solar Storage Complementary Smart Micro-grid-Seawater Desalination Project, which not only meets the daily water consumption of residents on Zhaoshu Island, but also irrigates vegetable gardens. The "green life" way that Sansha people dream of.
On June 28, 2017, the "Hainan Internet Industry Investment Promotion Symposium" was signed for the CLP Hainan "Cultural Creativity + Intelligent Manufacturing" Double Innovation Demonstration Park Project. The park focuses on the concept of "marine ecological energy", and strives to cultivate 50 incubating companies within 3 years, introduce, develop, or digest 100 new technologies every year, and strive to cultivate 1 main board listed company, 5 new third board companies, and 20 new fourth board companies .
On December 13, 2020, at the signing of the fourth batch of key projects of the Hainan Free Trade Port, 9 central enterprises including Power China signed strategic cooperation agreements with the Hainan Provincial Government to carry out multi-field and in-depth cooperation to accelerate the construction of Hainan Free trade port. POWERCHINA will increase investment in tourism, modern service industries and high-tech industries in Hainan, expand the scope of cooperation in the fields of energy, electricity, water and environment, municipal infrastructure, key parks, and industry-city integration, and focus on Participated in the investment and construction of Wenchang International Aerospace City, Haikou Rail Transit, Jiangdong New Area, Sanya Headquarters Economic Zone and major water conservancy projects.
From the above timeline, we can see that PowerChina attaches great importance to the Hainan market. In 2021, the implementation of the six major national strategies of "3+2+1" has expanded the market space of the construction industry and provided a leading direction. That is to say, based on the new development stage, practice the new development concept, build a new development pattern, focus on building the three major urban agglomerations of Beijing-Tianjin-Hebei, Yangtze River Delta, and Guangdong-Hong Kong-Macao Greater Bay Area, and accelerate the promotion of ecological protection and high-quality development in the Yangtze and Yellow River basins. Actively promote Hainan's comprehensive deepening of reform and opening up, and build Hainan's free trade port. These six important regions of China Power Construction have already been deployed in advance, and the establishment of a professional construction and investment company in Hainan this time is also one of the major strategies for the layout of Hainan.
A once-in-a-lifetime opportunity
PowerChina is a global leader in clean and low-carbon energy, water resources and environmental construction. From the perspective of Hainan, it is very much looking forward to Power China's ability to build on Hainan's advantages and leverage on the strengths of state-owned enterprises to vigorously promote the construction of Hainan's clean energy island and help Hainan's green and low-carbon economy, water environment governance, and water conservancy infrastructure development and improvement.
From the perspective of PowerChina, PowerChina has the industrial advantages of "water, energy, and city" and the advantages of "investment, construction, and operation" integration. Through the strategic cooperation agreement signed by China Power Construction and the Hainan Provincial Government, Hainan The province's "14th Five-Year Plan" aims to strengthen cooperation with outstanding international new energy enterprises and Hainan provincial enterprises, and increase cooperation with Hainan Free Trade Port in the fields of "water resources and environment, clean energy, urban infrastructure, and rural revitalization". Investment construction intensity. At the same time, it also laid a solid foundation for the implementation of subsequent projects.
At the inauguration ceremony, PowerChina Southern Regional Headquarters and Hainan Construction Investment Co., Ltd. respectively signed strategic cooperation agreements with Haikou Municipal People's Government and Hainan Agricultural Reclamation Group, signed technical cooperation agreements with Norwegian Petroleum, and signed agreements with Haikou Jiangdong New Area and China Agricultural Development Bank. Hainan Branch signed a strategic cooperation agreement.
Through the establishment of a professional construction investment company in Hainan, Power China has not only jointly written a beautiful new chapter of cooperation between the central and local governments, but also a good opportunity for Power China to use Hainan as a large stage to show its power construction style. .
Looking to the future, PowerChina will adhere to high-quality construction and perfect quality, actively fulfill its social responsibilities, build a harmonious enterprise recognized by the government and owners, satisfied with employees and the society, and strive to create value and give back to the society. China Power Construction, the future is unlimited! Editor/Sang Xiaomei
0
Collect