Forum
The third ministerial meeting of the China Latin American Community Forum held
The theme of this conference is to overcome the difficulties together and build a China-Latin America community together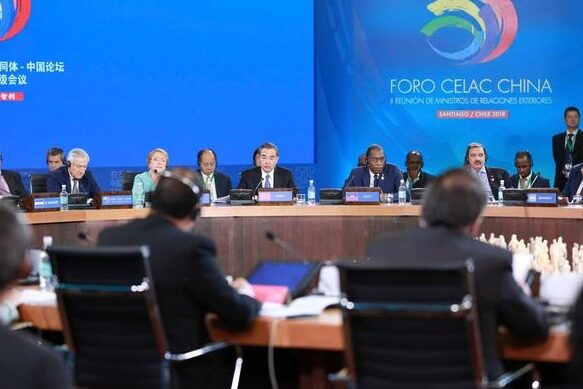 The third ministerial meeting of the China-Latin America and the Caribbean Community Forum will be held on November 3, 2021 in video mode. The theme of the meeting is "Overcoming difficulties, creating opportunities together, and jointly promoting the construction of a China-Latin America community with a shared future." In the context of a century of change and a century of epidemics, China-Latin America's cooperation across the Pacific will add new impetus to China-Latin America's move to a higher level of cooperation and higher-quality development.
Those with ambitions do not take mountains and seas as far away. Since 2020, when the new crown epidemic is raging in Latin America, China has extended a helping hand to Latin America, and China and Latin America have watched each other and carried out all-round anti-epidemic cooperation to help Latin American countries build immune barriers and restore social and economic life. From sharing China's anti-epidemic experience, to the delivery of a variety of Chinese vaccines to Latin America, to Chinese companies investing in the construction of vaccine production plants in Latin America, China and Latin America have joined hands in fighting the epidemic to ignite the hope of the Latin American people to overcome the epidemic.
Chilean President Pinera once went to the airport to greet the Chinese vaccine. In his view, the Chinese vaccine is "the light at the end of the tunnel." Latin American government officials, including Salvador's Minister of Health Francisco Arabi, Ecuador's Minister of Health Garzon and other Latin American government officials, thanked China for the "timely rain" of vaccines. The vaccine plant invested and constructed by China Kexing Company in Chile is expected to have an annual output of 60 million doses after it is put into production in April 2022. Ernesto Santibanez, a scholar in the Department of Industrial Engineering of the University of Talca in Chile and an expert in supply chain and logistics, said that the investment and construction of a plant in Chile by the Chinese Coxing Company will enhance the resilience of the Latin American vaccine supply chain.
At present, the world economy is facing increasing uncertainty and instability, and countries are facing the dual tasks of preventing and controlling the epidemic and restoring the economy. In this context, China-Latin America economic and trade cooperation has bucked the trend and delivered a dazzling report card, demonstrating strong resilience and vitality, and setting a global model. Statistics from the China Council for the Promotion of International Trade show that at present, China continues to maintain its status as Latin America's second largest trading partner, and bilateral trade has exceeded US$300 billion for three consecutive years. From January to September 2021, China-Latin America trade volume bucked the trend and rose to US$331.88 billion, a significant year-on-year increase of 45.5%. Latin America is also the second largest destination for Chinese foreign investment, with more than 2,700 Chinese-funded enterprises in Latin America.
Latin American countries organized groups to come to China
As China continues to improve the quality and level of opening to the outside world, Latin American countries have "organized groups" to market in China, and China-Latin America economic and trade cooperation is rejuvenated. At the Service Trade Fair in 2021, Chile, Mexico, Colombia, Cuba, Uruguay, Ecuador, Dominica and other countries will jointly organize special events in Latin America and the Caribbean to promote investment and economic cooperation between Chinese and Latin American companies. From Mexican avocados to Chilean cherries, from Uruguayan beef to Argentine red wine, the "Delicious Way" has become a delicacy on the Chinese table. From exporting high-quality consumer products to Latin American companies entering China to share development opportunities, from the China International Trade Fair to the China International Import Expo, China-Latin America economic and trade cooperation benefits each other and the world.
Latin America is an indispensable and important participant in the construction of the Belt and Road Initiative. Brazil's Belgrano UHV transmission line, Argentina's Belgrano freight railway reconstruction project, Jamaica's north-south highway project... China-Latin America's joint construction of the Belt and Road is in line with the development needs of Latin America, helping Latin America's infrastructure construction, bringing benefits to local people, and driving Economic development and social progress in Latin American countries. Ernesto Kalissaya, a Bolivian social researcher, believes that China's One Belt One Road initiative has played a significant role in promoting the socio-economic development of Latin America and the Caribbean. This is not only reflected in the trade activity of various countries, but also in investment. , Tourism and cultural communication and other fields. Keywords: One Belt One Road, One Belt One Road News, One Belt One Road Project
Knowing each other has no distance, and thousands of miles are still neighbors. In July 2014, the leaders of China and Latin American and Caribbean countries jointly announced the establishment of the China-CELAC Forum, which opened up a new path for China-Latin America overall cooperation. In the past seven years, under the framework of the China-Latin America Forum, China and Latin America have successfully held two ministerial meetings, a video conference of special foreign ministers in response to the new crown epidemic and 46 sub-forums in 18 professional fields, which greatly enriched the overall cooperation between China and Latin America. In the past seven years, the China-Latin America Forum has developed vigorously and has become a major platform for gathering friendly forces from all walks of life in China and Latin America, and has made important contributions to deepening China-Latin America relations. After experiencing international changes, China-Latin America relations have entered a new era of equality, mutual benefit, innovation, openness and benefiting the people. Moving forward hand in hand, China and Latin America will build a community of shared future with stability and long-term progress to benefit the world.Editor/XuNing
0
Collect