Investment
Jinchuan Group was awarded the Gansu Smart Factory and Digital Workshop
Jinchuan Group, China's nickel capital, is a leading non-ferrous metal enterprise in China and the world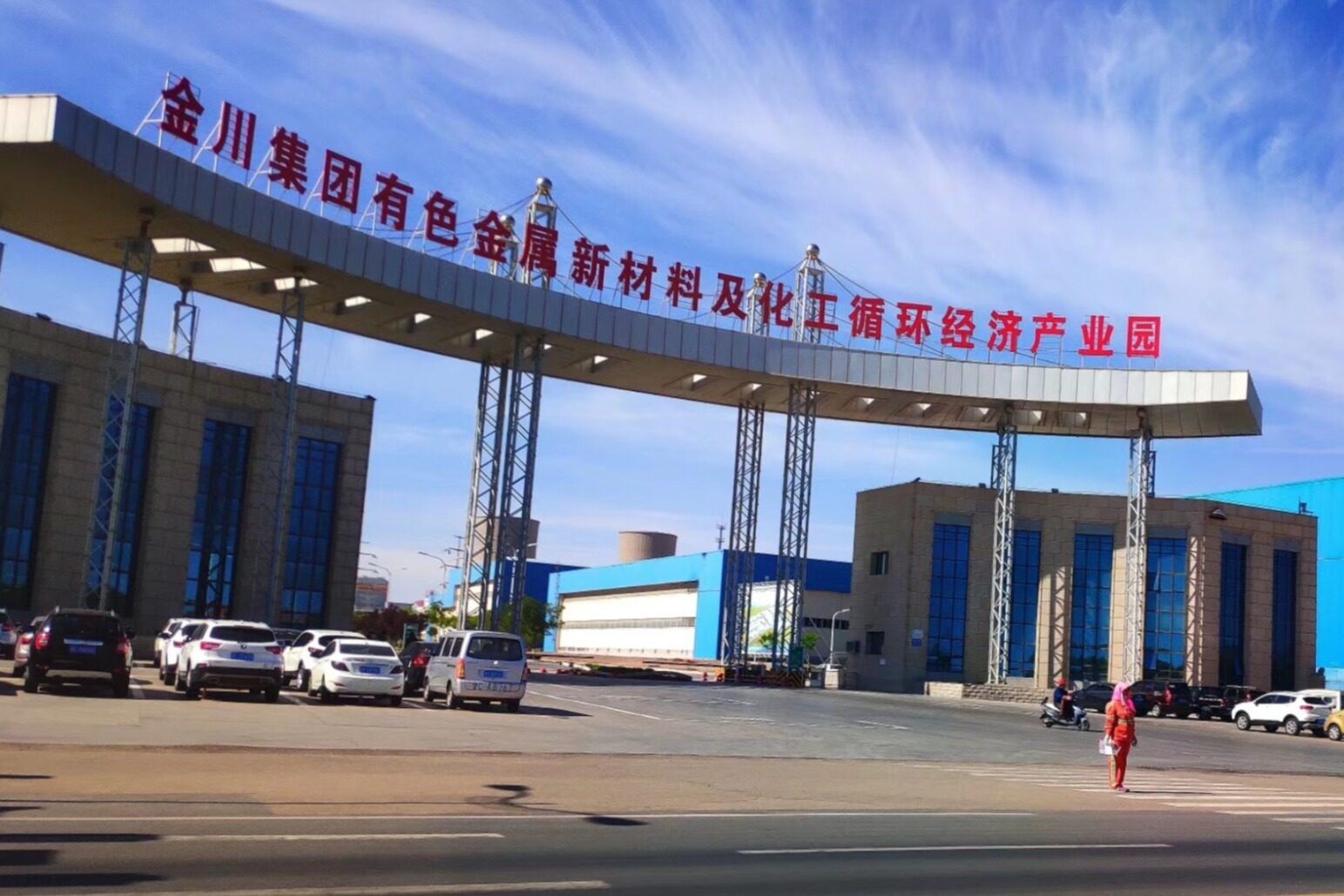 Recently, the Gansu Provincial Department of Industry and Information Technology released the list of the second batch of smart factories and digital workshops in Gansu Province. It provides a demonstration sample to help the transformation and upgrading of industrial enterprises in Gansu and the transformation and upgrading of the non-ferrous industry.
The management of the identification of smart factories and digital workshops in Gansu Province is organized by the Gansu Provincial Department of Industry and Information Technology to select benchmarks for intelligent and digital manufacturing enterprises in Gansu Province. The identification of digital workshops is mainly based on the digital development level of enterprises. Enterprises that play a leading role in equipment automation, product research and development, production management, quality control, etc. in the same industry, aiming to accelerate the transformation of new and old kinetic energy in Gansu Province, promote the advanced industrial foundation, modernize the industrial chain, and achieve high-quality development.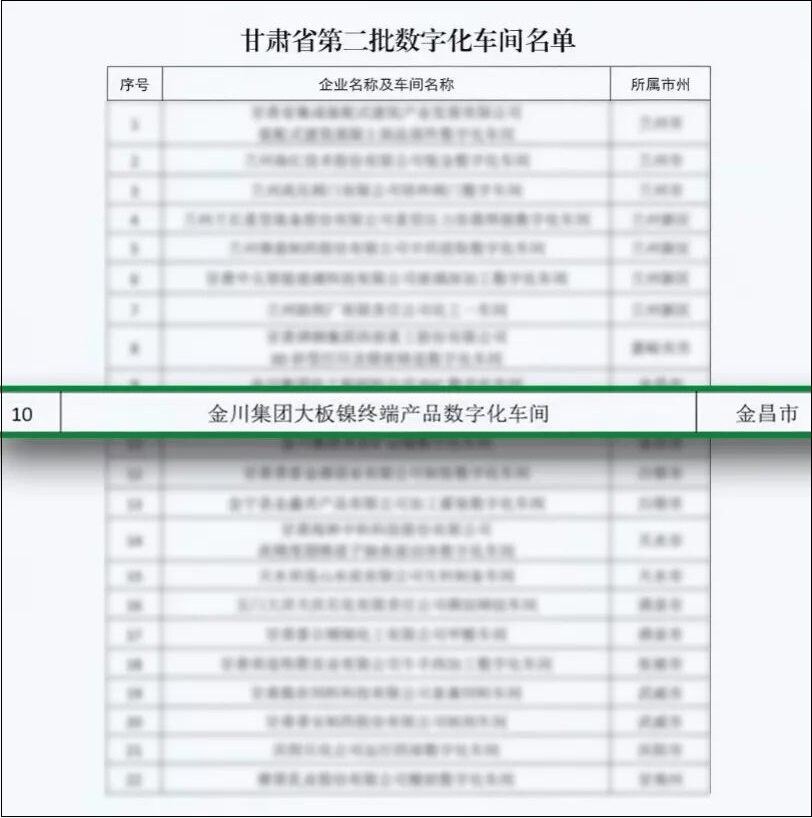 The successful selection of "Jinchuan Group Slab Nickel Terminal Product Digital Workshop" empowered by Shugen Internet is an affirmation of the digital transformation effect of Jinchuan Group's large plate nickel workshop, as well as the strength recognition of the value of Shugen Internet's "new base for digital transformation" .
As the "Nickel Capital of China", Jinchuan Group ranks fourth in the world in nickel output and third in cobalt production. It is the leading non-ferrous metal enterprise in China and even in the world. Its materials are widely used. Nickel and cobalt raw materials provided by Jinchuan Group Corporation. As a traditional manufacturing industry, its raw materials are multi-element resource symbiosis, with large grade fluctuations, complex smelting process, long process flow, a large number of complex physical and chemical changes in production, high safety and environmental protection pressure, high labor and energy costs, and stable and continuous production pain points many.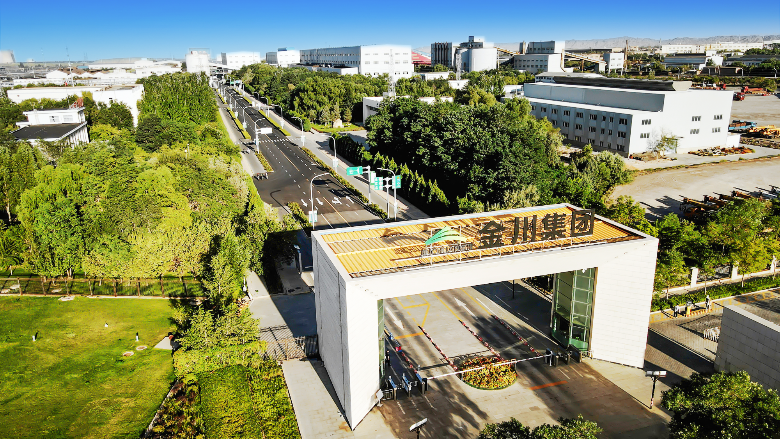 The finished product packaging workshop of the nickel smelter subordinate to Jinchuan Group (hereinafter referred to as the "finished product workshop") is the image window for the group company to ship nickel products to the outside world. However, it needs to go through more than 10 processes such as product transportation, inspection and grading, shearing, shaping, flattening, weighing, coding, bundling, weighing, packaging, warehousing, and loading. There are still many "deserts" in terms of digitalization and intelligence.
In the production process, the lifting, cutting, crane, packaging, coding, film wrapping, hanging, shaping and other processes are all completed by manpower, with high production risk factor, high labor intensity and low operation efficiency; in the management process , Because of relying on original means such as manual records and paper storage, a series of valuable "data resources" such as upstream incoming materials, testing and grading, nickel plate delivery, equipment maintenance, etc. are not only prone to errors and losses, but their business empowerment value. Also "sleeping".
In response to the problems existing in the production and management of its finished product workshop, Shugen Internet completed the data collection and docking of subsystems such as large-plate nickel processing units, smart crane systems, and AGV systems based on the 5G+ industrial Internet platform, and completed the production and supply links of the workshop. interconnection. Fully tap the value of 5G+ industrial Internet technology, and build Jinchuan Group's first 5G+ intelligent comprehensive management and control platform demonstration project, integrating all elements of production management with intelligent management and control, helping finished product workshops to achieve green, information-based, and intelligent construction.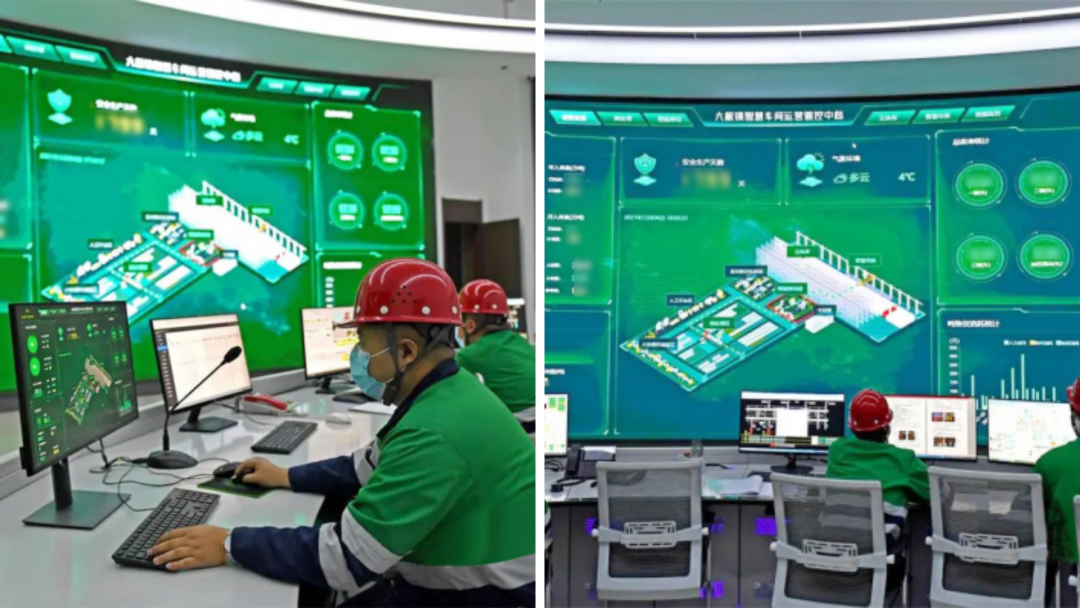 Jinchuan Group Corporation Large Plate Nickel Smart Workshop Operation Control Center
After the project is put into use, the production efficiency of the finished product workshop and the quality and reliability of electro-nickel products have been comprehensively improved, bringing gratifying benefits and making the data fully "blooming": the online workshop business and production management are expected to save costs every year. 20%.
The interconnection and intelligent monitoring of workshop equipment can effectively reduce unplanned downtime accidents by 10%, and increase the output of nickel products by 30% throughout the year; Saving energy and transportation costs over one million yuan.
In addition, unmanned operation and safe isolation of man and machine completely eliminate the potential safety hazards of manual operation, realize the safety management goal of "zero harm" in cutting, packaging and shipping operations, avoid operation risks, and improve the safety continuity of the production line .
The construction of digital workshop is the main battlefield for manufacturing enterprises to implement intelligent manufacturing, and it is the starting point for manufacturing enterprises to move towards intelligent manufacturing. Tree Root Internet helps Jinchuan to carry out digital transformation, which provides strong support for Jinchuan to further enhance its core competitiveness and deepen the development of the non-ferrous industry. In the future, Tree Roots Interconnect will play an exemplary role in leading the transformation and upgrading of intelligent manufacturing, continue to deepen the digital transformation and upgrading of industrial manufacturing, and help Chinese industrial enterprises to transform and upgrade and develop high-quality economy.Editor/Ma Xue
0
Collect