New infrastructure
Shenzhen data center project started
After the project is completed, it will become an important computing power hub serving the Greater Bay Area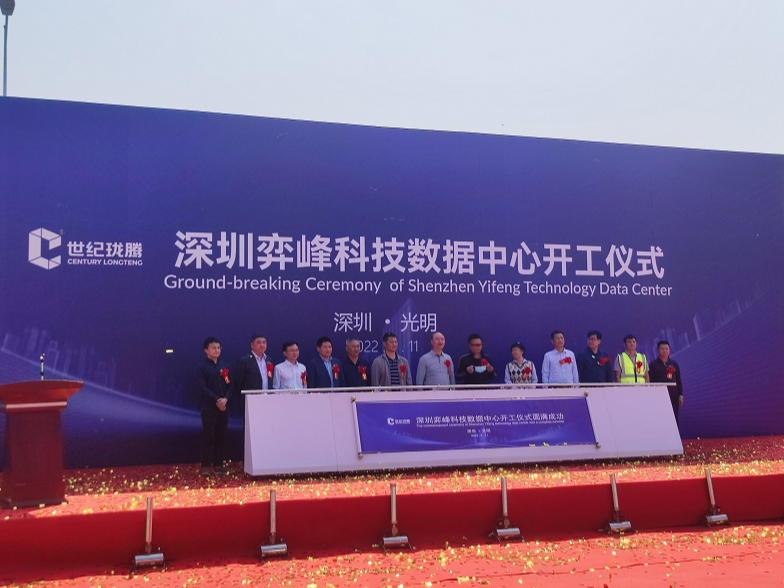 On March 11, 2022, the construction of Century Huatong Shenzhen Data Center Project officially started. According to reports, the data center will consist of three high-standard buildings and plans to deploy 12,000 cabinets.
In addition to the large size, the Shenzhen data center project also has great advantages in many aspects. In terms of construction standards, the project is constructed in strict accordance with the international standards UPTIME/Tier-IV, Tier-III and the national standard GB50174/Class A computer room construction requirements; in terms of technological innovation, the project adopts magnetic levitation chillers, indirect evaporative cooling, diffuse type Innovative technologies such as air supply, high-frequency modular uninterruptible power supply, prefabricated power modules, intelligent perception centralized monitoring platform, artificial intelligence (AI) system optimization, etc., promote the construction of a new generation of advanced computing power centers; in terms of energy conservation and low carbon, the project Extensive use of energy-saving equipment, cascade utilization of natural cooling sources, waste heat recovery from the machine room for self-use, and dynamic adjustment of control strategies to ensure that the average annual PUE is less than 1.25; in terms of green environmental protection, the project adopts an intensive land use method to reduce the floor space and also Measures such as prefabricated construction facilities, prefabricated processing equipment, harmless recycling of batteries, full utilization of medium rainwater, and three-dimensional space green plants have been introduced to maximize the green and environmental protection requirements of the project and build a smart ecological park with human-machine symbiosis.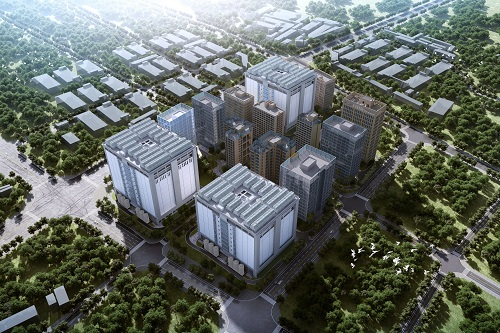 Shenzhen data center project renderings
With the rapid development of the digital economy, the demand for computing power in the whole society is also showing a rapid growth trend. According to data from relevant institutions, it is expected that by 2025, the market size of China's data center will reach 595.2 billion yuan.
Combining its own advantages, Century Huatong has entered the field of Internet data centers since 2020, becoming its main business alongside online games and auto parts, and has successively deployed data centers in first-tier cities such as the Yangtze River Delta and the Pearl River Delta. Among them, the Tencent Yangtze River Delta Artificial Intelligence Advanced Computing Center project located in Songjiang District, Shanghai has completed the smooth delivery of the first batch of cabinets in the second half of 2021. The company will continue to expand to other regions around the national strategic plan of "East and West". At the same time, Century Huatong has successively established in-depth cooperative relationships with leading companies such as Westone, Tencent Cloud, and Huawei, and quickly established advantages in data security, government cloud development, new-generation data centers, smart energy, green and low-carbon, etc. The layout of the three-dimensional data center business.
In addition, in the third quarter of 2021, Century Huatong established Century Longteng with a purely domestic capital structure, and continued to make efforts in the fields of Internet data centers and cloud computing. In 2022, the company will carry out a strategic upgrade again, integrating the Yangtze River Delta and Shenzhen projects and other related businesses, and establishing the "Cloud Data Center Division" to steadily advance the company's core technology strategy. China has entered the digital age, and Century Huatong is also expected to gain more room for growth with its multi-dimensional competitive advantages. While expanding and strengthening its own business, it will also contribute to the country's digital foundation.
After the completion of the Shenzhen data center project, it will focus on serving leading Internet companies, large financial companies, government agencies and various industry leaders, becoming an important sector for the national layout of Century Huatong's data center business and an innovation base for new technology applications. Editor/He Yuting
0
Collect