Company
The world's first hybrid all-terrain crane ZAT2200VE863 leads the new era
Zoomlion leads the Chinese crane industry to continuously create in the field of large tonnage and all-terrain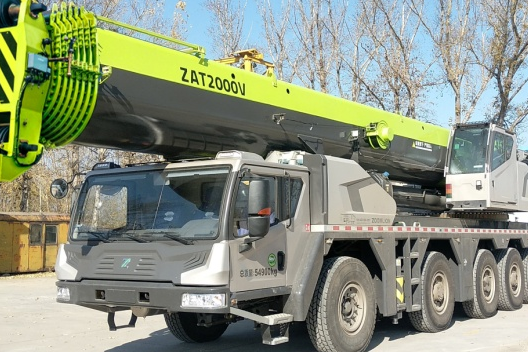 Zoomlion set another world record: the world's first hybrid all-terrain crane - ZAT2200VE863 (hybrid version) was released! After Zoomlion released the world's first pure electric crane, it once again made history and demonstrated the world's leading new energy technology and all-terrain crane development technology made in China.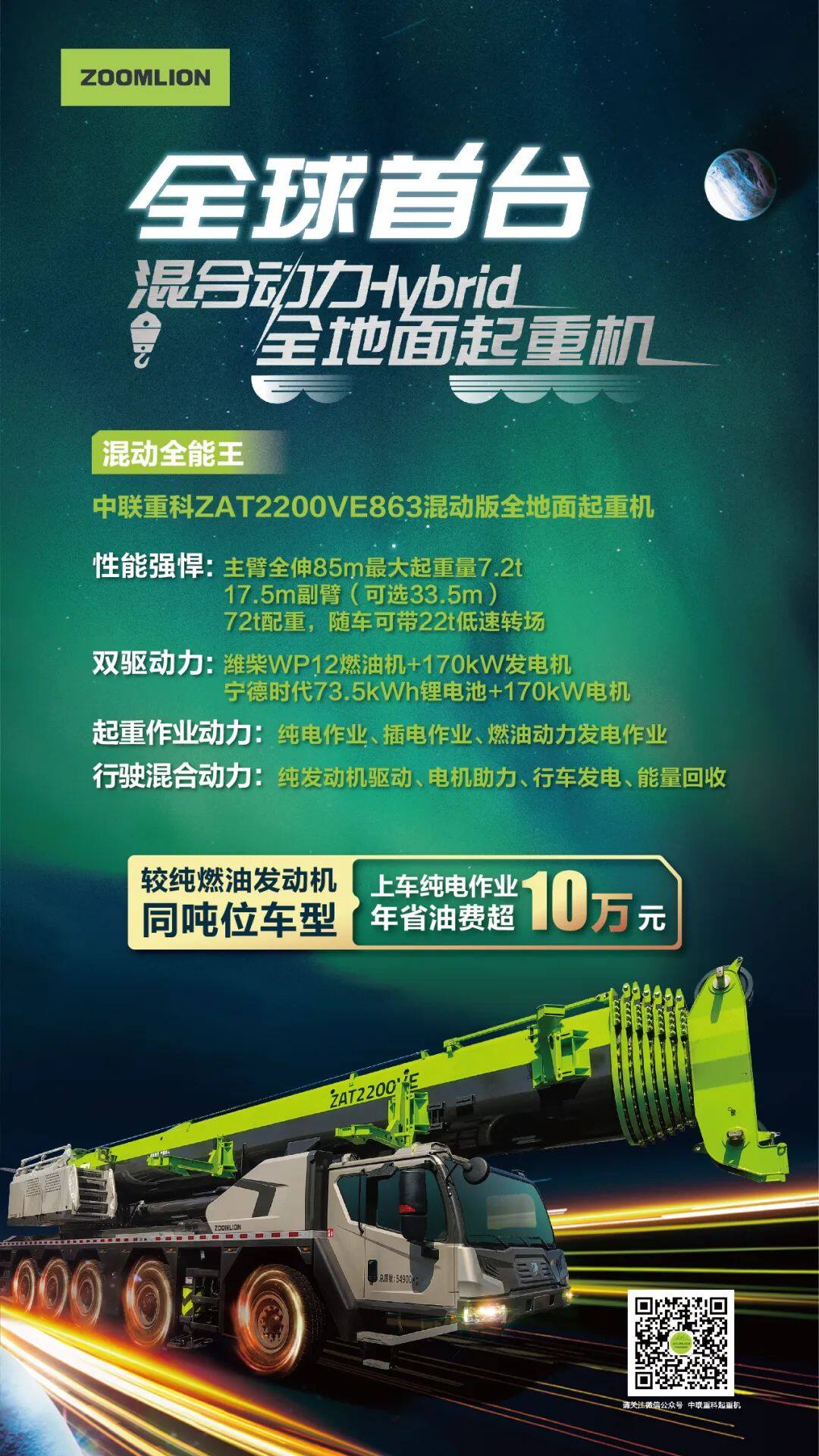 On-board operation: rich modes and plenty of power
As the world's first hybrid all-terrain crane, ZAT2200VE863 is equipped with CATL's 73.5kWh lithium battery + 170kW high-power motor, and has three lifting operation modes: pure electric operation, plug-in operation, and fuel power generation operation.
Pure electric working mode
Can work independently with battery for 8 hours!
Plug-in mode
The external 380V AC power supply can also charge the battery during operation. There is no fuel and urea consumption in pure electric and plug-in modes. Compared with the same tonnage of fuel vehicles: pure electric operation on the car, the annual fuel cost exceeds 100,000 yuan!
Fuel power generation mode
When the battery power is insufficient or the site cannot be plugged in, the chassis fuel engine drives the generator to generate power to provide power for the lifting operation, and the diesel engine always runs in the economical fuel consumption range that matches the motor, saving 35% compared to conventional fuel-fired cranes, powerful and fuel-efficient!
Chassis driving: surging power, hybrid fuel saving
Zoomlion ZAT2200VE863 adopts five-axle high-performance all-terrain chassis, equipped with Weichai WP12 fuel engine + 170kW high-power generator, dual-engine drive, maximum output power of 360kW, more powerful! The feeling of pushing back at the moment of starting makes you feel the surging power! In the process of braking and downhill, the alighting motor regenerates energy (and can replace the hydraulic retarder to assist braking), so as to generate electricity to charge the battery on the car! Save fuel and money to the extreme!
All ground, full capacity; big tonnage, big power!
At present, the hybrid and pure electric cranes launched at home and abroad are concentrated on the 25-ton small-tonnage truck crane. This time, Zoomlion has increased the tonnage of the hybrid crane by nearly 10 times, reaching the 220-ton class. Achieved a new record for the world's first all-terrain hybrid crane!
Behind this is Zoomlion's long-standing technical accumulation in large-tonnage and all-terrain cranes: from China's first 100-ton truck crane in 2003 to the world's first crane - QAY2000 in 2012, Zoomlion has always maintained Leading technology and outstanding market performance, ZAT18000H, the world's largest mass-produced all-terrain crane, ranks first in market share, and sales orders are in short supply.
The strong bear the heavy responsibility! Zoomlion leads the Chinese crane industry to continuously create and climb new heights in the world in the field of large tonnage and all-terrain.
Energy saving and environmental protection are the general trend, and fuel saving and money saving are the constant pursuit. The era of new energy has arrived. Zoomlion ZAT2200VE863, the world's first hybrid all-terrain crane, has three working modes: pure electric, plug-in, and fuel power generation. It is powerful, steady, light and quiet, and it is leading the way A new future picture, the current is rushing, and it is coming! Editor / Xu Shengpeng