Construction Frontline
Construction of a model school in Iraq undertaken by a Chinese company starts
In recent years, POWERCHINA has participated in the construction of several large-scale projects in Iraq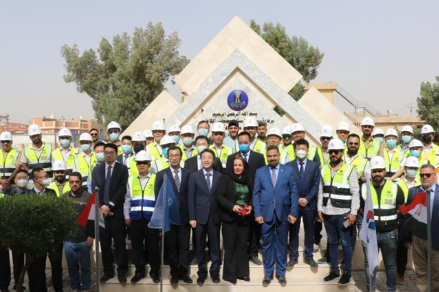 The groundbreaking ceremony for the demonstration school project of POWERCHINA in Iraq's Najaf Province was officially held in Najaf, a city in southern Iraq. Iraqi Cabinet Secretary Hamid Ghaz, Minister of Higher Education Ali Nabil, Najaf Governor Majid Wali and other government officials and representatives of owners attended the groundbreaking ceremony.
Secretary-General Hamid Ghazi said in his speech that the Iraqi Demonstration School Project, as a major political project and a livelihood project in Iraq, has important social and economic significance. After the project is completed, it will become a high-quality, modern style that meets the actual needs of Iraq. Demonstration school projects are of great significance to improving teaching conditions in the provinces.
The company representative said that the Iraqi government attaches great importance to the development of education, and POWERCHINA will give full play to its professional advantages and localized experience, coordinate internal and external resources, go all out to fulfill the project contract, ensure the construction period and quality, and strive to make the Iraqi model school project a reality. It will be built into a high-quality project in Iraq and contribute to China-Iraq economic and trade cooperation and the Belt and Road Initiative.
The construction content of the Iraqi Demonstration School Project mainly includes the main building, structure, water and electricity, ventilation and air conditioning, decoration, outdoor drainage system, water supply system, road walls and gates of the school. With the launch of the groundbreaking ceremony of the Najaf Demonstration School Project, the groundbreaking ceremonies of the subsequent provincial school projects will be held one after another. Keywords: One Belt One Road, One Belt One Road News, One Belt One Road Project
Over the years, POWERCHINA has built a number of major engineering projects in Iraq, involving power, housing construction, infrastructure and other fields. Among them, the Rumaila combined cycle power station project has been connected to the grid for power generation. By the end of 2021, it has provided more than 468 million kWh of electricity, making a positive contribution to alleviating regional power shortages and improving people's livelihood.Editor/XuNing
0
Collect