Environment
3.85 billion! Fujian Xianyou wading and solid waste field projects approved
The project will improve the ecological level of the river basin and achieve sustainable economic, social and environmental development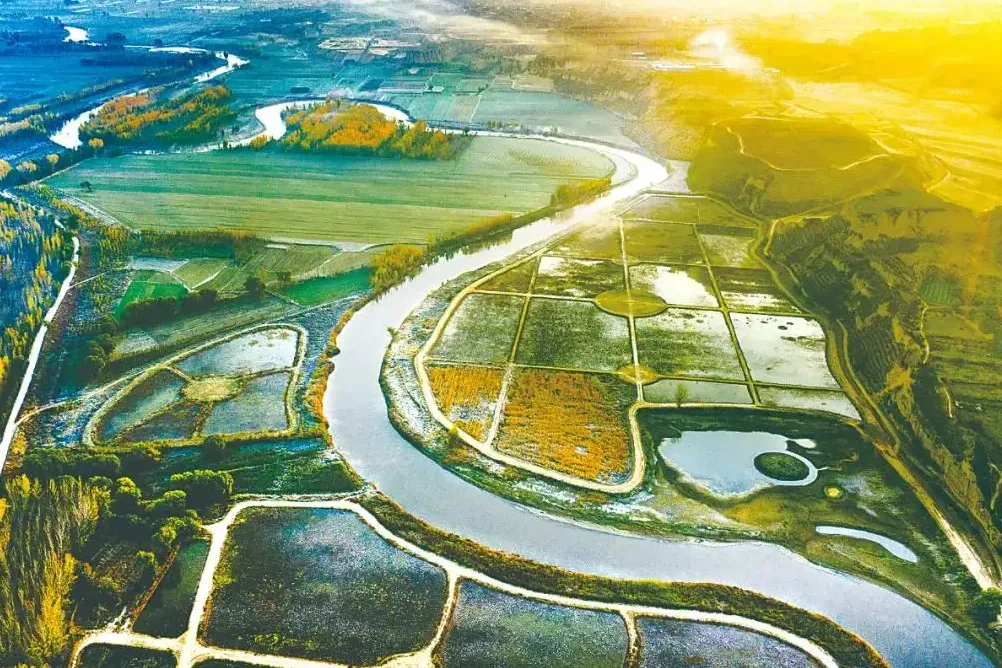 Recently, the Fujian Provincial Development and Reform Commission approved the "ADB Loan Implementation Plan for the Comprehensive Management and Improvement of the Ecological Environment of the Mulan River Basin in Xianyou County, Fujian Province", which was supported by a US$200 million loan from the Asian Development Bank.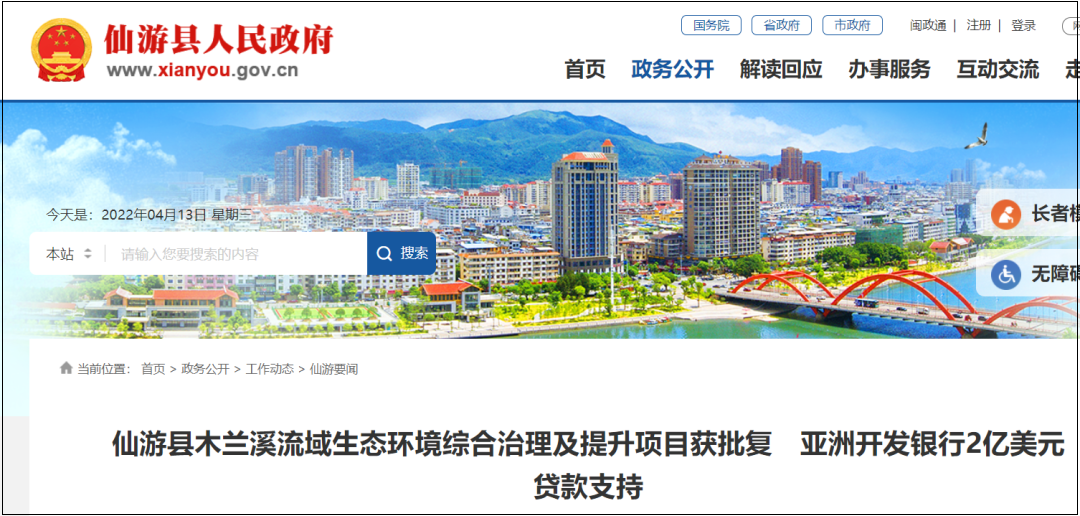 The final total investment of the project is set at 3.85 billion yuan, of which the ADB Development Bank loan is 200 million US dollars, and the KfW Bank loan is planned to be 120 million euros. Focusing on the strategic goal of "building a new era of strong economy, rich people, beautiful ecology, and thriving culture", the project construction includes the construction of sewage collection and treatment facilities, raw water diversion, garbage classification and resource utilization, and forestry protection. and promotion, digital Mulanxi information system, etc.
Mulan River Basin Water Resources Comprehensive Management Project
In the project, the Shuangxikou Reservoir is planned to be selected as the water intake for the ecological water replenishment project of the project. It is planned to take water from about 150m upstream of the pressure regulating shaft of the water diversion tunnel of Shuangxikou Power Station, through the new water transmission tunnel and water pipeline, to the Lingshan exit hole about 200m to the north of Lixin Reservoir, and then through the buried water supply pipeline to Xianyou City No. 2 Supply water from the water plant, and supply water to the inner rivers in the Libei area and Bangtou area. Its main construction contents include water delivery system and water supply pipeline. After the project is completed, the water supply rate in Libei and Bangtou areas will reach 100%.
Mulan River Basin Urban Water Environment Comprehensive Management Project
The construction content is divided into urban trunk road rain and sewage pipe network reconstruction project, old community rain and sewage pipe network reconstruction project, Licheng street rain, sewage pipe network reconstruction project, Linan construction area sewage pipe network reconstruction project, and main urban rainwater pipe network Terminal facility construction works.
The rain and sewage pipe network reconstruction project of the main roads in the urban area plans to reconstruct the rain and sewage pipe network of 18 roads in the urban area along the Mulan River; Reconstruction and construction of rain and sewage pipe networks in 8 old communities; Licheng Street rain and sewage pipe network reconstruction project is planned to be carried out in Fuyang Village, Laiyang Village, Jinjing Community and Baita Community, which belong to Licheng Street along the banks of Mulan River. For the renovation and construction of rain and sewage pipe networks, Fuyang Village is planned to build a sewage treatment station with a scale of 150m³/d and A²/O process due to its geographical location far away from the urban area; The sewage pipe network is reconstructed in the Linan construction area; the main urban rainwater pipe network terminal facility construction project plans to build a new storage tank facility at the urban rainwater pipe network terminal, including 20 rainwater storage tanks with a total volume of 20,000m³. Due to the different catchment areas, effective The volume range is 600m³~1500m³.
Fengting Characteristic Town Water Environment Comprehensive Treatment Project
Live life in Haibin Village, Hai'an Village, Jianguo Village, Feng Village, Kumhu Village, Gengfeng Village, Lanyou Community, Xueshi Community, Xiaqiao Community, Putou Community, Jiushe Village, and Xiajie Community in the plots on both sides of Fengcixi Sewage collection, newly built sewage pipelines ranging from DN200 to DN500 totaling 94.452m, the pipeline material is glass fiber reinforced plastic sand pipe; additional household pipe 254.344 km, the pipe diameter is DN150, the pipeline material is UPVC pipe; 22676 sewage inspection wells, the well material is reinforced concrete .
Water Environment Improvement Project in Townships Along the Mulan River
It is planned to renovate the sewage treatment of 66 administrative villages and 5 communities in the Mulanxi catchment area, involving a total of 6 townships. Among them, the new sewage pipes DN200~DN600 main pipes are about 363.746km long, DN150 household branch pipes are about 1385.254km long, and the pipes are made of UPVC pipes. There are 99,530 sewage inspection wells, and the wells are made of reinforced concrete.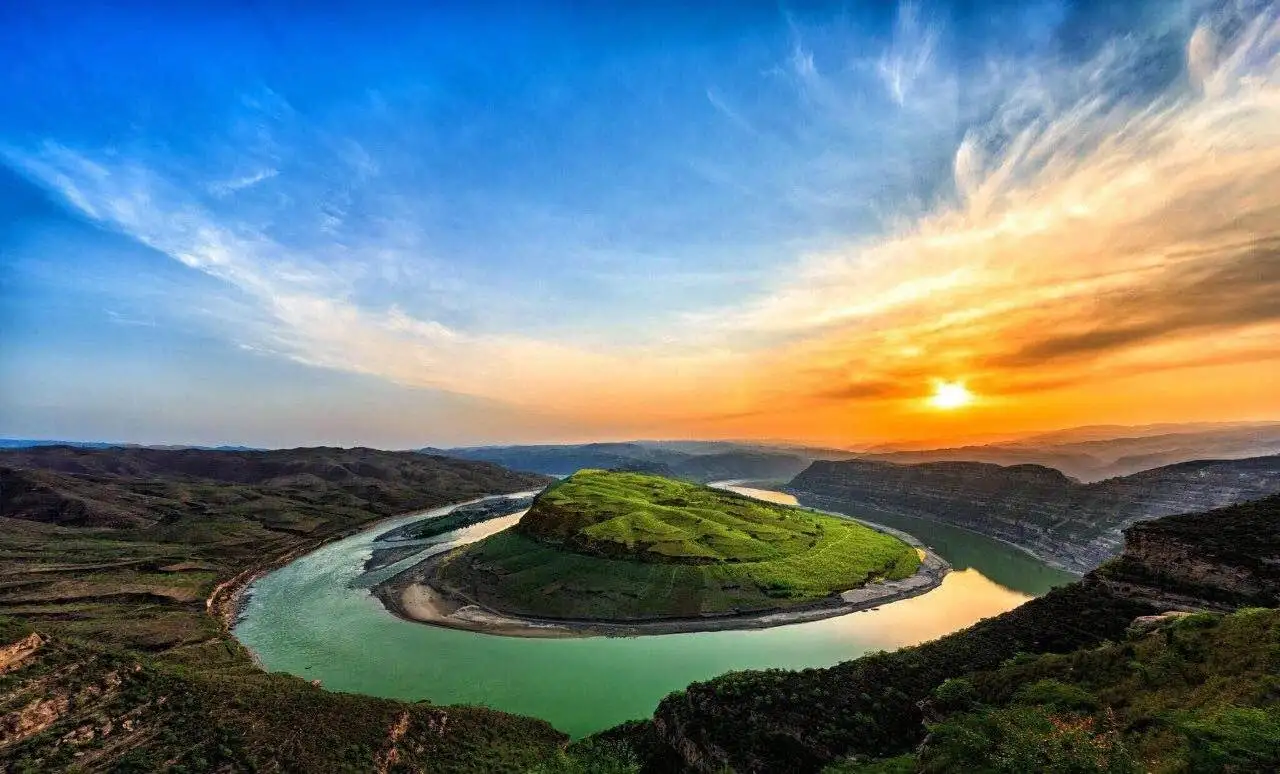 Mulan River Basin Solid Waste Comprehensive Management Project
Construction and bulky waste disposal projects cover a total area of 66,667 square meters. The project is divided into a construction waste disposal project and a bulky waste disposal project. The construction waste disposal project is constructed in two phases. The first-stage disposal scale is 200t/d, the second-stage disposal scale is 200t/d; the bulky waste treatment scale is 30t/d.
It is planned to build 6 kitchen waste disposal centers, and use the existing transfer station to reserve the site, of which the Licheng Sanitation Comprehensive Field has a processing capacity of 25t/d, and the Xinan Waste Transfer Station, Bangtou Town Waste Transfer Station, and Gaiwei Town Waste Transfer Station are used for processing. The scale is 15t/d, the processing capacity of Puwei Waste Transfer Station is 20t/d, and the processing capacity of Zhongshan Town Waste Transfer Station is 10t/d.
Replace the old transfer equipment of 8 transfer stations including Pushan, Dongfeng, Meiling, Jiaowei Changling, Yuanzhuang, Lanxi, Libei and Xiaxuexi. It is equipped with the classification and collection of urban and rural domestic waste to be equipped with intelligent classification boxes, 240L garbage classification collection bins, garbage classification houses (kiosks) and garbage classification vehicles.
Mulan River Basin Forestry Ecological Restoration and Protection Ability Enhancement Project
This sub-project plans to carry out the protected area monitoring system project, the protected area science education and information management center project, the protected area ecological survey and evaluation project and the protected area protection system project, so as to enhance the protected area in resource protection, scientific research monitoring, public education, disaster prevention and mitigation, information management capabilities.
The total construction scale of the project is 16,657 mu, including intensive plantation forest cultivation, conversion of low-efficiency forests to cultivation, improvement of young and middle-aged forests, and supporting infrastructure projects.
Comprehensive Prevention and Control Project of Invasive Pests in the Mulan River Basin
Organize and set up a professional RIFA prevention and control team with no less than 10 fixed personnel, carry out two rounds of centralized prevention and control every year, and carry out grid spraying and culling in different areas and zones; grid management and monitoring in areas where RIFA does not occur ; Carry out training and guidance on prevention and control technologies; hire the Institute of Digital Agriculture, Fujian Academy of Agricultural Sciences to supervise the implementation of the project throughout the process.
Construction of intelligent comprehensive environmental management information platform in Mulan River Basin
Including the construction of the smart water conservancy system, smart drainage system, and solid waste system management platform in the Mulan River Basin.
Project Implementation Management, Capacity Building and Institutionalization Project
The main purpose is to strengthen the functions of local government agencies, improve the project office's ability to plan, operate and manage projects, enhance the hardware configuration and personnel operation level of relevant county departments, and build a scientific and modern urban environment and social monitoring big data platform. Editor/Sang Xiaomei
0
Collect