Construction Frontline
Laos Institute of Posts and Telecommunications Technology starts construction
After completion, it will promote the development of local information technology and enhance the friendship between the two countries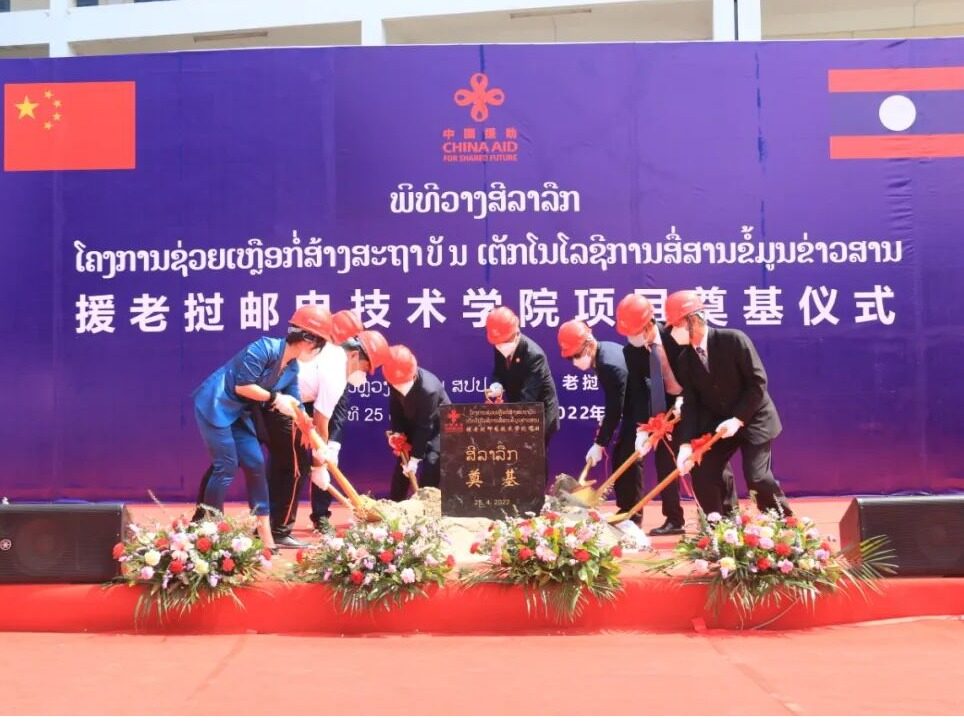 On April 25, 2022, the construction of the Lao Posts and Telecommunications Institute project by CRCC officially started. Chinese Ambassador to Laos Jiang Zaidong and Lao Minister of Technology and Communications Powankham Von Dara respectively held golden shovels and shoveled soil and laid the foundation stone against the background wall with Chinese-Laos bilingual and Chinese knots printed to witness this historic moment.
Project of the Institute of Posts and Telecommunications
The project is an important carrier of the China-ASEAN interconnection development strategy. It is located in the courtyard of the Institute of Posts and Telecommunications in Vientiane, Laos. There is a teaching building under construction with a total construction area of about 5,500 square meters. It is a five-story structure on the ground. The building is equipped with classrooms, Laboratory, library and other necessary hardware facilities. The new teaching building fully considers the local natural conditions and characteristics. The overall color of the building is mainly wood color and ivory white. The large-slope roof is in line with the local architectural characteristics of Laos. The China Railway Construction project team integrates traditional Lao elements and symbols on the basis of modern architectural style. , to build an education and training base with regional and ethnic characteristics.
At the groundbreaking ceremony, Chinese Ambassador to Laos Jiang Zaidong delivered a speech and said that China will further promote vocational education cooperation, serve the economic and social development of Laos and the practical and close cooperation between the two countries, and benefit the two countries, especially the grassroots people in Laos.
The Minister of Technology and Communication of Laos, Powankham Von Dara, expressed his gratitude to China for its positive contribution to the development of information technology education in Laos, and will further tap the potential of cooperation and enhance the level of cooperation between China and Laos.
As an important carrier for the joint action of the Belt and Road education between China and Laos, after the start of the project, the Chinese side will conduct certification course training for Lao teachers. It plans to train 312 Lao teachers and students during the construction period. The training content includes ICT (information and communication technology). Technology) professional lecturer training and vocational certification course training, further strengthen the construction of local post and telecommunications talent training base, and contribute Chinese wisdom and Chinese solutions to Laos' economic and social development.
It is understood that the project of China-aided Laos Institute of Posts and Telecommunications is the second project undertaken by CRCC in Laos after the China-Laos Railway. More than 20 Laotian workers who had received training from Chinese masters in the construction of the China-Laos Railway jointly participated in the construction. After the project is completed, it will further strengthen the pragmatic cooperation between China and Laos under the Belt and Road Initiative, cultivate a group of communication technology talents familiar with 4G/5G technology for Laos, and establish a new talent training system. Editor/He Yuting
0
Collect