Interview
XCMG Wang Min, accelerate internationalization!
The key to future competition in China's construction machinery industry is overseas and in the high-end market
Brand is the life and soul of an enterprise's long-term development, and it is also the core manifestation of a country's competitiveness and international status. On the occasion of the sixth "China Brand Day", China News Network launched a series of plans for "One Hundred Enterprises Talk About Brand Power - New Era, New Journey, New Brand".
XCMG Co., Ltd., Chairman of XCMG Machinery, and Secretary of the Party Committee Wang Min were interviewed as heads of well-known enterprises, and jointly discussed how to strengthen the country with brands, make Chinese brands bigger, stronger and better, and tell the story of China's economy and brands.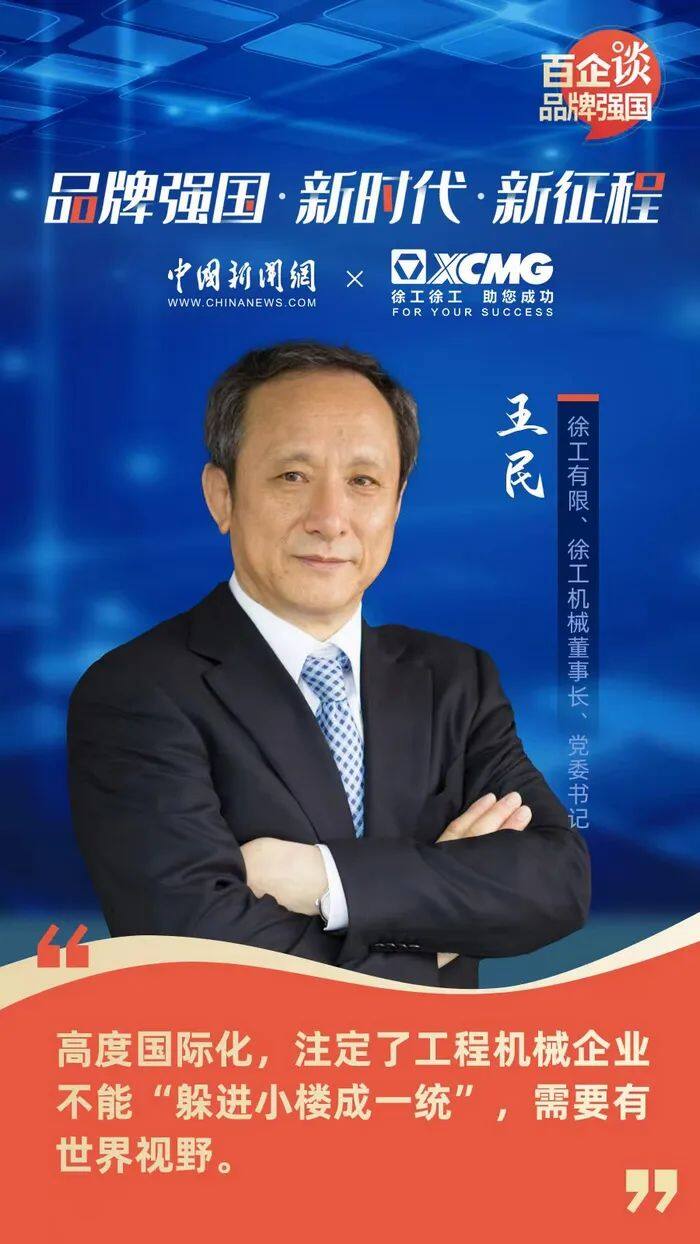 "The key to the future competition of China's construction machinery industry is overseas and in the high-end market. Only by winning the international high-end market competition and being trusted by high-end customers can it truly be called a world-class enterprise with an outstanding brand." XCMG Co., Ltd., XCMG Machinery Chairman and Party Secretary Wang Min said.
First of all, to highlight the outstanding brand and overseas breakthroughs, we must take the road of strengthening internationalization, we must unswervingly go out and rush up, and we must compete with world-class masters.
XCMG has always followed the strategic goal of three steps to the summit of Mount Everest, scientifically researching and judging the impact of the global epidemic and changes in the international market, accelerating the internationalization of the market, the internationalization of the layout, the internationalization of operations, the internationalization of talents, and the formation of an "aircraft carrier fleet" for transnational operations. ".
Secondly, to highlight technological innovation and high-end breakthroughs, we must strive to occupy the commanding heights of the world, control the right to speak in technology, and promote my country's industry to move towards the mid-to-high end of the global value chain.
XCMG continues to strengthen originality and leading scientific and technological research, strive to create "five independent" excellent products that are unique, unique, exclusive, original and unique, build a world-class innovation system at a high level, and "play its own" in the world construction machinery industry. prestige".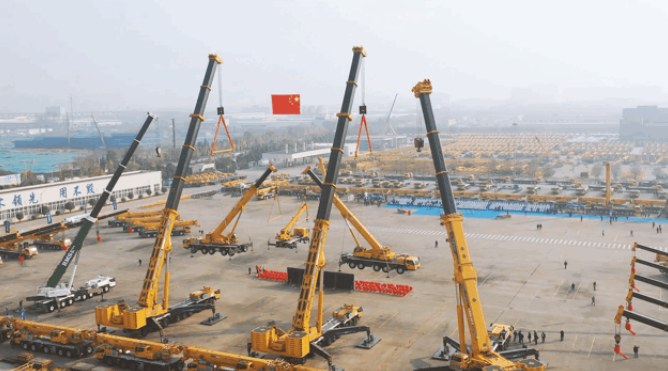 The world's first super crane five-car combined crane made a shocking debut
Finally, to highlight modern governance and management penetration, and unswervingly build a world-class enterprise, we must have a first-class brand, first-class products, and in the final analysis, a first-class mechanism, especially at the sprint moment of XCMG's overall listing, we are even more required. Under the strategic guidance of "digitalization, greening, and internationalization", it is necessary to create a management model for the summit of Mount Everest with XCMG characteristics.
As the founder, pioneer and leader of China's construction machinery, in the process of climbing Mount Everest in the global industry, XCMG will use its strength to prove that it is the first business card of China's construction machinery and contribute to the world a world-class outstanding brand originating from China ! Editor/He Yuting
0
Collect