Construction Frontline
Bangladesh Dhaka Expressway enters full-scale construction phase
On May 17, 2022, the paving of the sub-base of the road was completed, and the Dhaka Expressway was fully constructed
The total investment of the project is 2.84 billion yuan, which will promote economic development along the route after completion.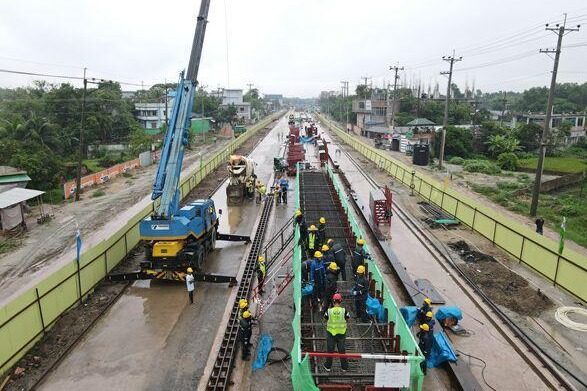 Important progress has been made in the Bangladesh Dhaka Ring Expressway project undertaken by Sichuan Road and Bridge Construction Group Co., Ltd. (Sichuan Road and Bridge), a subsidiary of Shudao Investment Group Co., Ltd. (Shudao Group). On the afternoon of May 10, 2022, after several hours of construction, the first T-beam with a length of 30 meters and a weight of 90 tons of Dhaka Ring Expressway was successfully poured, which opened the prelude to the construction of the superstructure of the whole bridge project.
On the 17th, the paving of the 200-meter test section of the 25-centimeter-thick pavement sub-base of the pavement project was completed, marking that the Dhaka Ring Expressway project has entered the full-scale construction stage. The Dhaka Ring Expressway project is jointly invested by Sichuan Road and Bridge and a Bangladeshi company, and constructed by Sichuan Road and Bridge. The total length of the project is 48.11 kilometers, and the total investment is about 2.844 billion yuan.
Project financing was provided by a consortium formed by China Development Bank and Bangladesh Infrastructure Financing Fund Co., Ltd. Sichuan Road and Bridge and Fangmeng Enterprises formed Dhaka Ring Expressway Development Co., Ltd., and jointly invested in construction and operation for 22 years. The highway is also the first closed toll highway constructed by a public-private partnership in Bangladesh.
According to reports, in order to ensure the realization of the overall goal of the construction period, the project department has set up two prefabricated beam yards to undertake the prefabrication of 423 T beams. The pavement base test section is 200 meters long and 6.6 meters wide. During the paving process, the cement-stabilized sand structure layer technology was adopted, focusing on overcoming the two major technical difficulties of "semi-rigid pavement" and "flexible support form", and tackling key problems from the local climate, geology, materials, and existing road defects. Keywords: One Belt One Road, One Belt One Road News, One Belt One Road Project
"This pavement laying technology is the first to be applied in Bangladesh. After numerous research discussions and experimental precipitation by the project department, a lot of manpower and material resources have been invested." Construction manager Yang Jian introduced. Xiao Zhiming, director and general manager of Dhaka City Ring Expressway Development Co., Ltd., said: "As the epidemic situation in Bangladesh continues to be severe, the project department has strengthened safety prevention and control. Chinese and Bangladeshi employees have worked together to deal with the epidemic, and promoted the project construction in a united and efficient manner. A number of innovations have created benefits and promoted the improvement of the construction level of the project." According to reports, after the project is completed and opened to traffic, it will effectively divert traffic around Dhaka, ease traffic pressure, drive employment for local residents, and promote rapid economic development along the line.Editor/XuNing
0
Collect