Equipment
The domestic large-diameter TBM Plateau Pearl rolled off the production line
The equipment is used for construction under extreme conditions such as high altitude, high ground stress, and super hard rock
The excavation diameter of the equipment is 10.23 meters, the length of the whole machine is about 185 meters, the total weight is about 2300 tons, and the installed power is 8200 kilowatts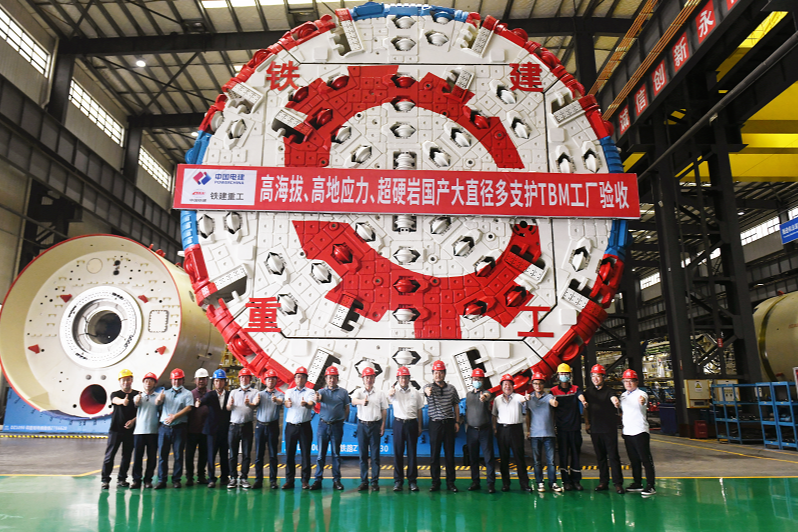 Recently, the domestic large-diameter multi-support TBM "Plateau Pearl" jointly built by CRCC and the 14th Bureau of China Water Corporation rolled off the assembly line in the CRCC Changsha Second Industrial Park. The successful development of this equipment marks another big leap in the development technology of domestically produced TBM.
Underground Big Mac
The equipment will be used for construction under extreme conditions such as high altitude, high ground stress, and super hard rock. The excavation diameter of TBM is 10.23 meters, the length of the whole machine is about 185 meters, the total weight is about 2300 tons, and the installed power is 8200 kilowatts. It is a veritable underground giant.
For plateau and alpine tunnels, there are long-distance ultra-hard rock, high ground stress, large burial depth, high ground temperature, dense zone of long fault joints, large deformation of soft rock, large water inflow and other major difficulties in TBM construction. TBM is equipped with advanced geological forecast, advanced support, multi-functional assembly, multi-mode excavation, rock burst safety protection, soft rock excavation, intelligent cruise excavation, mechanized slag cleaning, air cooling, super emergency drainage, intelligent construction management, human The machine-rock risk intelligent early warning system fully meets the requirements of fast, high-quality, high-efficiency, safety, environmental protection, and high integration of tunnel construction, and represents the modernization development direction of tunnel construction in my country.
China's new impetus
The successful development of high-altitude, high-stress, super-hard rock domestic large-diameter multi-support TBM has injected new Chinese power into the construction of tunnels under extreme working conditions, and helped CRCC dig into the future. Editor / Zhao E