Environment
Jilin City Wetland Water Ecological Restoration Project Launches Bidding
The project is located in Jilin City and belongs to the greening industry. The total investment of the project is 495,000 yuan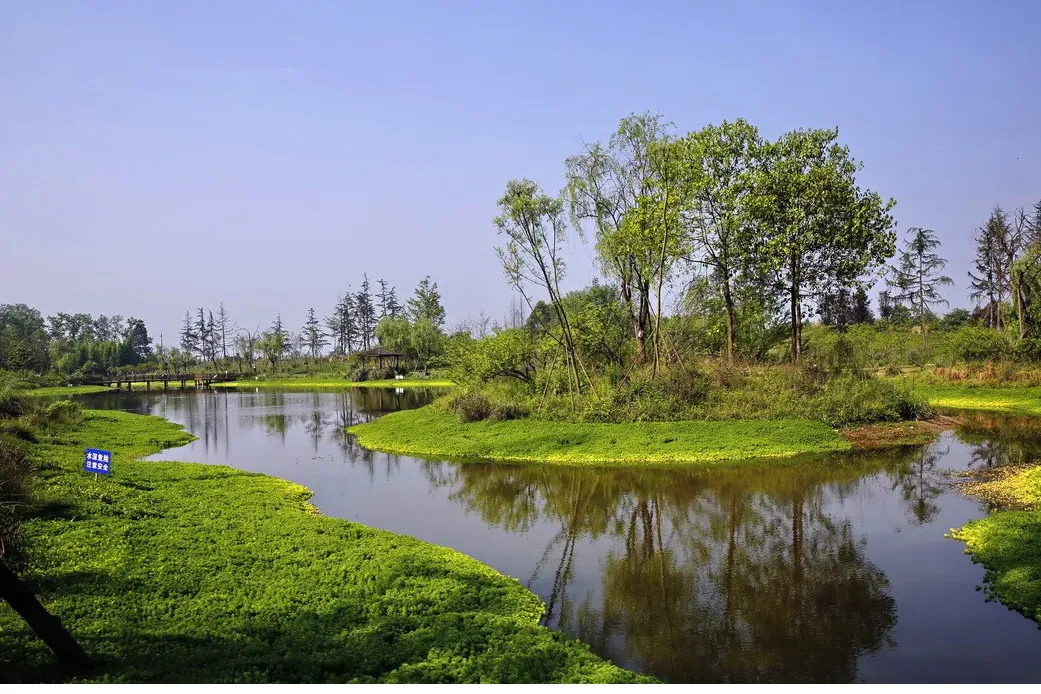 On June 6, 2022, the China Government Procurement Network released the public bidding announcement for the feasibility study report of the wetland water ecological restoration project from the Yongqing Reservoir to the Jiangcheng Bridge in the Songhua River in Jilin City. Management Office, the total investment of the project is 495,000 yuan.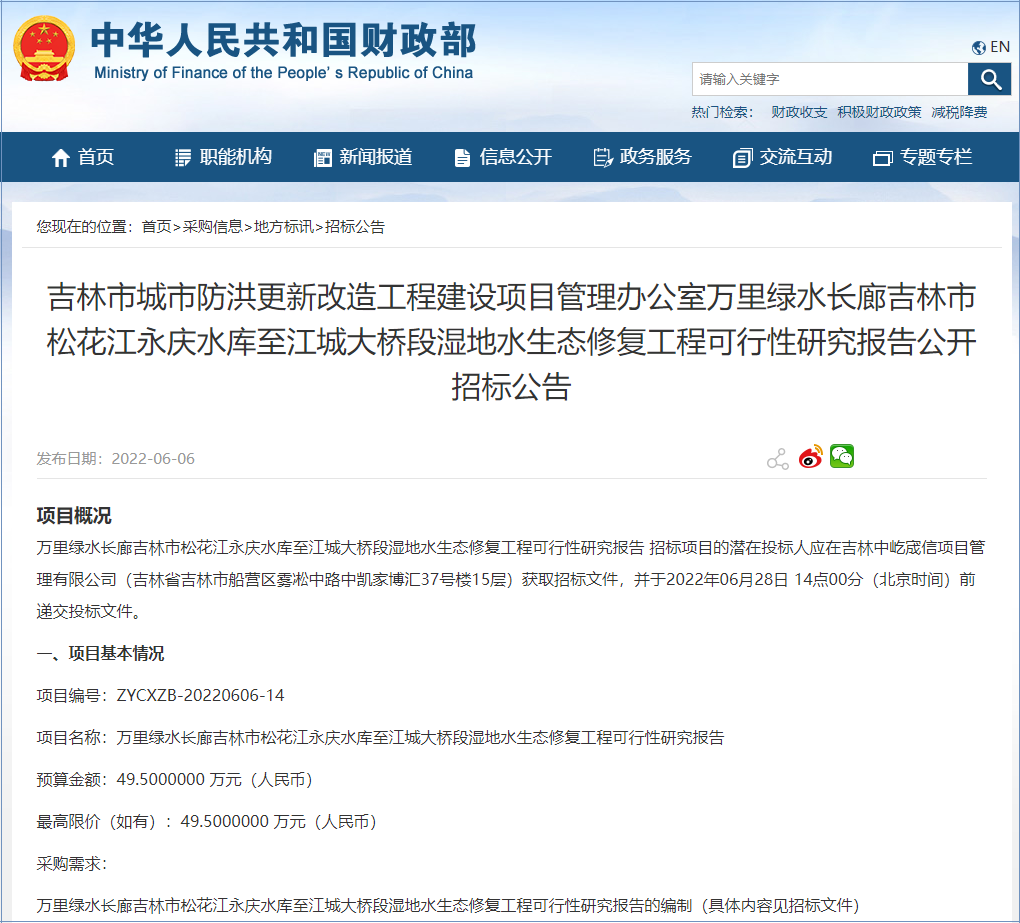 Project Overview
Wanli Green Water Corridor Jilin City Songhua River Yongqing Reservoir to Jiangcheng Bridge Section Wetland Water Ecological Restoration Project Feasibility Study Report The 15th floor of Kaijiabohui Building 37 obtained the bidding documents and submitted the bidding documents before 14:00 on June 28, 2022. The project does not accept the consortium bid.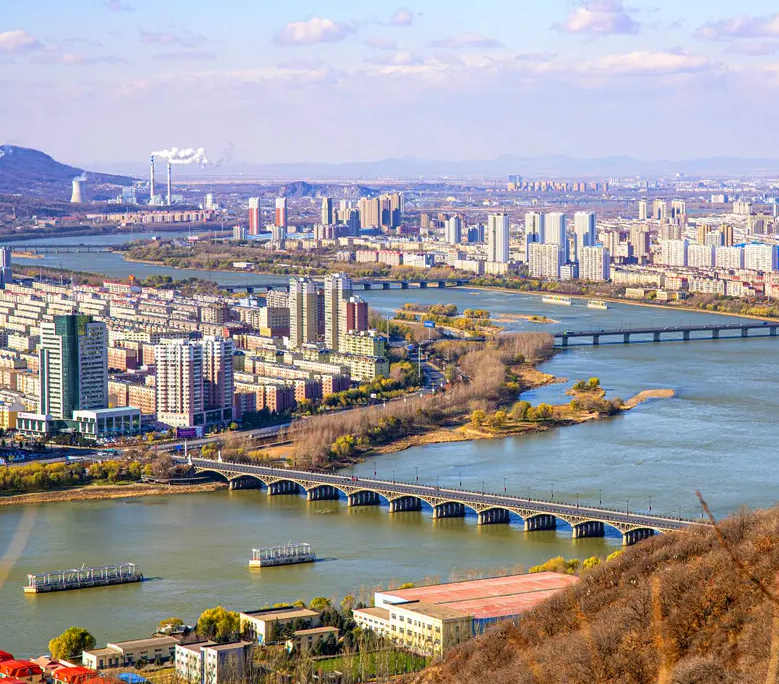 Eligibility Requirements
Qualification requirements: The bidder must have the record on the national investment project online approval and supervision platform in accordance with relevant national regulations, the record major must include water conservancy and hydropower, the consulting service scope must include project consulting, and have the engineering survey professional category issued by the construction administrative department. Geotechnical engineering grade B and above qualifications and water conservancy industry grade B and above qualifications, and have the ability to undertake the project in terms of personnel, equipment, and funds.
Qualification requirements of the project leader: Must have 5 years or more working experience in water conservancy and hydropower engineering design, and have senior technical titles related to water conservancy and hydropower engineering.
Performance requirements: The bidder has similar project performance in the past three years.
Financial requirements: Provide financial audit reports audited by accounting firms or auditing institutions in the past three years. For newly established companies that are less than three years old, they must provide financial statements or financial audit reports from the date of establishment to December 31, 2020. Companies established in 2021 are required to provide a letter of undertaking in good financial standing from the date of establishment to the closing date for bids.
Reputation requirements: The bidder has not been included in the record list of dishonest persons subject to enforcement or parties to major tax violation cases, and the bidders and individuals have not committed bribery crimes on the Chinese Judgment Documents Online. Reject corporate or individual bids that are included in the government's record period of disqualification. Key words: engineering construction information, engineering construction, engineering news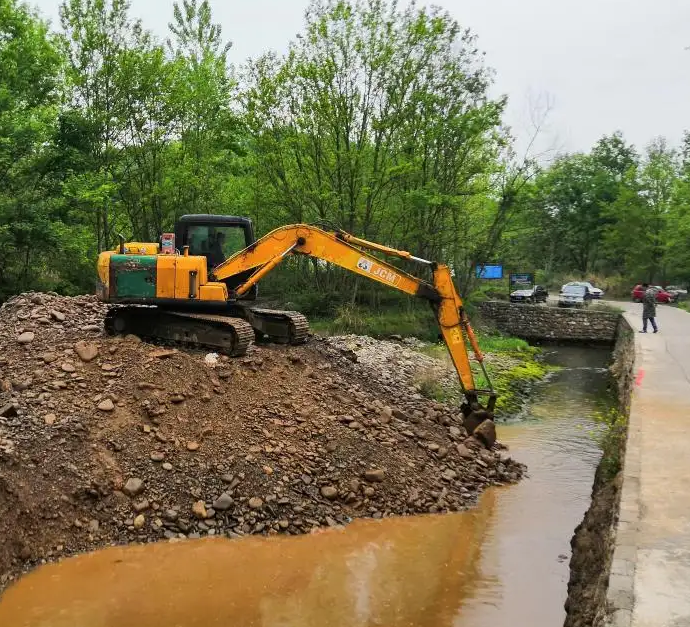 Acquisition and submission of tender documents
Participating bidders should purchase the bidding documents from June 6, 2022 to June 13, 2022, from 8:30 am to 11:30 am and 14:00 pm to 16:30 pm every day. Hold a copy of the business license of the enterprise, a copy of the qualification certificate, the title certificate of the person in charge of the proposed project, the recent social insurance payment certificate of the project management personnel, the certificate of no criminal record of bribery, the identity certificate of the legal representative and its power of attorney and its ID card, the past one year The official tax payment certificate issued by the tax bureau, the company has no bad credit records in the past three years, the corporate legal person has no bad credit records in the past three years, and the website screenshots of the relevant credit records through the Credit China website, China Government Procurement Network and other channels, 2018 - 2020 annual financial audit report or statement. The deadline for submitting tender documents is 14:00 on June 28, 2022.Editor/Zhao E
0
Collect