Construction Frontline
China-aided Cambodian naval base renovation project starts
The naval base project is another milestone project in the solid friendship between the Chinese and Cambodian militaries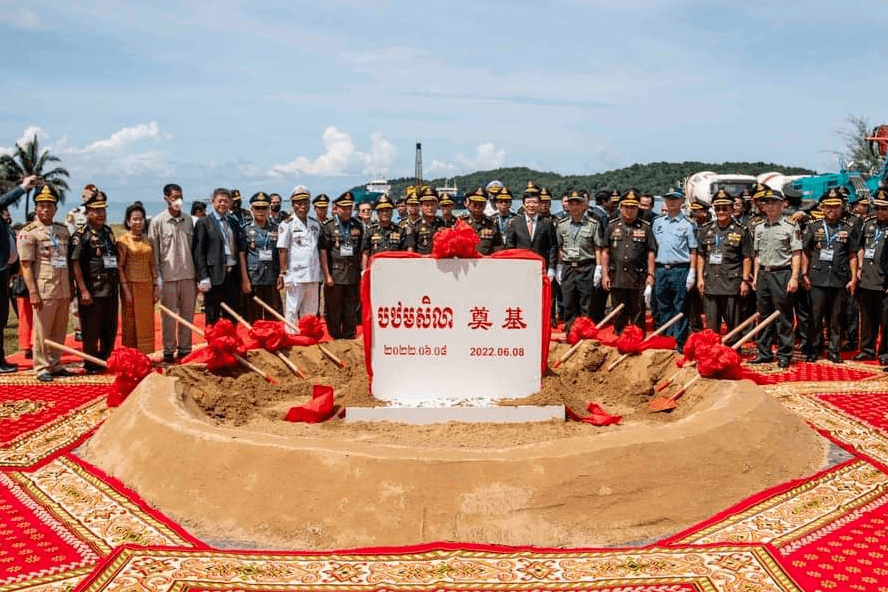 On June 8, 2022, Chinese Ambassador to Cambodia Wang Wentian and Cambodian Prime Minister Hun Sen, Deputy Prime Minister and Minister of Defense Di Ban attended the groundbreaking ceremony of the China-aided Yunyang Naval Base Upgrade and Reconstruction Project at the Cambodian Navy Yunyang Base. About 2,000 people including Tang Hao, Defense Attaché of the Chinese Embassy in Cambodia, General Zhou Pilun, Director of the General Administration of Materials and Technology of the Cambodian Ministry of Defense, and other senior military and political leaders, representatives of five local provinces, foreign diplomatic envoys in Cambodia and project construction personnel attended the event.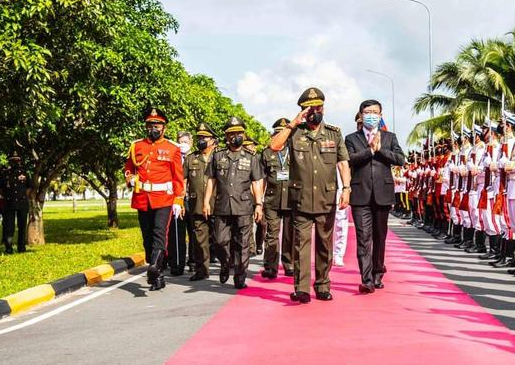 Wang Wentian said in his speech that the friendship between China and Cambodia is everlasting and unbreakable. The upgrading and reconstruction project of Yunyang Naval Base assisted by China is the result of mutual respect and equal consultation between China and Cambodia. It conforms to the domestic laws of the two countries, relevant international laws and international practices, and is not aimed at any third party. After the project is completed, it will significantly improve the Cambodian Navy. The level of modernization has effectively improved the Cambodian army's ability to safeguard national sovereignty and territorial integrity. This project is an important symbol of the "hardcore" friendship between China and Cambodia and the two militaries and another monument of mutually beneficial cooperation! The Chinese army will, as always, provide assistance to the Cambodian army within its capacity, and push the military cooperation between the two countries to a new level and make new progress.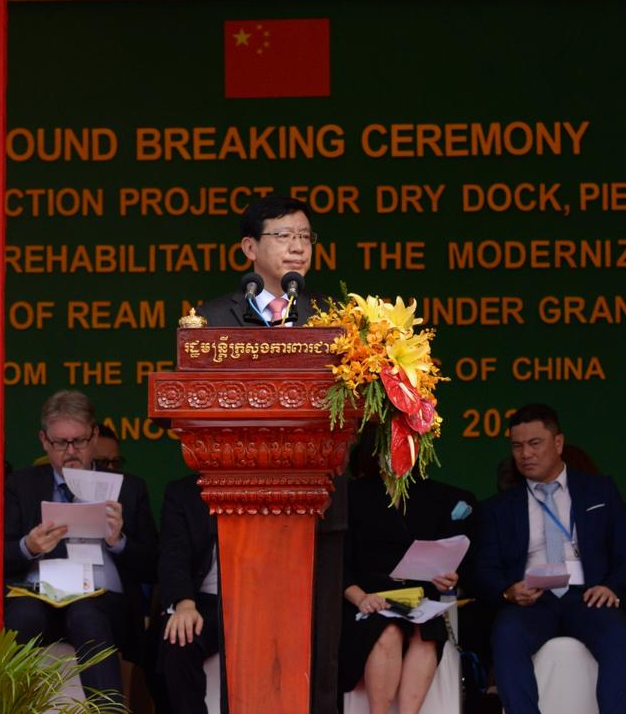 Wang Wentian pointed out that some countries continue to hype and smear the normal exchanges and cooperation between China and Cambodia, under the guise of democracy and human rights, arbitrarily imposing unilateral sanctions on Cambodia, arbitrarily manipulating "long-arm jurisdiction", and grossly interfering in Cambodia's internal affairs. strongly oppose. The valuable experience and enlightenment that China has gained from establishing dialogue relations with ASEAN countries including Cambodia for more than 30 years is: adhere to maintaining peace and oppose chaos and war; adhere to unity and cooperation, oppose confrontation and confrontation; adhere to mutual benefit and win-win results, and oppose hegemony; adhere to Open and inclusive, oppose division and exclusivity. Any unilateralism and extreme egoism are fundamentally unworkable, and any decoupling, breaking the chain, or applying extreme pressure is fundamentally unworkable. Anything that engages in "small circles" and provokes confrontation with ideological lines is also unworkable. It simply doesn't work.
Wang Wentian stressed that China will always be Cambodia's good neighbor, reliable friend and trustworthy partner. The Chinese side is willing to work with the Cambodian side to earnestly implement the important consensus reached by the leaders of the two countries, comprehensively deepen the China-Cambodia comprehensive strategic cooperative partnership, and join hands to build a closer China-Cambodia community with a shared future. - Make greater contributions to the ASEAN Community of Shared Future.
Diban expressed his gratitude to the Chinese side for its strong assistance in the upgrading and reconstruction of the Cambodian-Yongyang naval base, and spoke highly of the close cooperation between the Cambodian-Chinese working group on the project. It will help enhance the Cambodian army's ability to maintain national independence, sovereignty and territorial integrity, help enhance the Cambodian army's prestige in the region and the international arena, help enhance the unity and mutually beneficial cooperation between Cambodia and friendly countries, and help maintain regional peace, stability and prosperity.Editor/XuNing
0
Collect