Hydrogen + Storage
Honeycomb Energy Lithium Battery Zero-Carbon Industrial Park Landed in Dazhou
The project is a lithium battery zero-carbon industrial park using an all-green power grid, load-storage integration
After completion, it will form one of the largest new energy industry supporting parks in Southwest China together with Honeycomb Energy Chengdu and Suining bases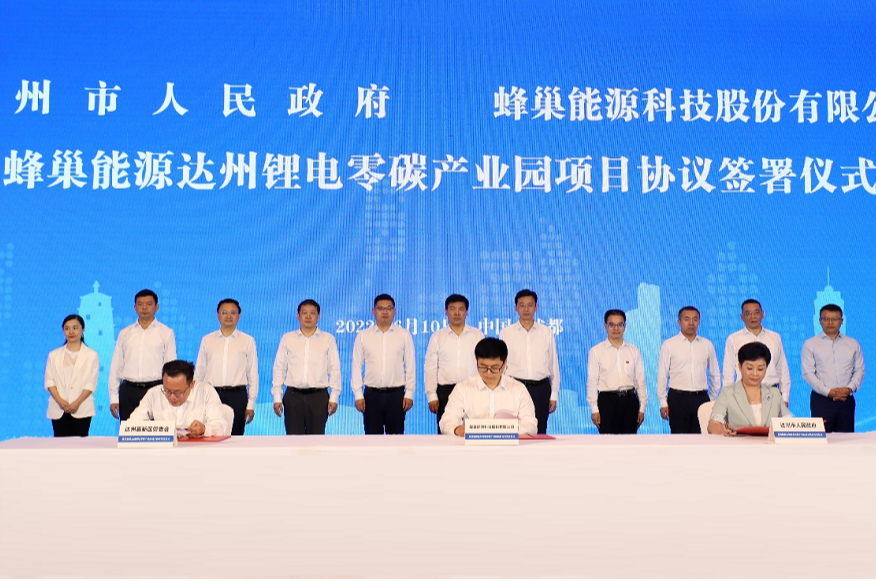 On June 10, 2022, Honeycomb Energy Technology Co., Ltd., the Dazhou Municipal People's Government and the Dazhou High-tech Industrial Park Management Committee officially signed the "Honeycomb Dazhou Lithium Battery Zero-Carbon Industrial Park Project Investment Agreement" in Chengdu.
According to the agreement, Honeycomb Energy will lead the industry chain enterprises to invest in the construction of the Honeycomb Dazhou Lithium Battery Industrial Park, aiming to build a resource-material-regeneration ecological park and a closed-loop industrial chain with batteries as the core carrier, lithium battery materials on the top, and lithium battery terminals on the bottom. Strive to achieve the planning goals of capacity-driven, industrial ecology and industrial synergy.
Lithium battery zero carbon industrial park project
The industrial park is located in Dazhou High-tech Industrial Park, with a total investment of about 17 billion yuan and a total area of 1,740 acres of industrial land to be used. The planned construction includes lithium iron phosphate and cobalt-free cathode material production lines, lithium iron phosphate precursors and electrolysis. Liquid production line, battery recycling and dismantling production line and related supporting facilities. Among them, an industrial investment fund with a scale of nearly 3 billion yuan has been specially allocated, which is managed by Honeycomb Capital to assist high-quality projects in the industrial chain to settle in the park.
In the future, with the gradual completion of materials and front-end supporting production lines and the further release of market demand, the industrial park will also plan to build an energy storage battery production line with a total capacity of about 30GWh to complete the industrial ecological closed loop. After all the industrial park projects are completed and put into operation, it is expected to achieve an annual output value of about 63 billion yuan, and tax payment will exceed 2.5 billion yuan. Editor/He Yuting
0
Collect