Company
8 SANY products on the list of the most influential products in 2021
SANY ranks among the best in the number of listings, and is the leading technology product in the construction machinery industry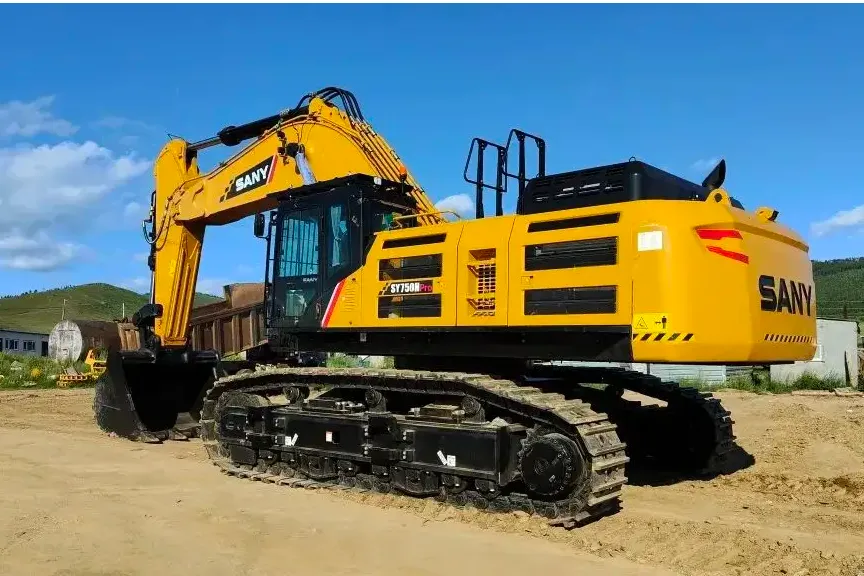 Recently, the final evaluation list of the most influential products in 2021 initiated by "Construction Machinery" magazine was officially released. SANY's 8 products were on the list, and the number of awards was the first in the industry. Once again, it returned full of honors.
Since the "Most Influential Product" was founded by "Construction Machinery" magazine in 2005, it has accompanied China's construction machinery industry for 17 years and has a far-reaching influence in the industry. The list continues to focus on product innovation and R&D capabilities, carefully selects benchmark products that represent technological progress, establishes an example of innovative products, and adds new potential for companies to enhance their product and brand competitiveness.
Over the years, SANY has been among the best in the number of listings, and it is the representative of technological leadership and product innovation in China's construction machinery industry. In this list, 8 products that reflect SANY's hard core strength once again dominate the list. There are not only SY650 hydraulic excavators, 62-meter S-series concrete pump trucks, etc. leading the market, but also the world's largest 4,500-ton crane and other technology-leading models. Ace, showing SANY's profound product, technology, market and brand influence.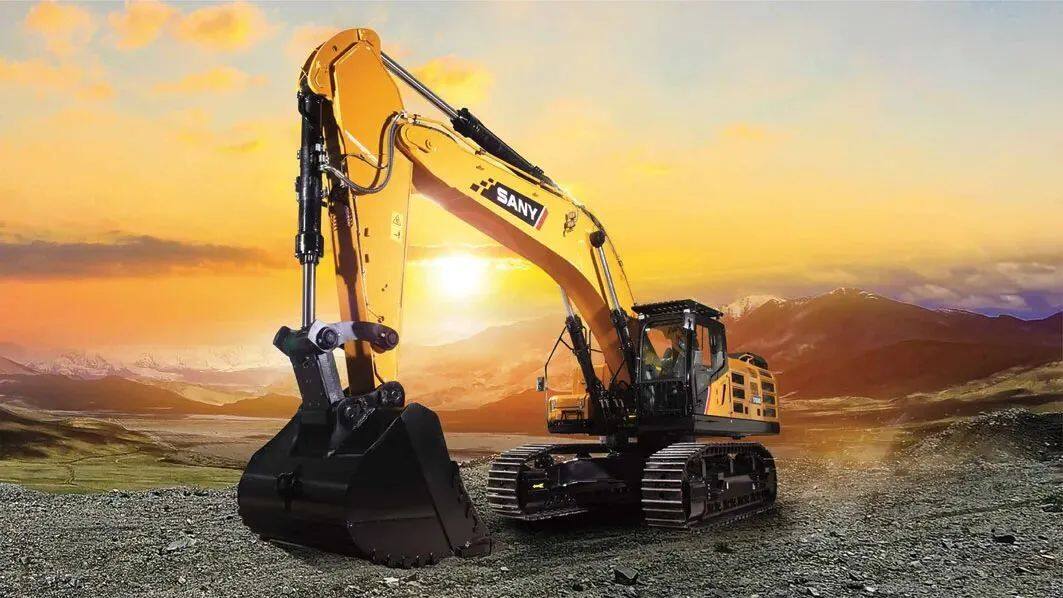 SANYSY650 Hydraulic Excavator
Reason for selection: Mine Almighty King, excellent performance, leading the market
Compared with SY485, the loading efficiency of SY650 is increased by 15%~22%, the fuel consumption is increased by 3%~8%, and the energy efficiency is increased by 12%; the fully electronically controlled ACE-P technology improves operation adaptability, improves operation coordination, precise and soft control, and easy operation Smooth, precise control, fast response, and small impact force by micro-action control; the design life of key structural parts such as boom, stick, and platform exceeds 15,000 hours, and the maximum stress reduction of working devices is more than 30%; the application of adhesive double-layer packaging Side door, high quality, high strength, low cost, 100% non-scraping putty, more than 30% weight reduction, 40% increase in production rhythm; built-in optimal matching program for breaking hammers of mainstream manufacturers to achieve perfect matching between main machine and hammer, and improve crushing efficiency more than 30%.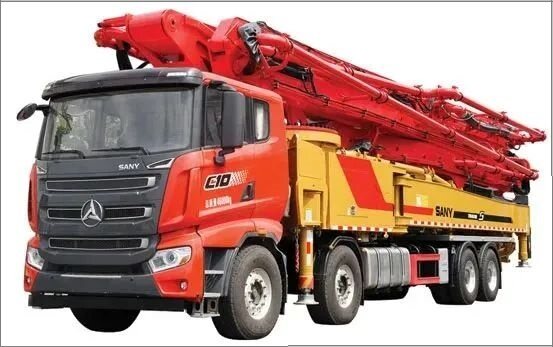 SANYSYM5465THBF620S Concrete Pump Truck
Reason for selection: For the first time in the industry, the design of two outstretched legs + 7-section boom is realized on a 62m-level pump truck, which is a powerful tool for high-efficiency pumping of machine-made sand and concrete
SYM5465THBF620S two-extension front outrigger design reduces the floor area by 15% and has good site adaptability; 7-section arms are unfolded and retracted in sequence, the high-rise fabric range is increased by 15%, and the movement is more flexible; non-inductive vibration reduction technology is precisely controlled, and the vibration is ≤±200mm , the swing back is set with one key, and it can stop at any time; three-blade mixing system, 0.75m3 streamlined large hopper, the industry's largest diameter swing cylinder, and large-diameter walking tube, the suction performance is increased by 5%, and the pressure loss of the pipeline is reduced by 10%, 1h 1 more vehicle material; intelligent power matching 2.0 strategy + Sino-German technology special engine + VCU installation = comprehensive fuel consumption reduction by 8%; distributed control system, injection-molded integrated cable, line simplification by 50%, failure rate reduced by 50%, dual Bus design, one use and one backup, double the guarantee; high-reliability open hydraulic system, good heat dissipation, low oil temperature, and long life of seals.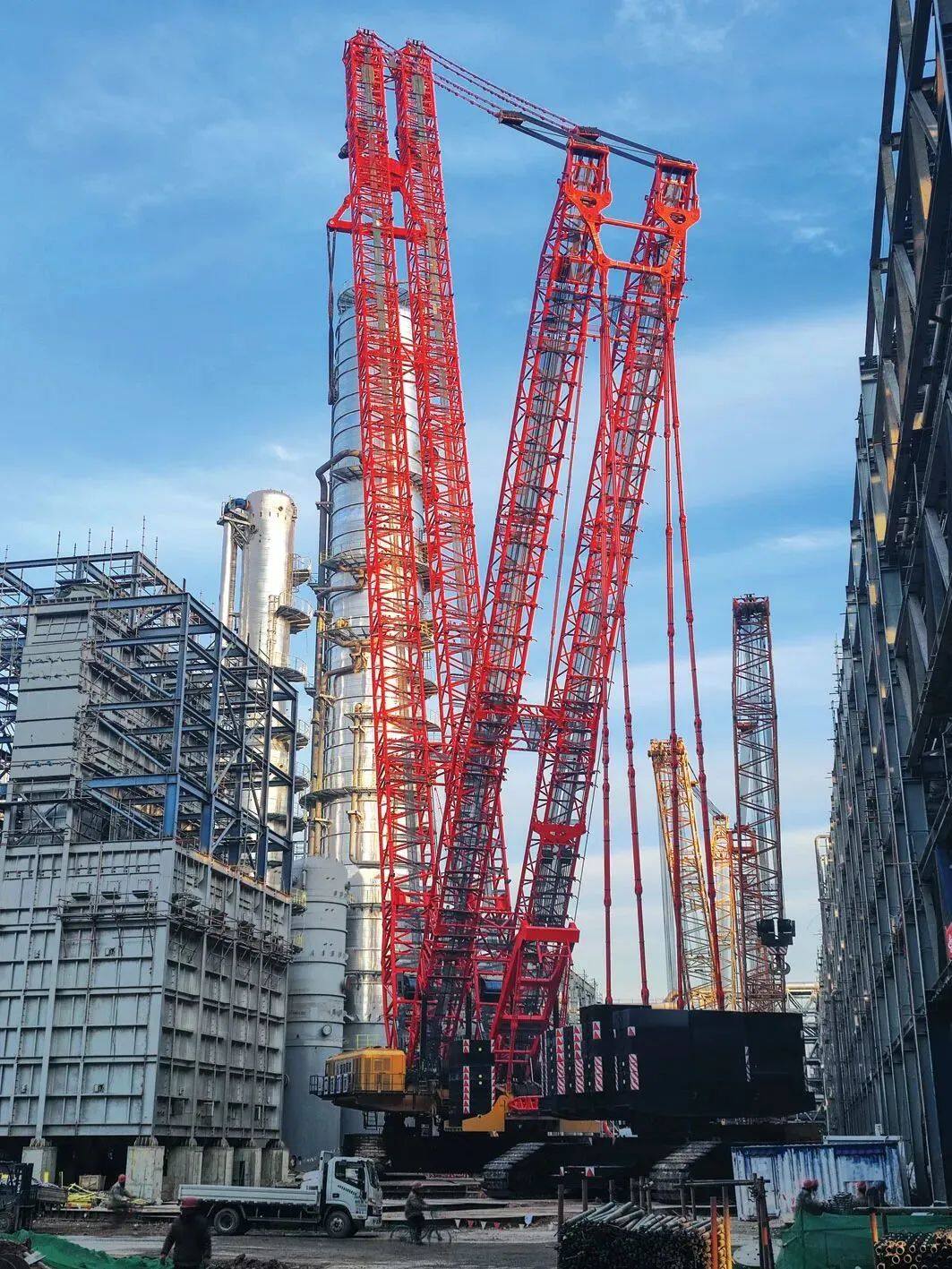 SANYSCC98000TM crawler crane
Reason for selection: Has more than 20 invention patents, setting the world's largest tonnage crane record
The maximum lifting moment of SCC98000TM is 98000tm, which can cover the hoisting requirements of most petrochemical tanks and nuclear power domes. It has two working conditions: double-arm working condition and single-arm working condition, and can be directly disassembled into 2000t for use; according to the hoisting requirements of petrochemical and nuclear power plants Features, a variable diameter parallel double boom system is designed, the lower width is narrow at the top, and the reducing section transitions, which enhances the lateral bearing stability of the boom system; the main boom and the luffing jib can be used in common, saving the number of booms; The lifting and counterweight trolley has an independent power system and can walk with its own load. The overshooting radius is adjustable from 28 to 37m, and the site adaptability is good.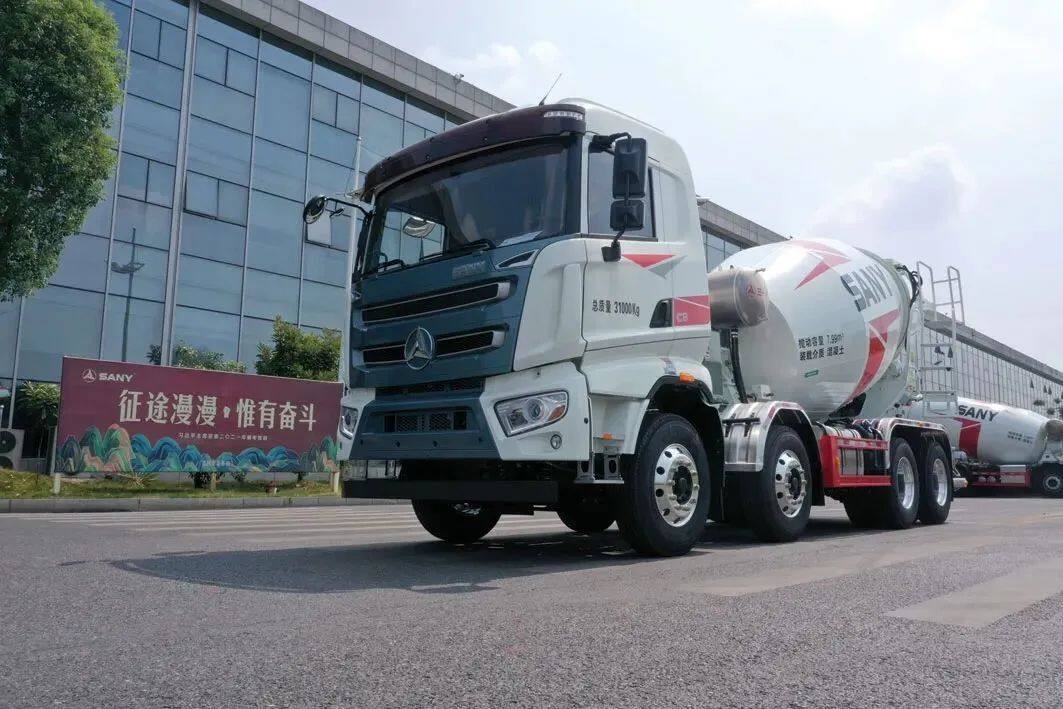 SANYSY412 New Generation Lightweight Mixer Truck
Reason for selection: Representative of a new generation of lightweight mixer trucks that are "lightly loaded"
SY412 vehicle structure optimization, the whole vehicle finite element combined with the special test field for mutual verification, the industry's original integrated frame structure, light weight and energy saving, can increase the user's income by more than 15,000 yuan a year; double helix variable pitch three-stage structure Unique technology, stronger mixing ability; SANYTrucklink car networking platform, rich in data, higher management efficiency, with fleet management, streaming media online monitoring, predictive maintenance, cab behavior analysis, fuel safety monitoring, official platform interoperability and other characteristics; 360° video surveillance + blind spot detection + side lane change assistance + DMS driving behavior monitoring to create the safest driving monitoring system; the first human-machine intelligent voice interaction system "Xiaobaojia" in the engineering vehicle industry, quick answers to frequently asked questions, daily voice interaction .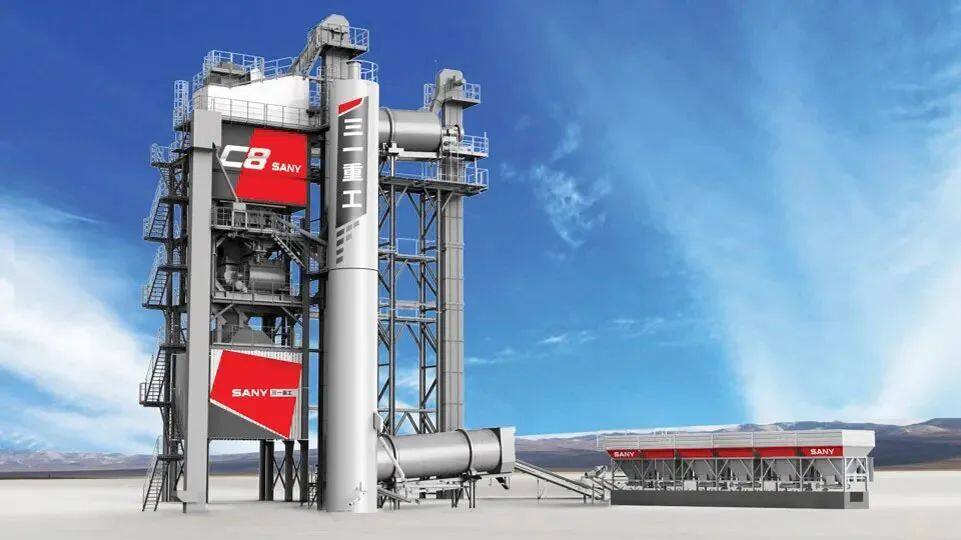 SANYSLZ4000 Primary Regeneration Integrated Asphalt Mixing Plant
Reason for selection: high production efficiency, accurate measurement, intelligent operation, stable performance, energy saving and environmental protection, which are favored by the market
SLZ4000 integrates original and regeneration, large-capacity mixing host and dust removal system, which can meet the production demand of 50% of recycled material mixing ratio, and the production capacity can reach 360t/h; automatic temperature control, one-key start and stop, intelligent metering, remote maintenance technology , equipment health housekeeper, ERP3.0 intelligent management and control system and other technical applications to achieve intelligent management and control of asphalt stations; key components such as drying drums, mixing hosts and other key components achieve predictive maintenance; mixers, hoists, and induced draft fans are deeply monitored for motor operation status and early failure. It was found that the intelligent reminded customers to choose the time for maintenance and inspection; the energy-saving combustion technology, the fuel consumption was reduced to 5.5kg/t, and the dust-free main building + high-efficiency dust removal technology achieved the dust emission concentration of less than 20mg/Nm3.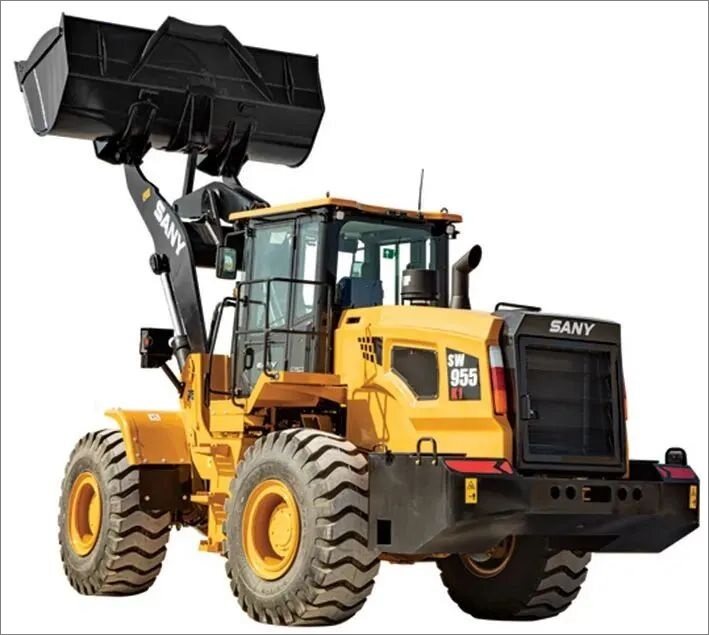 SANYSW955K1 Wheel Loader
Reason for selection: The only new-generation high-end loader in China that perfectly integrates intelligence, safety and reliability
SW955K1 has five major highlights of "efficient, heavy-duty, reliable, intelligent, and comfortable"; it is equipped with a domestic leading load-sensitive quantitative three-pump confluence hydraulic system, and the flow is distributed on demand, which effectively improves work efficiency; it adopts a large-span heavy-duty frame, and the overall Type swing bridge, with greater bearing capacity, comprehensively improve reliability; equipped with LCD display and control integrated screen, one-key start-up, intelligent fault diagnosis, equipped with 6t planetary box, through power, transmission, hydraulic and innovative matching, to achieve the most Excellent speed and strength; luxurious cab, standard heating and cooling air conditioning, steering wheel and seat position can be adjusted according to operating habits, multi-stage vibration reduction, effectively reducing the driver's long-term work fatigue.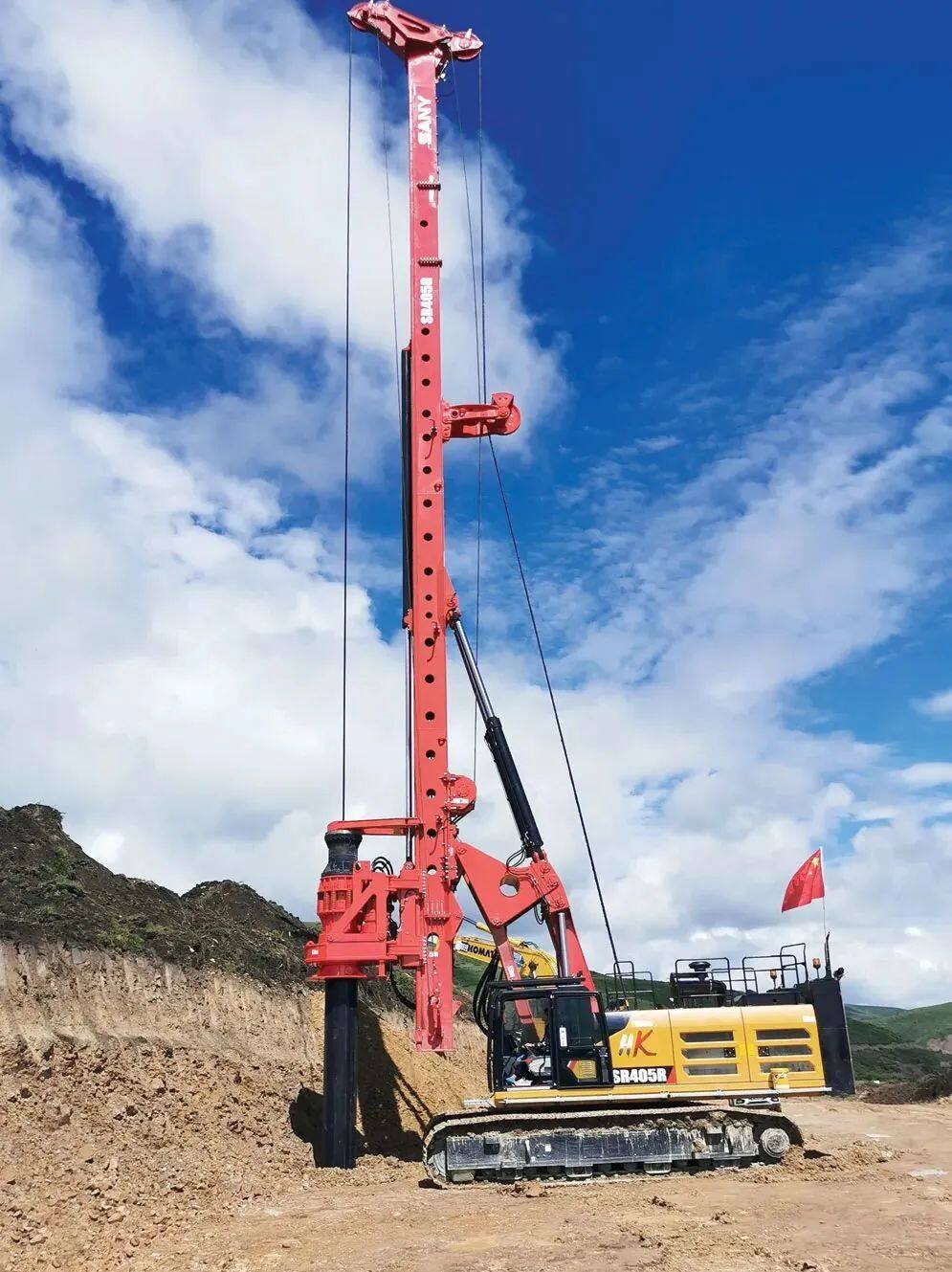 SANYSR405HK rotary drilling rig
Reasons for selection: large construction capacity, strong rock penetration ability, high reliability, convenient transportation and transition, and market-leading models
SR405HK is aimed at the construction of large-scale pile foundation projects, which can meet the requirements of large holes and deep piles at the same time, and is suitable for a variety of difficult geological conditions; it is the first to create an adjustment-free counterweight chassis to solve the problem of loose counterweight; it develops power control technology for the whole work process, and the construction efficiency is significantly ahead; The first main winch pre-tensioning function prevents the wire rope from loosening and twisting, and improves the service life; according to the high-standard design of rock-entry conditions, the torque is sufficient and the pressure is large; the center of gravity of the whole machine is low, the width is large, and the construction is more stable; high-power discharge High-volume engine, real-time power distribution, continuous output, improve efficiency, reduce fuel consumption, and reduce fuel costs; structural parts have strong ability to withstand alternating loads, and the main hoist is wound in a single layer, which is strong and durable. Since its listing, the market share has been ranked first for a long time.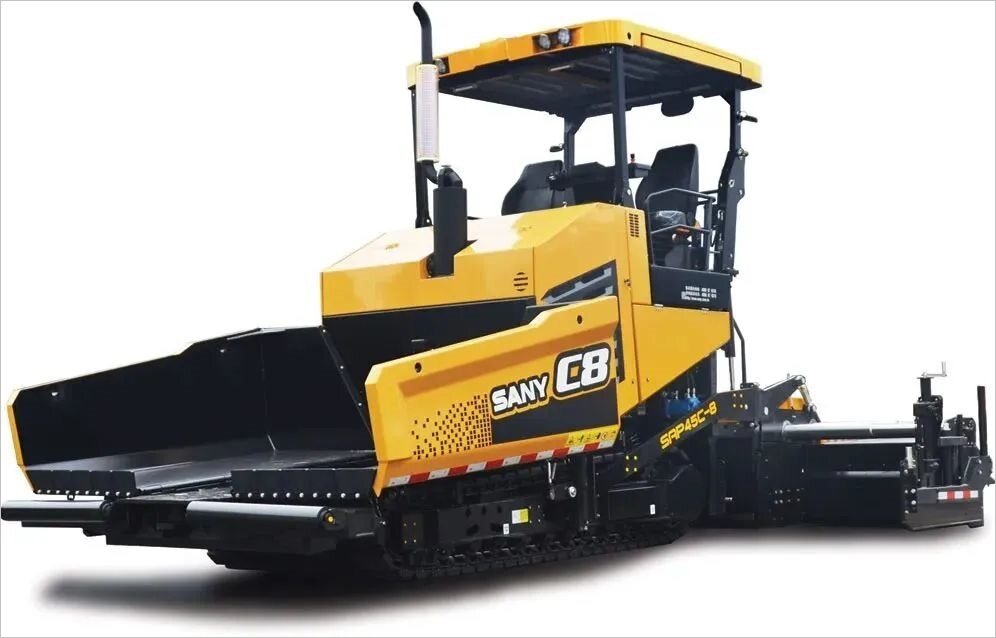 SANYSAP45C-8 paver
Reason for selection: flexible cornering genius
SAP45C-8 has a body width of 1.8m and good passability. It can meet the paving requirements of 2m wide sidewalk asphalt without removing side baffles; the crawler driving system adopts left and right independent driving hydraulic system, which has large driving force and good adaptability to road conditions; The electric heating generator of the screed soleplate adopts independent drive technology, which can be turned on at any time according to the construction needs to meet the needs of customers for heating while construction, no need to stop and wait; full hydraulic drive system, easy to operate and quick to use; full-width telescopic screed, no need to install The mechanical assembly board can be infinitely expanded from 1.8m to 4.5m, and the expansion range is 2.7m, which is more convenient for construction and transportation, and does not need to be assembled. Editor/Zhao E
0
Collect