News
Chongqing-Suizhou-Haizhou-Railway Intermodal Train Starts Two-Way
With Nansha Port and Orchard Port as nodes, the line will open up a new South China outlet for the western region
On June 20, 2022, the Chongqing-Guangzhou-Sea Rail Combined Transport (Chongqing Orchard Port-Guangzhou Nansha Port) international train loaded with chemicals and other goods slowly departed from Chongqing Orchard Port and headed to Guangzhou Nansha Port. At the same time, the opposite train from Nansha Port to Chongqing Orchard Port also departs. It marks the official start of the Chongqing-Guoyuan Port and Guangzhou Nansha Port-Chongqing-Suizhou trains.
The goods transported by the two Chongqing-Suizhou-sea railway intermodal trains shipped this time are raw materials imported from Japan, South Korea, and the Middle East, and chemicals and machinery exported to Africa, Europe, America, and Southeast Asia. The value of each train is about 6 million. Yuan, the total journey is 1800 kilometers, and the train running time is about 3 days.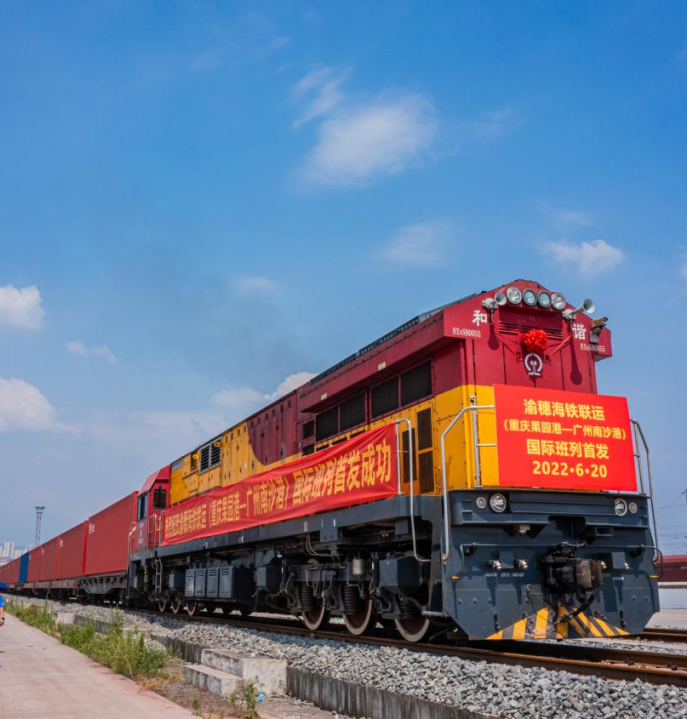 Li Xingzhi, deputy general manager of Chongqing Jiaoyun Group, said that compared with the traditional shipping method, the export of goods from Chongqing and western regions to Africa and Southeast Asia will save at least 10 days, and the logistics cost will also be reduced by about 10%.
In order to further enrich the railway transportation service system between Guoyuan Port and Nansha Port, the two parties will also promote the normal operation of Chongqing-Suizhou trains, and increase the frequency of issuance from the current one a week to two a day.Editor/Ma Xue
0
Collect