Forum
Xi Jinping Attends the Opening Ceremony of the BRICS Business Forum
As long as we think in one place and work hard in one place, the BRICS cooperation can go steadily and steadily.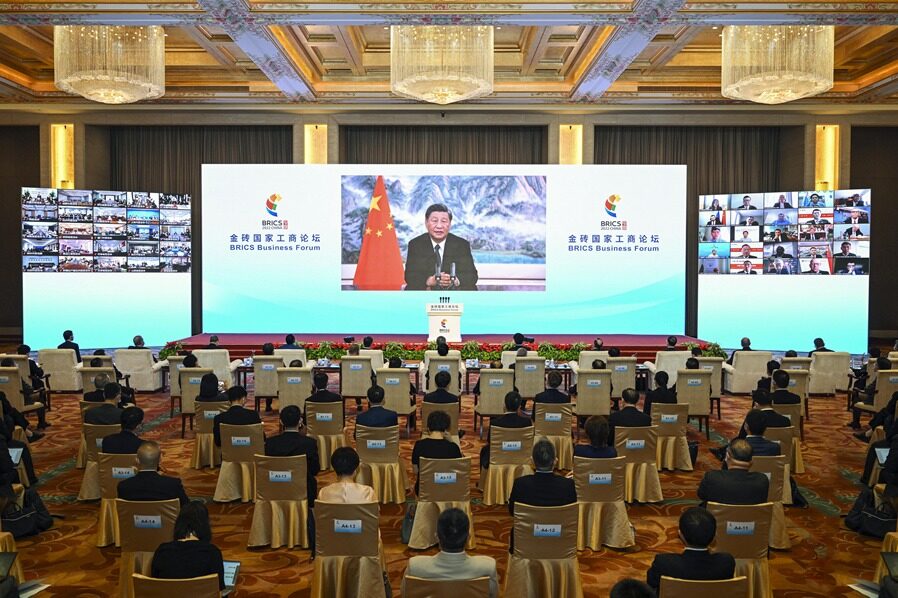 President Xi Jinping attended the opening ceremony of the BRICS Business Forum by video and delivered a keynote speech entitled "Grasp the Trend of the Times and Create a Bright Future". Xi Jinping pointed out that at present, the century-old changes in the world and the epidemic of the century are intertwined, various security challenges emerge one after another, the world economy is struggling to recover, and global development has encountered serious setbacks. Where is the world going? Peace or War? Growth or decline? Open or closed? Cooperation or confrontation? It is the question of the times before us.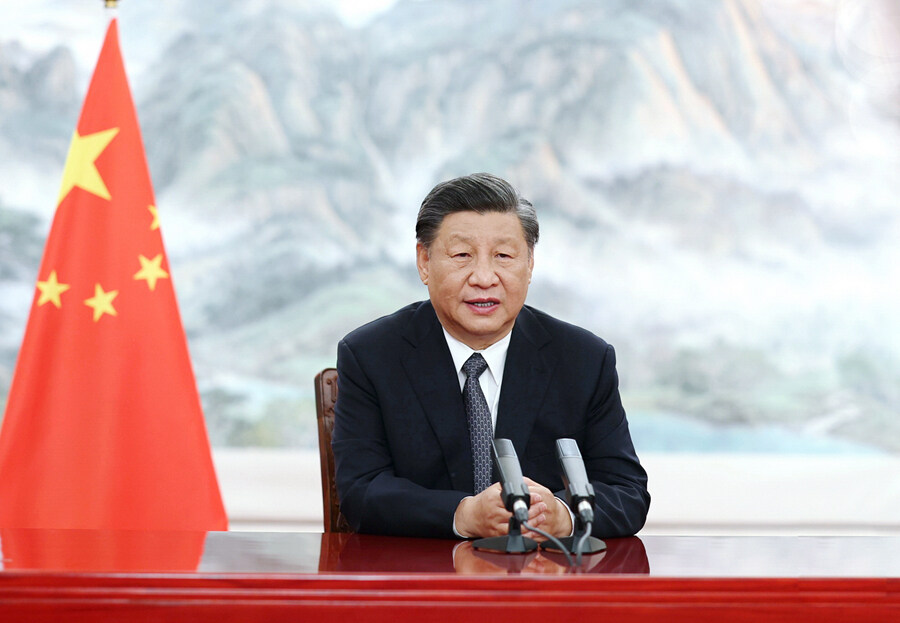 Xi Jinping emphasized that the long river of history is sometimes calm, sometimes turbulent, but always rushing forward. Although the international situation is changing, the historical trend of opening up and development will not change, nor will the desire to work together to meet challenges. We must not be afraid of floating clouds, accurately understand the laws of historical development, not be fooled by temporary events, not be afraid of risks, face challenges bravely, and move forward bravely towards the goal of building a community with a shared future for mankind.
We must unite and work together to maintain world peace and stability. Painful history shows that hegemonism, bloc politics, and camp confrontation will not bring peace and security, but will only lead to war and conflict. Believing in the status of strength, expanding military alliances, and seeking one's own security at the expense of other countries' security, will inevitably fall into a security dilemma. Only when everyone cherishes and maintains peace, and only when everyone remembers the painful lessons of the war, can there be hope for peace. We must not forget the original intention of the UN Charter and keep in mind the mission of safeguarding peace. Not long ago, I put forward a global security initiative, advocating that all countries adhere to a common, comprehensive, cooperative and sustainable security concept; adhere to respect for the sovereignty and territorial integrity of all countries; adhere to the purposes and principles of the UN Charter; adhere to paying attention to the legitimate security concerns of all countries; Negotiations to resolve differences and disputes between countries in a peaceful manner; adhere to overall planning to maintain security in traditional and non-traditional areas. The international community should abandon zero-sum games, jointly oppose hegemonism and power politics, build a new type of international relations featuring mutual respect, fairness, justice, and win-win cooperation, and foster a sense of community that shares weal and woe, sharing safety and security, and let the sunshine of peace illuminate the world.
We need to help each other and jointly promote global sustainable development. At present, the global development process has been severely impacted. The world's 1.2 billion people in nearly 70 countries are facing epidemic, food, energy, and debt crises, and the global poverty reduction achievements over the past few decades may be in vain. Last year, I put forward a global development initiative, calling for the implementation of the United Nations 2030 Agenda for Sustainable Development, the promotion of a global development partnership of solidarity, equality, balance and universal benefits, and comprehensive promotion of poverty reduction, health, education, digital connectivity, and industrialization. cooperation in other fields. It is necessary to strengthen cooperation in food and energy, and improve the level of food and energy security. It is necessary to seize the opportunity of the new round of scientific and technological revolution and industrial transformation, promote the global flow of innovation elements, and help developing countries accelerate the development of digital economy and green transformation. We should actively carry out anti-epidemic cooperation, provide more anti-epidemic drugs to developing countries, and strive to defeat the epidemic at an early date. We must adhere to the heart of the people and the interests of the world, so as to push global development into a new era and benefit the people of all countries.
We must work together to achieve win-win cooperation. At present, some important industrial chains and supply chains have been artificially interfered, global inflation remains high, international financial markets continue to fluctuate, and the momentum of world economic recovery continues to weaken. Everyone is worried that the world economy will fall into the quagmire of crisis. At this critical moment, only by adhering to solidarity and solidarity can we overcome the economic crisis. We must think in one place, work hard in one place, and strengthen macroeconomic policy coordination. Major developed countries should adopt responsible economic policies to avoid spillover of negative policy effects and serious impact on developing countries. Facts have proven time and time again that sanctions are a "boomerang" and a "double-edged sword", politicizing, instrumentalizing, and weaponizing the world economy, taking advantage of the dominance of the international financial and monetary system to impose arbitrary sanctions, which will ultimately harm others and bring harm to the people of the world. .
We must be inclusive and work together to expand openness and integration. For some time now, economic globalization has encountered "headwinds and currents". There is widespread concern in the international community that the world economy is fragmented into isolated regions. Economic globalization is an objective requirement for the development of productive forces and an irresistible historical trend. Going backwards in history and trying to block other people's road will only block your own road in the end. We must adhere to openness and inclusiveness, remove all barriers that hinder the development of productive forces, guide and promote the healthy development of globalization, allow the free flow of capital and technology, allow innovation and wisdom to fully emerge, and bring together the synergy of world economic growth. It is necessary to maintain the multilateral trading system with the World Trade Organization at its core, eliminate trade, investment and technological barriers, and promote the building of an open world economy. We must adhere to extensive consultation, joint contribution and shared benefits, strengthen global economic governance, increase the representation and voice of emerging market countries and developing countries, and ensure equal rights, rules and opportunities for all countries.
Xi Jinping emphasized that since 2022, facing the complex and severe development environment at home and abroad, China has insisted on coordinating epidemic prevention and control and economic and social development, insisting on the supremacy of people and lives, protecting people's lives and health to the greatest extent, and stabilizing the economy and society to the greatest extent. Development base plate. China will intensify its macro-policy adjustment, take more effective measures, and strive to achieve the annual economic and social development goals. In the second half of the year, we will hold the 20th National Congress of the Communist Party of China to draw a blueprint for China's development in the next stage. Based on the new development stage, China will implement new development concepts, actively build a new development pattern, and strive to achieve high-quality development. China will continue to improve its level of opening to the outside world, build a new system of higher-level open economy, and continue to create a market-oriented, rule-of-law, and international business environment. We warmly welcome everyone to invest in China, strengthen economic and trade cooperation, and share development opportunities.
Xi Jinping pointed out that the BRICS cooperation mechanism is an important platform for cooperation between emerging market countries and developing countries. At present, BRICS cooperation has entered a new stage of high-quality development. It is hoped that entrepreneurs will carry forward the spirit of perseverance and bravery, be the promoter of open development, the leader of innovation and development, and the practitioner of shared development, so as to fuel BRICS cooperation and make development achievements more and more Equity benefits all people. As long as we raise the sails of mutual benefit and win-win results and hold the rudder of solidarity and cooperation, the big ship of the BRICS countries will surely be able to ride the wind and waves and sail to a brighter and better shore.
The 2022 BRICS Business Forum will be held in Beijing on June 22 in a combination of online and offline methods. South African President Ramaphosa, Brazilian President Bolsonaro, Russian President Vladimir Putin and Indian Prime Minister Narendra Modi attended the opening ceremony of the forum and delivered speeches. About 1,000 people including BRICS economic and trade ministers, diplomatic envoys to China and representatives of the business community attended the event.Editor/XingWentao
0
Collect