Photovoltaic
Tongwei Co., Ltd. finalizes the largest silicon material order in the industry
This is the largest silicon sales contract in the photovoltaic industry to date
Tongwei's main business includes agriculture, animal husbandry and new energy. It is currently the world's largest producer of photovoltaic cells and polysilicon
Recently, Tongwei Co., Ltd. issued an announcement on signing a major sales contract. Four of its subsidiaries signed a contract with Qinghai Gaojing Solar Technology Co., Ltd. to supply it with no less than 216,100 tons of polysilicon products from 2022 to 2026. , the total sales are expected to be more than 50.9 billion yuan. According to statistics, this is the largest silicon material sales contract in the industry.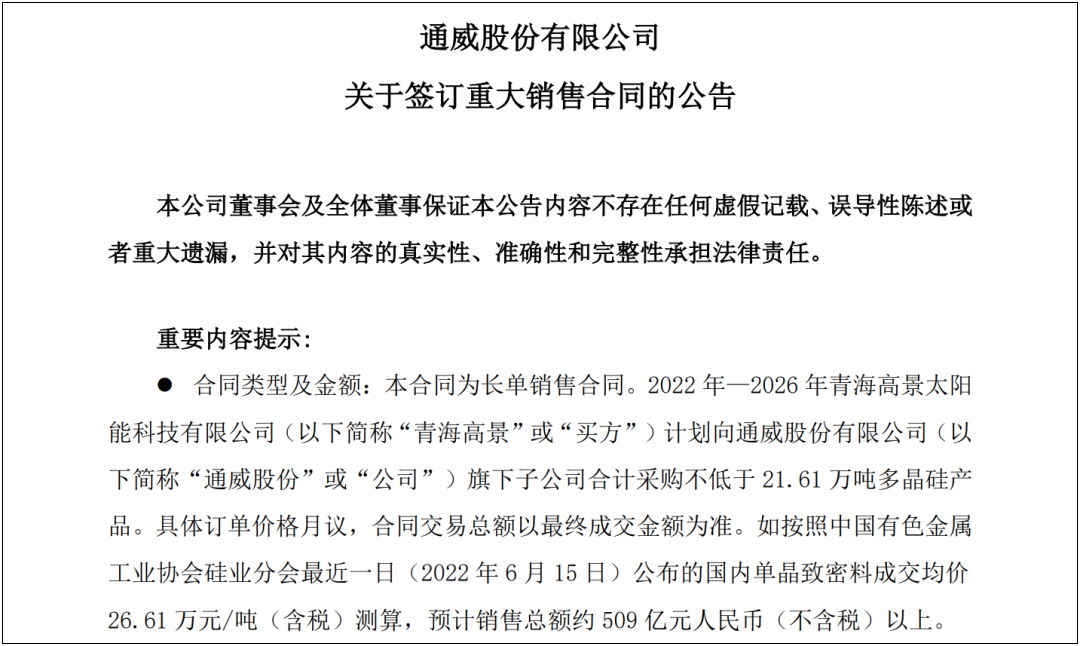 It is reported that in March 2022, Tongwei Co., Ltd. and the photovoltaic giant LONGi Green Energy signed a long-term sales agreement for 203,600 tons of polysilicon materials, with an estimated amount of 44.2 billion yuan. The total price of the above two silicon material orders finalized by Tongwei Co., Ltd. during the year is close to 100 billion yuan.
The silicon material buyer of Tongwei Co., Ltd. Qinghai Gaojing is a subsidiary of Guangdong Gaojing Solar Technology Co., Ltd., a photovoltaic rookie. Founded in 2019, Gaojing Solar is mainly engaged in the R&D and manufacturing of large-scale photovoltaic wafers and silicon rods. Currently, it is building a 50GW monocrystalline large-scale wafer project with an investment of 17 billion yuan. The company completed a 1.6 billion A round of financing in April 2022, and Xu Zhiqun, the former chief operating officer of JinkoSolar, is the chairman of Gaojing Solar.
Previously, Qinghai Gaojing also signed a purchase agreement with Xinte Energy and its subsidiaries for 152,400 tons of primary polysilicon, with a total amount of about 16.9 billion yuan.
Continuously rising polysilicon prices have brought a great improvement to Tongwei's performance. According to its plan released in April, by 2023, the company's high-purity crystalline silicon production capacity will reach 220,000-290,000 tons. From 2024 to 2026, the production capacity of high-purity crystalline silicon is expected to reach 800,000 to 1 million tons. Editor/He Yuting
0
Collect