Interview
The driver of the motor car, Kong Xiang, is paired with the Dream Railway
Kong Xiangpei witnessed the continuous improvement of China's speed and the high-quality development of China's railways
Kong Xiangpei, a member of the Communist Party of China, the driver and chief technician of the EMU in the Jinan EMU Workshop of Jinan Locomotive Depot of China Railway Jinan Bureau Group Co., Ltd., has won the National May 1st Labor Medal, the All-Road Technical Expert, and the Railway Youth May Fourth Medal and other honors.
As of the end of May 2022, Kong Xiangpei has accumulated more than 3.3 million kilometers of safe driving, which is equivalent to more than 80 circles around the earth's equator.
In 2017, in order to solve the problem of accurate benchmarking of EMU parking, Kong Xiangpei summarized and refined the "low-speed inertial benchmarking method", which has become a practical collection for EMU drivers to achieve "zero-distance benchmarking parking".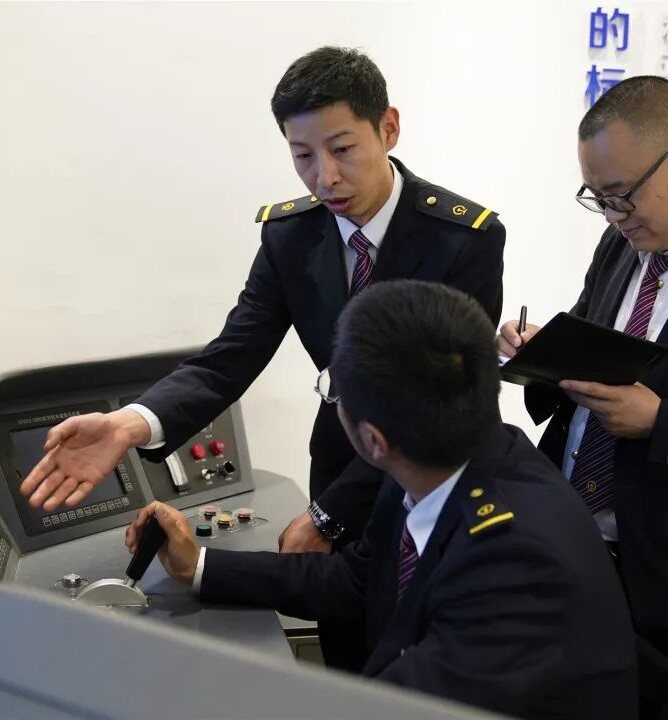 In 2022, in view of the fact that the distance between parking signs and signals at some stations of the Japan-Lanzhou high-speed railway is short, and the parking difficulty is difficult, Kong Xiangpei innovatively formed the "7-kilometer low-speed benchmarking method", compressing the EMU station benchmarking and parking time to 30 seconds. Under the premise of safety, the transportation efficiency is greatly improved.
In addition, Kong Xiangpei also participated in 12 key research topics such as optimizing the process of changing ends of EMUs at stations, and running EMUs in rainy and snowy weather, effectively solving the difficult problems of driving.
On April 21, 2022, the world's leading new Fuxing high-speed comprehensive inspection train independently developed by China set a world record of 870 kilometers per hour at the open-track intersection of the test train, and the CR450 technology innovation project was also in full swing. "I look forward to driving the new Fuxing EMU in the vast land of the motherland as soon as possible, and continue to contribute to China's high-speed rail!" Kong Xiangpei said firmly.Editor/Ma Xue
0
Collect