Construction
Guangxi Nan-Chong Railway successfully introduced Nanning Station
The project is located in the throat area of ​​the main line of Nanning-Chongqing Railway, Nanning Station and Nanning Locomotive Depot
At 4:30 on June 23, 2022, after 28 hours of intense and orderly construction by more than 600 people, the construction of Nanning-Chongqing Railway's introduction to Nanning Station was successfully completed, and the track laying work of Nan-Chongqing Railway was completed.
The Nanning Railway Station and Nanning Station Reconstruction Construction is located in the throat area of the Nanning Railway Main Line, Nanning Station and Nanning Locomotive Depot, which is the key to the entire communication system. Nanning Station is the junction of main line railways such as Nanguang, Liunan and Yungui high-speed railways, and the passenger flow is busy.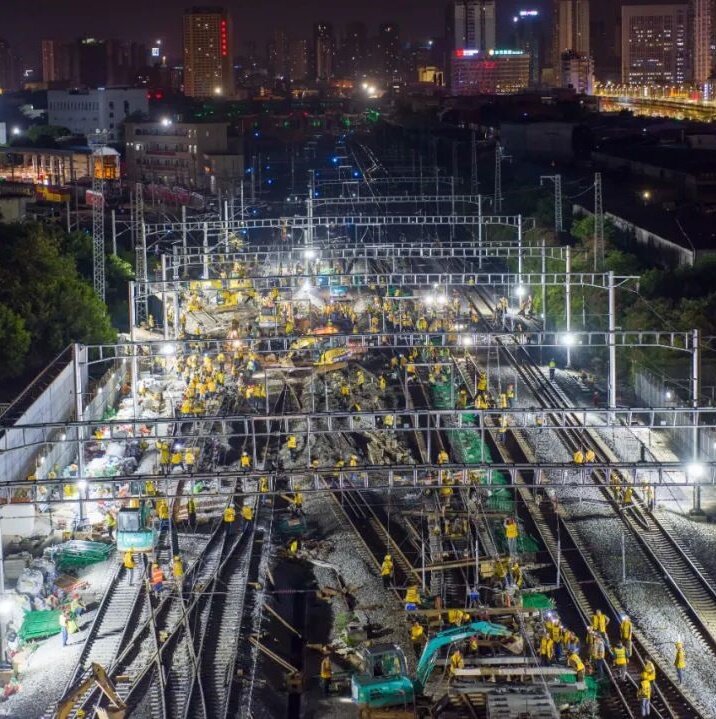 The construction lasted for 28 hours, during which interlocking software replacement, line removal, turnout insertion, ballast removal, elevation measurement, turnout translation, line connection, ballast sealing, catenary installation and fine adjustment were completed. Construction Project.
The Nanning-Chongqing Railway is expected to open at the end of 2022. At that time, the transportation time from Nanning to Chongzuo will be shortened from 2 hours to 30 minutes, and the fastest from Nanning Railway Station to Nanning Wuxu International Airport will only take 12 minutes, which will help Guangxi fully integrate into the Belt and Road Initiative. And the construction of the new land-sea passage in the west provides a solid transportation foundation guarantee.Editor/Ma Xue
0
Collect