News
Two major photovoltaic projects in Qinghai have been certified by the world
Qinghai Ecological Photovoltaic Park and Longyangxia Hydro-Solar Hybrid Power Station have been certified by Guinness World Records
On the morning of June 26, 2022, the Ecological Photovoltaic Park in Hainan Prefecture, Qinghai Province and the Longyangxia Hydro-Solar Hybrid Power Station were certified by the Guinness World Records, becoming the world's largest installed capacity of photovoltaic power generation parks and the world's largest installed capacity of hydro-solar hybrid power generation. stand. Guinness World Records Certification Officer Wu Xiaohong issued certificates to the Hainan State People's Government and SPIC Yellow River Company.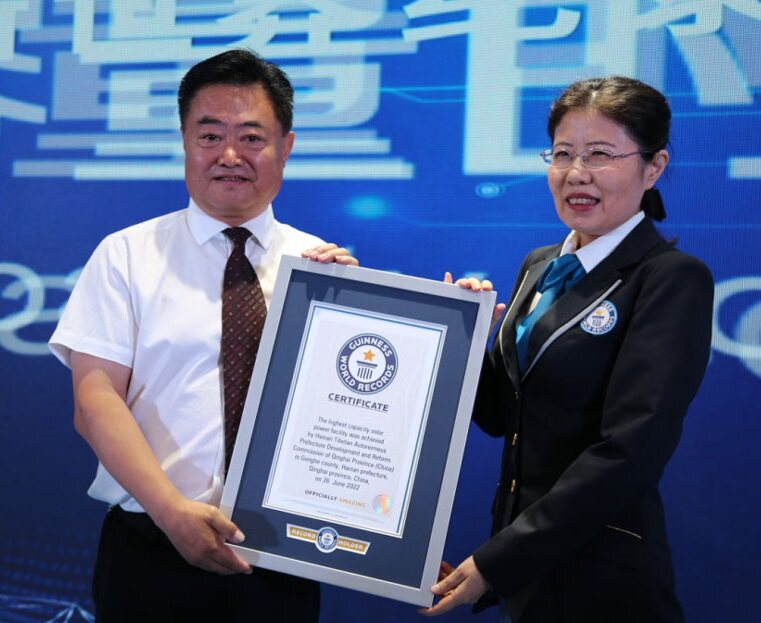 Wu Xiaohong issued a certificate to the Hainan Tibetan Autonomous Prefecture People's Government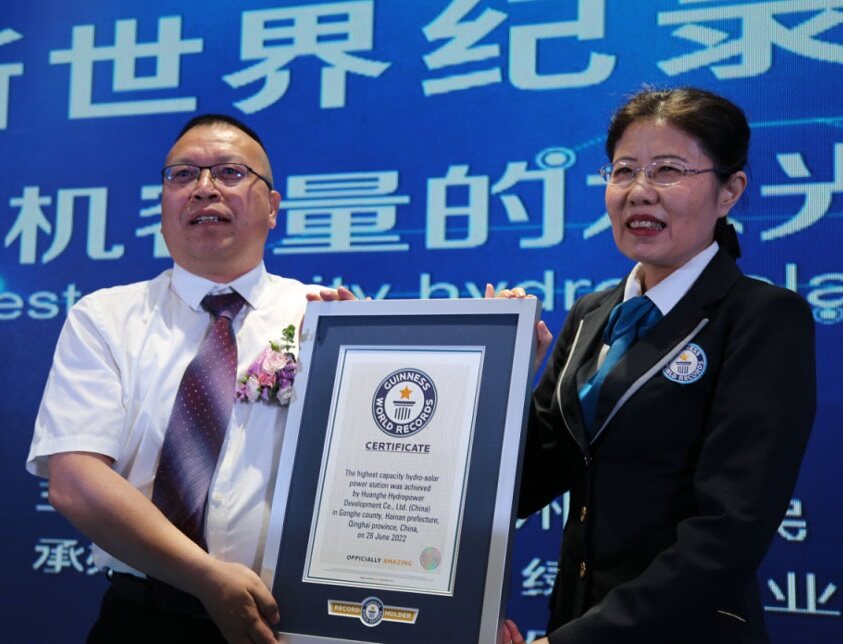 Wu Xiaohong issued a certificate to State Power Investment Yellow River Company
"The photovoltaic power generation park with the largest installed capacity in the world" refers to the ecological photovoltaic power generation project of 10 million kilowatts in Hainan, which is also the first 10 million kilowatt solar ecological power generation park in China. , The largest photovoltaic power station group with centralized power generation scale. Up to now, the installed capacity of clean energy has been built and under construction is 27.94 million kilowatts. The installed capacity of photovoltaic, wind power, and solar thermal has exceeded "two tens of millions of kilowatts", and the cumulative power generation has exceeded 50 billion quintillion hours.
"The world's largest hydro-solar hybrid photovoltaic power station" refers to the Longyangxia hydro-solar hybrid photovoltaic power station with a total installed capacity of 2,130 MW, of which the photovoltaic installed capacity is 850 MW, and the installed capacity of the Longyangxia Hydropower Station is 1,280 MW.Editor/Ma Xue
0
Collect