News
China's first sea-rail intermodal container terminal opens in Guangxi
At present, the second phase of the project is underway, and two 200,000-ton berths are being constructed
On the morning of June 28, 2022, China's first sea-rail intermodal container terminal - Beibu Gulf Port Qinzhou Automated Container Terminal was officially opened. This is an important measure to promote the high-quality development of the new western land-sea passage and the Beibu Gulf international gateway port, and a key step for Guangxi to realize the ocean dream.
The world's first U-shaped process
The world's first "U"-shaped process plan and technical plan fully solve the problems of high energy consumption, high investment cost, unbalanced equipment utilization, and few loading and unloading points in the end operation process plan of the terminal yard, which is efficient, economical, and efficient. strong characteristics.
More loading and unloading points are more efficient
Through the three-stage gate, the outer truck can go directly to the target bay in the yard. After picking and placing the box, it can exit the gate along the "U"-shaped road. The IGV can be operated from the seaside to the yard along the lane. The U-shaped layout has many loading and unloading points and is flexible in unloading. Adding rail hoisting equipment can significantly improve the efficiency of the yard operation and has strong scalability.
Traffic diversion is safer
It realizes traffic diversion, physical isolation, and mutual non-interference between external trucks and IGVs, which not only realizes the collection and distribution operation of both landside and seaside in the same yard, but also ensures the safety of automatic operation.
Economical and more economical
The use of low-speed rail cranes reduces equipment cost, yard construction investment, equipment energy consumption and equipment loss by more than 30%.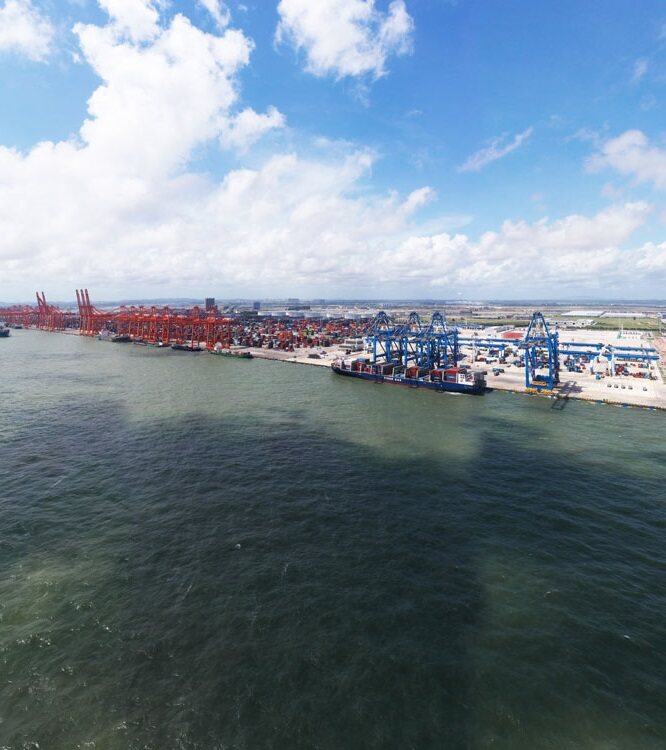 The Qinzhou Automated Container Terminal Project of Beibu Gulf Port will be implemented step by step in two phases. Among them, the automated container berths No. 7 and 8 in the south operation area of Dalanping in Qinzhou are the first phase of the project, with two 100,000-ton container berths and a shoreline The total length is 518.5 meters, and the annual throughput is 1.02 million TEUs.Editor/Ma Xue
0
Collect