Photovoltaic
Almaden and Trina Solar Sign Photovoltaic Glass Agreement
From June 2022 to December 31, 2025, Almaden will sell 337.5 million square meters of 1.6mm ultra-thin photovoltaic glass to Trina Solar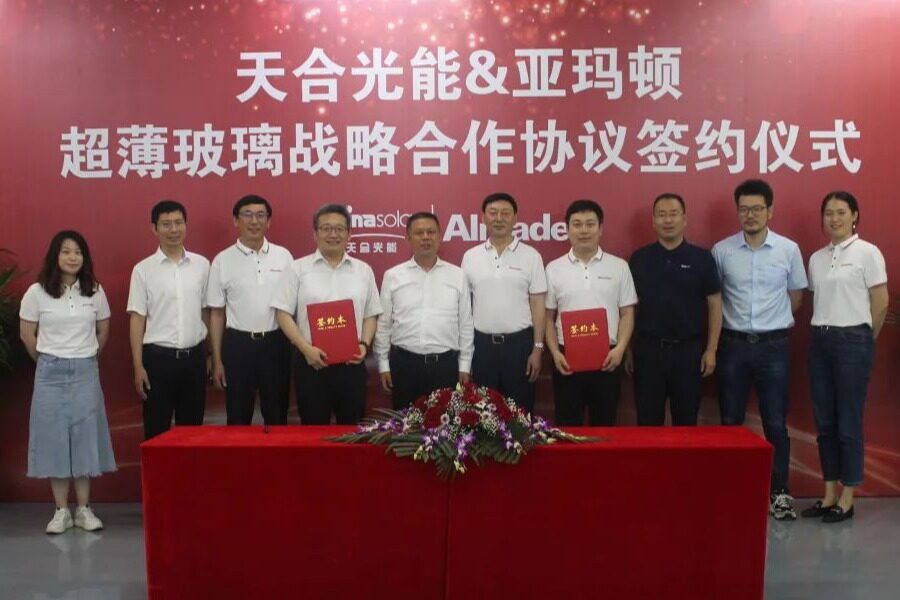 On June 26, 2022, Changzhou Almaden Co., Ltd. and Trina Solar Co., Ltd. signed a "Strategic Cooperation Agreement" for the sale of 1.6mm ultra-thin photovoltaic glass.
Almaden is the world's first mass-produced 1.6mm ultra-thin photovoltaic glass manufacturer. Relying on the completion and operation of the parent company's kiln in Fengyang and the expansion of the company's deep processing line for photovoltaic coated glass products, Almaden's ultra-thin physical tempering The scale advantage of glass production capacity will be further expanded. This signing represents the general trend of lightweight photovoltaic glass, and the market share of ultra-thin photovoltaic glass is expected to increase significantly. 1.6mm photovoltaic glass is 20% lighter than the current mainstream 2.0mm glass, which has obvious advantages in weight and cost. It is more in line with the needs of light weight and high efficiency in scenarios such as household distribution, and is of great significance to the photovoltaic industry to "reduce costs and increase efficiency".
Trina Solar has huge advantages in innovation leadership, strategic layout and industry guidance. Trina Solar's cooperation concept of creating a win-win situation with its partners is even more well-known. The cooperation between Almaden and Trina Solar has a long history, and the cooperation and friendship also have a long history. The strategic cooperation between the two parties to lock in future supply and demand will achieve complementary advantages and win-win results, injecting strong impetus into the sustainable, rapid and healthy development of both parties.
The signing of this cooperation agreement reflects Almaden's technological research and development advantages and technological innovation capabilities in the field of thin glass. At the same time, it is conducive to the market promotion of the company's 1.6mm ultra-thin photovoltaic glass, further enhancing the company's market influence and core competitiveness in the thin glass field, and will have a positive impact on the company's operating performance. Almaden will take this opportunity to continue to uphold focus, professionalism and innovation to shine in the photovoltaic field. Editor/He Yuting
0
Collect