Construction
Shandong Chiping Extra Large Bridge swivels successfully
The swivel continuous beam in this construction spans the Beijing-Kowloon and Handan-Ji railways at the same time
On June 27, 2022, the Ji-Zheng High-speed Railway Chiping Bridge built by China Construction Eighth Bureau across the Beijing-Kowloon and Handan-Ji The largest continuous girder swivel bridge in the Shandong section. In the next step, the beam and ballastless track construction will be carried out.
The cross-Beijing-Kowloon and Handan-Ji Railway (72+128+72) m swivel continuous beam has a total length of 273.7 meters, a bridge deck width of 12.6 meters, a main pier height of 10 meters, and a single T-structure swivel weight of 11,100 tons. The rotation requires two T members to be combined with zero error. In order to achieve precise docking, the two main pier T members are respectively pulled by two 300-ton jacks, hydraulic pump stations and other rotating equipment to simultaneously rotate 79 degrees clockwise. , and finally completed the combination of the two "Big Macs".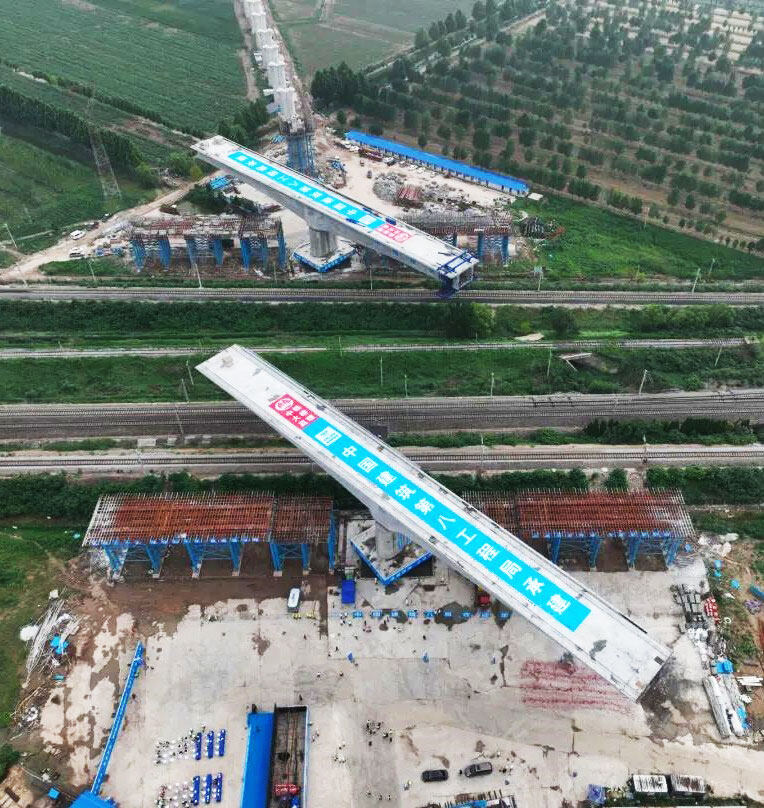 The swivel construction is supported by the ball joint. The intelligent continuous jack is controlled by the main console to make the beam rotate. The personnel of the support foot slides observe the force state of the swivel system in real time, and monitor and calculate the rotation data in real time according to the scale and number on the turntable. Monitor the wind speed to ensure that the construction progress of the swivel is controllable, the appearance accuracy is accurate, and the safety factor meets the standard.
Construction of the Shandong section of the Jizheng-Zheng high-speed railway will start in June 2020, with a total length of 168.391 kilometers. The second bid section undertaken by China Construction Eighth Bureau has a total length of 80.736 kilometers. It is planned that the construction of all continuous beams will be completed in August 2022, and the track laying will begin in November 2022.Editor/Ma Xue
0
Collect