Interconnection
The Chengdu-Chongqing China-Europe freight train has exceeded 2,000 trains
The China Railway Express between Chongqing and Sichuan carries the mission of opening up western China to the outside world
The China-Europe freight trains operating in Sichuan and Chongqing account for 30% of China's China-Europe freight trains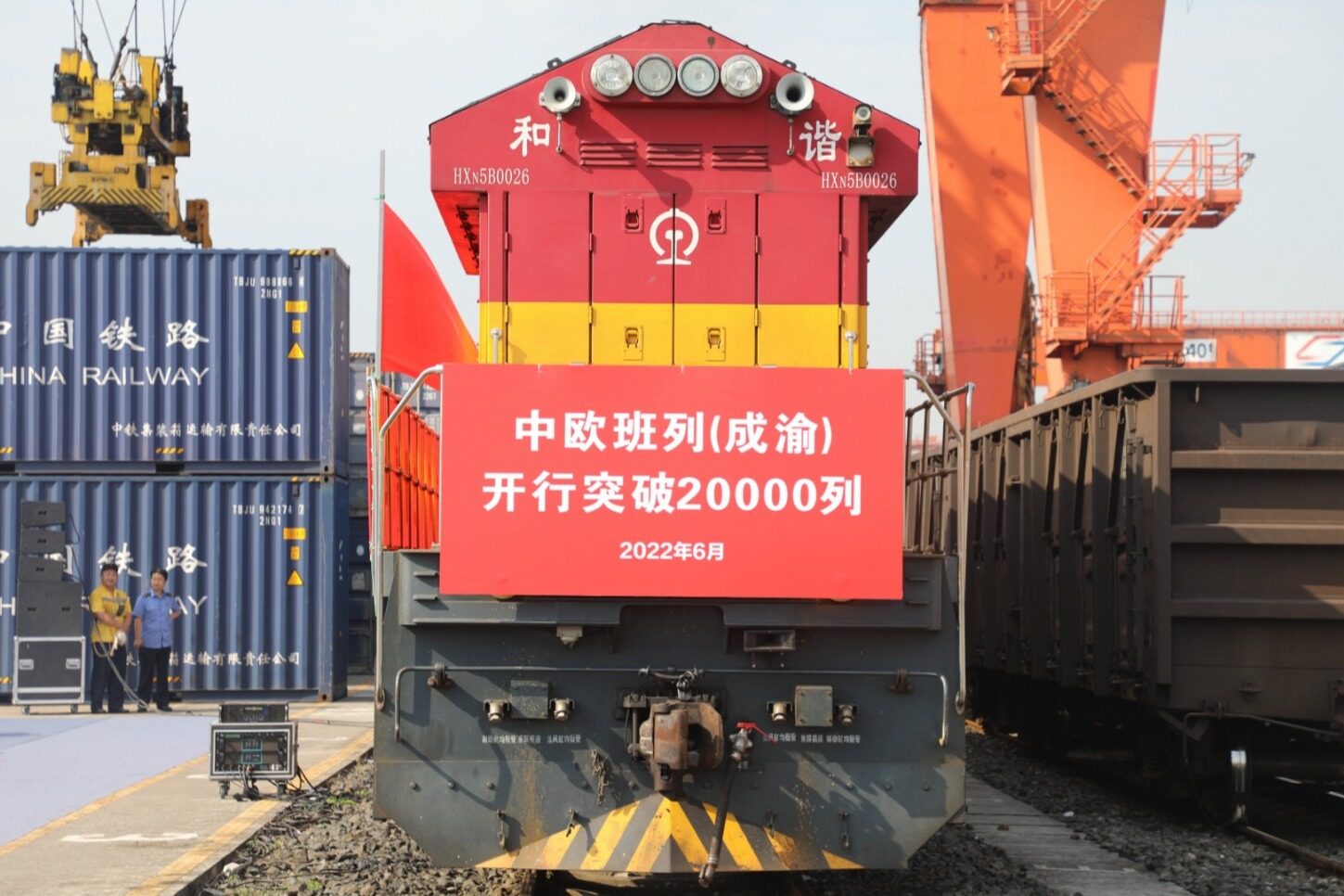 At 9:50 a.m. on June 30, 2022, the whistle sounded throughout the vast land of Sichuan and Chongqing. Two China-Europe freight trains (Chengdu-Chongqing) loaded with electronic products, mechanical parts, daily necessities and other goods slowly drove out. Chongqing Tuanjie Village Central Station, Chengdu International Railway Port.
The cumulative number of China-Europe trains between Chengdu and Chongqing has exceeded 20,000, which has become an important milestone in the development history of China-Europe trains. The China Railway Express (Chengdu-Chongqing) carries the mission of opening up the west to the outside world and goes all the way west to Europe, making positive contributions to promoting the high-quality development of the Belt and Road Initiative.
Create high-quality prototypes
In 2020, Chengdu and Chongqing will initiate cross-provincial co-construction, co-construction and sharing of China-Europe freight trains in China, and jointly build the "China-Europe freight trains (Chengdu-Chongqing)" brand. The first train will be dispatched simultaneously on January 1, 2021. In the first year (2021) of the China-Europe Railway Express (Chengdu-Chongqing) cooperation, more than 4,800 trains will be operated, accounting for 30% of China's China-Europe Railway Express, and the value of transported goods will exceed 200 billion yuan. The return transport container volume exceeds 200,000 TEUs, ranking first in China, contributing 35% of China's return container volume.
Today, the cumulative number of China-Europe trains operating between the two places has exceeded the 20,000 mark, accounting for about 40% of the cumulative number of China-Europe trains in China. train.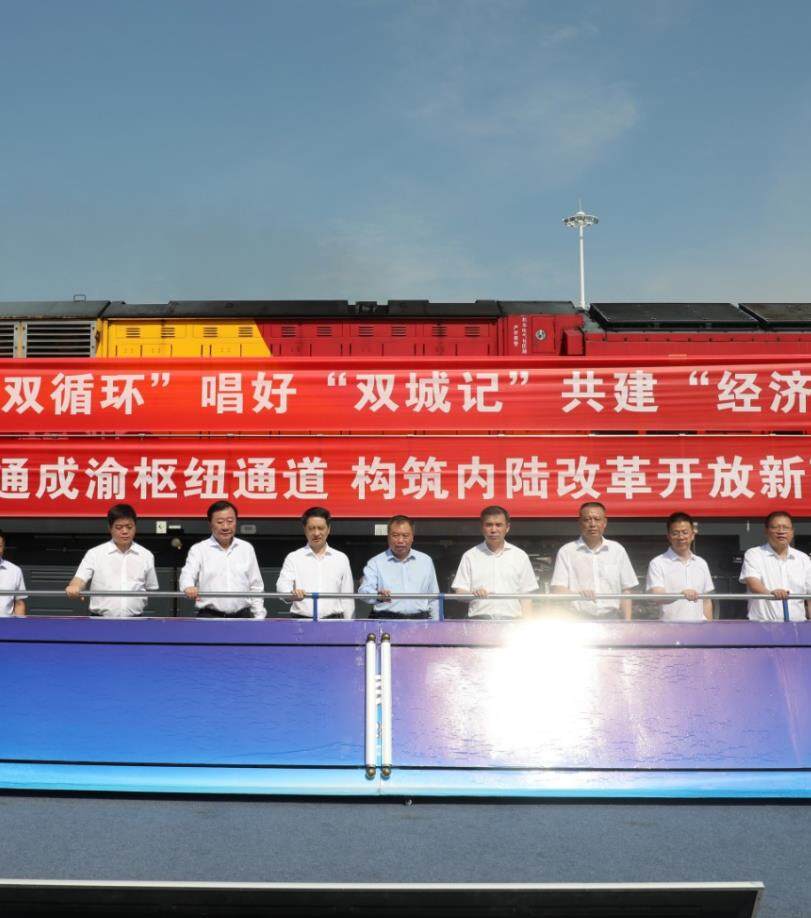 "The two places use a unified brand to carry out business and external promotion, establish a unified price alliance and a booking and order-receiving mechanism, and provide accurate services according to the needs of industries and customers in the Chengdu-Chongqing region. Management reform' and other innovative achievements are shared and learned from each other, and we are striving for pilot projects together, and major breakthroughs are being made in boosting the high-quality development of the industry." Qi Dan, general manager of Yuxinou (Chongqing) Logistics Co., Ltd., said that in the future, it will be actively carried out Regional cooperation promotes the stable and long-term development of the industry, and promotes the high-quality development process of "integration and symbiosis" for China-Europe trains.
from 0 to 40
Starting from Chongqing, there are nearly 40 lines in stable operation, which can radiate 59 domestic railway stations and 29 ports, benefiting more than 30 cities and regions; internationally, it can radiate Europe, Central Asia, Japan and South Korea, Southeast Asia, North America and North Africa, etc. region, access to nearly 100 cities in Asia and Europe.
New directions are constantly being opened up. On May 23, 2022, a new China-Myanmar corridor (Chongqing-Lincang-Myanmar) international railway train departed from Chongqing Guoyuangang Yuzui Station and arrived in Myanmar in just 8 days. Since then, a land channel with the shortest distance, the fastest speed and the most direct connection to the Indian Ocean was officially opened. On June 4, 2022, an international train loaded with daily necessities and electronic accessories slowly departed from Chengdu International Railway Port and headed for Kathmandu, the capital of Nepal.
Du Jinyou, director of the Chengdu Port and Logistics Office, said, "In recent years, Chengdu and Chongqing have jointly built a mechanism, sought common development, and jointly promoted the future, and continued to deepen China-Europe freight trains (Chengdu-Chongqing) all-round, multi-level, and win-win cooperation in all fields. In the next step, Chengdu and Chongqing will carry out closer and pragmatic cooperation focusing on giving play to the leading role of the Chengdu-Chongqing pole core, the dual-core linkage effect and the central hub function, maintaining the multi-path and multi-channel safe and stable operation of the train, and enhancing the brand's market competitiveness and competitiveness. Diversified service levels to promote the sustainable and high-quality development of the China Railway Express (Chengdu-Chongqing)."
New channel to promote trade
The stable operation of the China-Europe train (Chengdu-Chongqing) promotes the efficient development of industries suitable for iron and Europe, such as electronics, automobiles, and machinery in the west, and makes the characteristic hub economy take shape. Chengdu and Chongqing adhere to the channel to drive economic, trade and industrial development, and rely on the advantages of China-Europe freight train transportation and brand effects to create an export-oriented industrial cluster.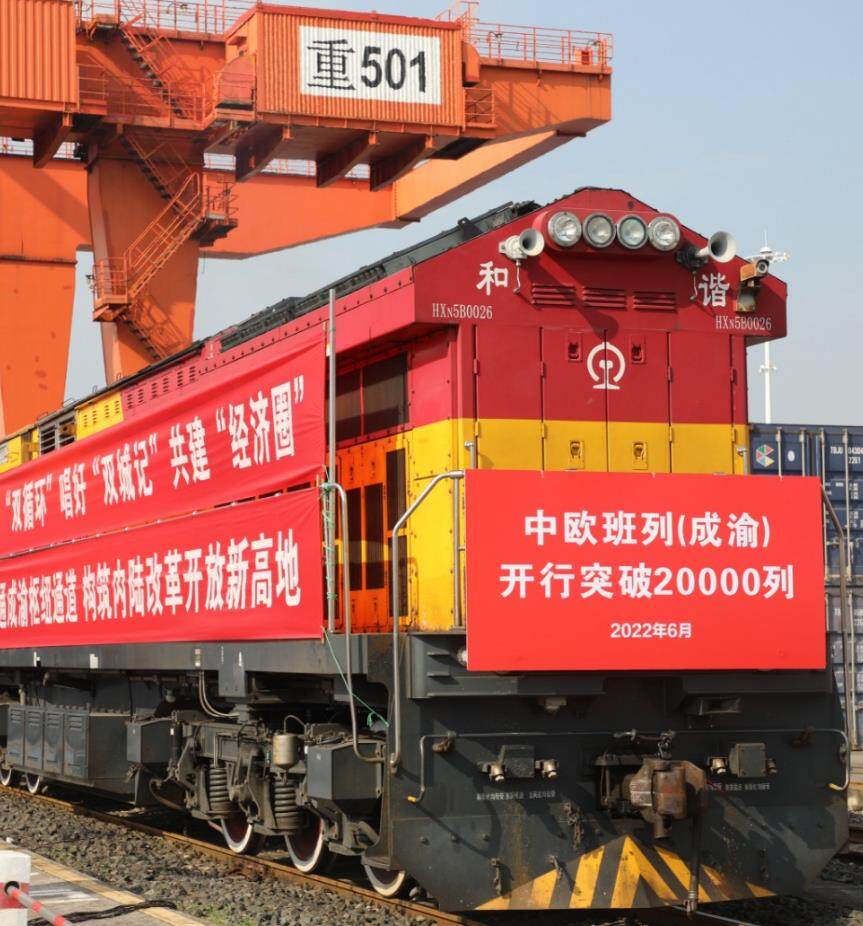 In 2021, the China Railway Express (Chengdu-Chongqing) will drive the import and export of Sichuan and Chongqing to countries related to the Belt and Road to increase by 20.4% and 26% respectively, and the import and export to the EU will increase by 13.2% and 19.5% respectively. Chengdu International Railway Port has introduced supply chain management companies such as SF Express, Xiamen C&D Development, and China Storage and Transportation to build the Belt and Road supply chain configuration center; Hong Kong Yuhu, Xiamen Xiangyu, Hema Xiansheng and other leading international trade companies have settled in the port area to build a multi-functional A comprehensive service platform for international trade; processing trade projects such as TCL and Penanton have settled in the Comprehensive Bonded Zone, gathering export-oriented advanced manufacturing industries. Key words:
Bachuanjiang, director of the Port Logistics Office of the Chongqing Municipal Government, said, "The two places will further strengthen the China-Europe train (Chengdu) cooperation in accordance with the short, medium and long-term 'three-step' approach, and jointly promote the channel to drive the high-standard integration of logistics, trade and industry. , high-quality mutual promotion, and promote the further aggregation of industries in Chengdu and Chongqing. In the near future, the optimization of overseas routes and the co-construction and sharing of overseas warehouses will be accelerated. On the basis of other projects, we will innovate and carry out industry standardization construction, etc., and accelerate the creation of the 'first brand' of China-Europe freight trains."Editor/XuNing
0
Collect