Interconnection
China-Laos-Thailand railway achieves interconnection
Shipping time from Kunming, China to Thailand reduced to one day
By then, the international logistics channel of land-sea combined transport will be more smooth.
The China-Laos Railway Vientiane South Station Reloading Yard was officially completed and put into use on July 1, 2022. The first batch of cross-border containers will be reloaded between standard gauge and meter gauge here before heading to Thailand. This marks the realization of the interconnection of the China-Laos-Thailand railway, and the more convenient and smooth international logistics channels for land-sea combined transport.
According to the person in charge of the International Department of China National Railway Group Co., Ltd. (National Railway Group), the China-Laos Railway adopts international standard gauge, and the Thailand Railway adopts meter gauge. A vehicle of one gauge is unloaded onto a vehicle of another gauge.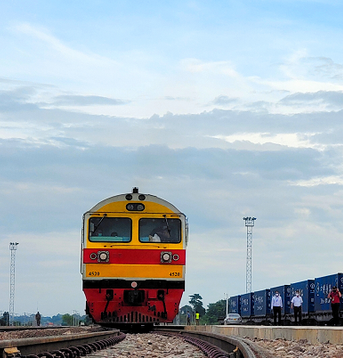 The transshipment yard of Vientiane South Railway Station, which was completed and put into use this time, is connected to the freight yard of Vientiane South Station of the China-Laos Railway in the north, and connected to the existing Laos meter-gauge railway in the south. , 2 meter-gauge reloading lines, which can reload 25 Thai meter-gauge railway freight cars at the same time, with an annual reloading capacity of about 800,000 tons.
After the completion of the dressing yard of Vientiane South Station, the China-Laos-Thailand Railway will be interconnected. The cross-border freight train of the China-Laos Railway can reach the logistics distribution centers such as Chengdu Chengxiang, Chongqing Tuanjie Village, Xi'an Xinzhu, etc. in the north, and connect with the China-Europe freight train; in the south, it can reach Bangkok, the capital of Thailand, via the Lao-Thai meter-gauge railway. With Laem Chabang Port, the international logistics channel of land-sea combined transport will be more convenient and smooth. Keywords: One Belt One Road, One Belt One Road News, One Belt One Road Project
The completion and operation of the replacement yard of Vientiane South Railway Station will further enhance the radiation and driving role of the China-Laos Railway, improve the efficiency of international intermodal transportation between China and ASEAN countries, and reduce cross-border logistics costs. According to the China Railway Group, the transit time from Kunming, China to Laem Chabang, Thailand is shortened by about one day compared with the reloading and reverse transportation of automobiles, and the transportation cost is reduced by more than 20%.Editor/XuNing
0
Collect