Central enterprises
PowerChina issued 15 billion yuan for offshore wind power projects
Yunyang Jianquan Pumped Storage Power Station Project with a total installed capacity of 1200 MW
Vietnam's Ca Mau No. 1 wind power project has a total investment of US$774 million and is the largest offshore wind power project in Vietnam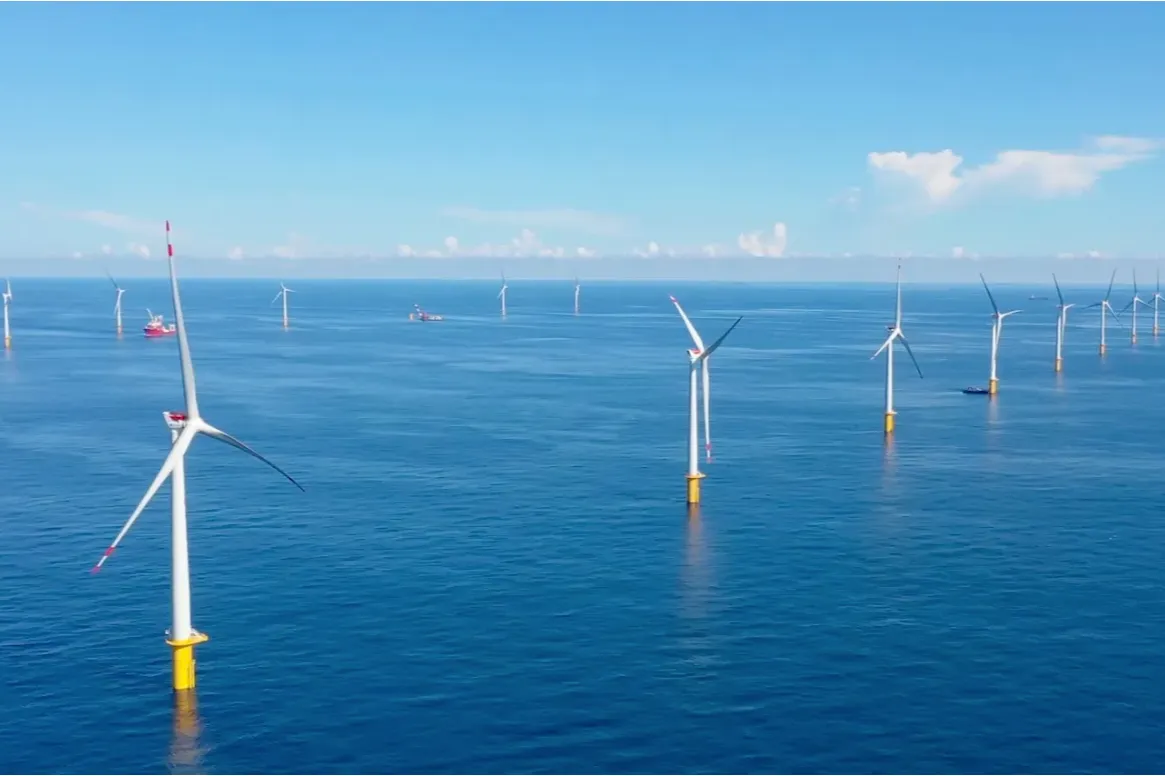 Recently, POWERCHINA issued a major announcement that POWERCHINA plans to issue a non-public offering of no more than 15 billion yuan for the implementation of 4 projects. Among these 4 projects, 3 are offshore wind power projects, all of which are strategically planned for the future of offshore wind power. The basic information and capital planning of each project are as follows:
Vietnam Ca Mau No. 1 350MW Offshore Wind Power EPC Project
Basic information of the project: Vietnam's Ca Mau No. 1 wind power project is located in the offshore area of Dengrui County, Nangen District, Ca Mau Province, southern Vietnam. The total installed capacity is 350 MW. It is divided into four wind farms A, B, C and D. The project owner is Vietnam Construction Trading Joint Stock Company. The implementation of this project mainly includes the design, equipment supply, civil construction, installation and commissioning of engineering projects such as intertidal wind farms, collecting submarine cables, 220 kV substations, and 220 kV transmission lines. Hydropower International, a holding subsidiary of POWERCHINA, is the general contractor to implement this project. Vietnam's Ca Mau No. 1 Wind Power Project has a total investment of US$774 million, and Hydropower International won a bid of US$661 million. According to the project construction schedule, the total construction period of the project A and B is 15 months, and the total construction period of C and D is 24 months. .
Importance of the project: For POWERCHINA, this project is another large-scale offshore wind power project signed by POWERCHINA following the 171 MW offshore wind power project in Soc Trang Bac Lieu, Vietnam and the 310 MW offshore wind power project in Binh Dae, Vietnam. It is also the largest offshore wind power project in Vietnam and even the entire Southeast Asia so far. This project will further establish POWERCHINA's leading position as a new energy contractor in Vietnam and the global market.

POWERCHINA's overseas engineering project team has a number of ongoing projects in Vietnam, and has rich experience in EPC projects, which can ensure the smooth implementation of the project.
Yunyang Jianquan Pumped Storage Power Station Project
Basic information of the project: Yunyang Pumped Storage Power Station is located in the northeastern part of Chongqing, 270 kilometers away from the main urban area of Chongqing, 45 kilometers away from Wanzhou District, the second load center of Chongqing Power Grid, and 50 kilometers away from the planned Wanzhou 500kV substation. kilometer. The construction works of this project mainly include upper reservoir, lower reservoir, water transmission and power generation system, etc. The total installed capacity of the power station is 1200 MW, and four 300 MW mixed-flow reversible pump-turbine generator sets are installed. After the power station is completed, it will mainly undertake the tasks of peak regulation, valley filling, energy storage, frequency regulation, phase regulation and emergency backup of Chongqing power grid. The project is planned to be implemented by the holding subsidiary Yunyang Jianquan Pumped Storage Energy Development Co., Ltd.

Pumped storage is currently the most mature, reliable, safest and most potential energy storage and regulating power source for large-scale development.
The planning of Chongqing pumped storage power station began in the late 1990s. In order to solve the increasingly tense situation of peak regulation, frequency regulation and phase regulation in Chongqing power grid, in July 1998, the former Chongqing Municipal Planning Commission entrusted Zhongnan, a subsidiary of PowerChina. The institute has carried out the city's pumped storage site selection planning. After years of planning, survey, design, comparison and selection, the planning and construction plan of the Yunyang Jianquan Pumped Storage Power Station project has been approved by the Chongqing Municipal Development and Reform Commission and the National Energy Administration. In September 2021, the medium and long-term development plan for pumped hydro storage issued by the National Energy Administration listed this project as a key implementation project in the 14th Five-Year Plan of Chongqing.
POWERCHINA has a complete technical service system, technical standard system and scientific and technological innovation system in the hydropower field that represents the country's comprehensive competitiveness, and has world-leading capabilities in hydropower engineering construction, survey and design, and is a global leader in hydropower construction. After years of development, it has accumulated rich project experience in the field of construction and investment of medium and large pumped storage power stations, and has the advantages of the whole industry chain of investment financing, planning and design, construction contracting, operation management and equipment manufacturing, and the ability to provide integrated solutions. .
After calculation, the financial internal rate of return on capital of this project is 6.50%, which has good economic benefits.
Offshore wind power construction and installation business equipment purchase project
With the rapid growth of the scale of POWERCHINA's offshore wind power project contracting business, especially in the gradual evolution of offshore wind power to large-scale wind turbines, and the gradual development of construction areas to far-reaching sea areas, POWERCHINA's offshore wind power engineering ships and other equipment have been proposed. higher requirement. POWERCHINA plans to purchase a 3,000-ton floating crane, a 1,000-ton offshore crane and a wind turbine hoisting platform from its holding subsidiary Guizhou Engineering and a newly established subsidiary of the Central South Institute.
Estimated project investment: The total investment of this project is 900 million yuan, and the raised funds are planned to be used 700 million yuan. The funding structure of this project is as follows:

The purchase of offshore wind power engineering equipment will greatly enhance POWERCHINA's construction and technical capabilities in the field of offshore wind power engineering, enhance POWERCHINA's core competitiveness, and at the same time lay the foundation for POWERCHINA's long-term business expansion in the field of offshore wind power engineering.
75m deep offshore jack-up survey and test platform purchase project
With the continuous advancement of my country's marine development strategy, in order to accelerate the development of marine geotechnical engineering survey technology and equipment technology, POWERCHINA has implemented the research work on a series of scientific research topics in the far-reaching sea areas of China Power Construction, and comprehensively improved the development of my country's far-reaching marine survey equipment and technology. In terms of scientific and technological research and development capabilities, POWERCHINA plans to purchase a 75-meter deep offshore jack-up survey and test platform from its holding subsidiaries, East China Institute and Central South Institute.
The total investment of this project is 440 million yuan, and the raised funds are planned to be 300 million yuan. The investment composition of this project is as follows:

With the continuous development and maturity of offshore wind power engineering technology, the future offshore engineering will continue to expand to the deep sea area. In order to meet the needs of business development, POWERCHINA not only needs to build offshore construction operation capability equipment that meets current engineering needs, but also needs to deploy equipment and equipment for far-reaching sea area exploration in advance, continuously promote the construction of core equipment for offshore exploration, and enhance the comprehensive operation capability of marine engineering surveys. Equipment advantages drive business development.
Through the above, we can see that POWERCHINA is ready for offshore wind power and even the entire clean energy strategy. I wish China Power Construction will become stronger and stronger! Editor/Zhao E
0
Collect