Geopolitics
Wang Yi's Visit to Uzbekistan, China and Uzbekistan Reach Six-point Consensus
Both China and Uzbekistan are willing to speed up the feasibility study of the China-Uzbekistan-Ukraine railway construction project
Jointly implement the five-year plan for economic, trade and investment cooperation and formulate a list of priority cooperation projects for the next stage
On July 28, 2022 local time, Chinese State Councilor and Foreign Minister Wang Yi was interviewed by reporters during his visit to Uzbekistan upon invitation.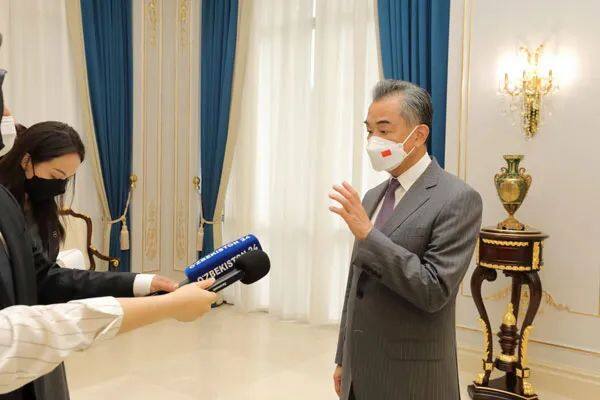 Wang Yi said that during this visit to Uzbekistan, the two sides had in-depth communication on pushing China-Uzbekistan relations to a new level, setting new goals and opening up new prospects, and reached a series of consensuses:
The two sides will take the 30th anniversary of the establishment of diplomatic relations between China and Uruguay as a new starting point, and make joint efforts towards the vision and goal of building a China-Uzbekistan community with a shared future, so as to inject new strong impetus into the China-Uzbekistan comprehensive strategic partnership.
The two sides discussed the promotion of the Global Development Initiative and the Global Security Initiative. Uzbekistan expressed its willingness to support and participate in these two important initiatives.
The two sides spoke highly of the growth of trade exchanges between the two countries against the trend, and were full of confidence in the prospect of cooperation. They agreed to achieve an annual trade volume of 10 billion US dollars as soon as possible and proposed new goals. They decided to jointly implement the five-year plan for economic, trade and investment cooperation and set priorities for the next stage. List of collaborative projects.
Both parties believe that the time to advance the construction of the China-Gyrgyzstan-Ukraine Railway is gradually ripe, and are willing to speed up the feasibility study of the project.
The two sides will deepen cooperation in poverty reduction and poverty alleviation, and set up a poverty reduction sub-committee under the framework of the Intergovernmental Cooperation Committee to promote specific cooperation.
The two sides will strengthen medical and health cooperation, expand joint vaccine production, and help Uganda build a regional vaccine production and research and development center. The Chinese side will continue to do good and practical things for the Uzbek people, carry out the "Health Express International Brightness Tour" in Uzbekistan, provide free vision restoration operations for 500 cataract patients in Uzbekistan, and set up a blindness prevention cooperation center in Uzbekistan. Editor / Xu Shengpeng