New infrastructure
Guangdong-Hong Kong-Macao Greater Bay Area integrated data center project starts
5 projects are China Unicom, China Telecom, China Mobile, Guangdong Radio and Television and Zhonghan Cloud Shaoguan Data Center Project
After completion, it will fully support the high-quality development of Shaoguan data center cluster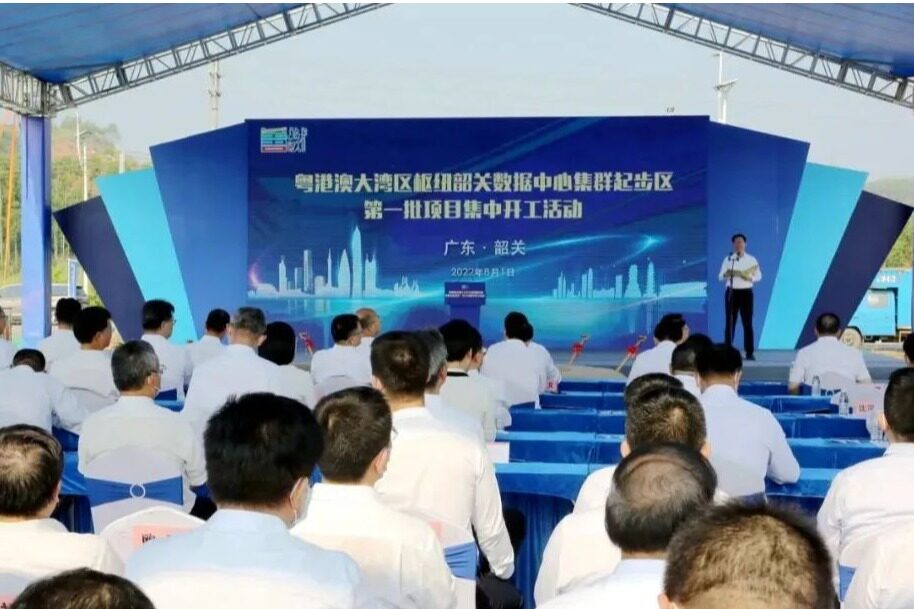 On August 1, 2022, the first batch of projects in the start-up area of the Shaoguan Data Center Cluster, the hub of the Guangdong-Hong Kong-Macao Greater Bay Area, was held in Zhenjiang Industrial Park. The five projects that participated in the first batch of centralized construction activities include China Telecom, China Mobile, China Unicom, Guangdong Radio and Television, and the Zhonghanyun Shaoguan data center project.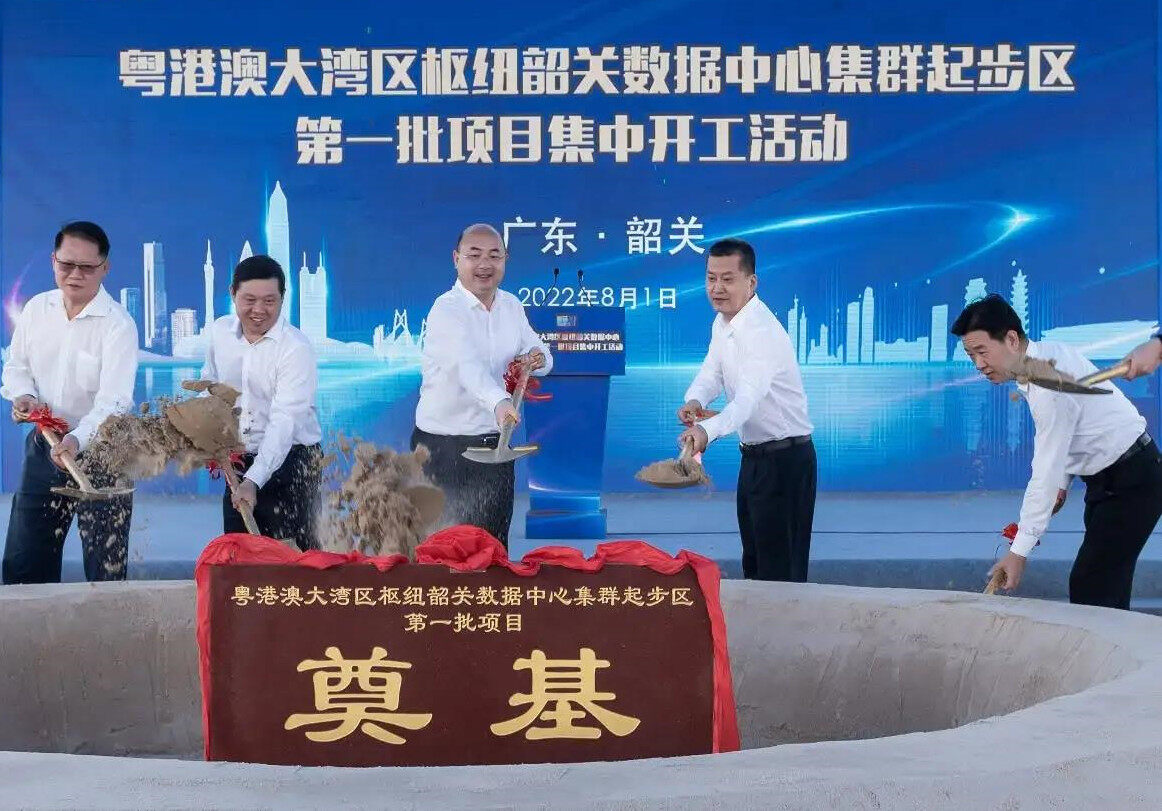 In February 2022, four national ministries and commissions approved Guangdong Province to start the construction of a national hub node in the Guangdong-Hong Kong-Macao Greater Bay Area, a national integrated computing power network, and clearly established a data center cluster in Shaoguan. Shaoguan City attaches great importance to it, quickly started the planning and construction of the starting area, and simultaneously planned to carry out the big data industry investment promotion and other work, and successfully held the first "East Digital Western Computing" Guangdong-Hong Kong-Macao Greater Bay Area (Guangdong) Computing Industry Conference. There are 31 companies intending to invest in Shao, with a total investment of more than 220 billion yuan.
Shaoguan data center cluster start area
The starting area of Shaoguan data center cluster is located in Shaoguan High-tech Zone, which is specifically distributed in Zhenjiang Industrial Park, Qujiang Baitu Development Zone and Guanshao City. The total planned land area is about 418.51 hectares. It is positioned as an important strategic node of the national integrated computing power network, a national integrated big data center cluster integrated development, and a green and low-carbon innovation model benchmark. With the goal of "green and intensive, coordinated scheduling, data integration, innovative applications, safety and reliability", by the end of 2025, a new type of data center development with reasonable layout, advanced technology, green and low carbon, and the scale of computing power commensurate with the growth of the digital economy will be basically formed. The overall carrying capacity of the cluster has reached 500,000 standard racks, the utilization rate of PUE and renewable energy has reached the national leading level, and it has become a model benchmark for collaborative innovation of national integrated big data centers.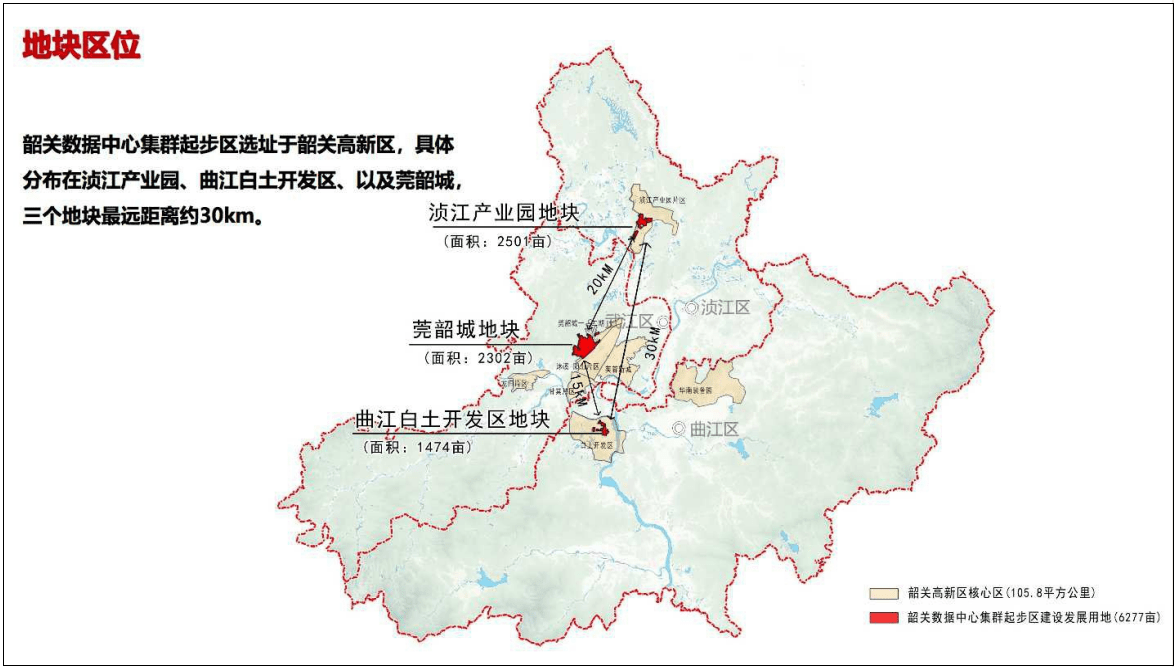 The starting area is planned to form a "3+1" spatial structure, with 3 data production centers (one main and two subs) and a digital industry incubation center. Among them, Zhenjiang Industrial Park is the main production center of Shaoguan data center cluster. The plot of Qujiang Baitu Development Zone is the sub-center of Shaoguan data center cluster production. The Guanshaocheng plot is the sub-center of Shaoguan data center cluster production and the digital industry incubation center.
The Shaoguan Data Center Cluster Zhenjiang Area Infrastructure Construction Project is managed by the Shaoguan High-tech Zone Management Committee as the owner unit, responsible for coordinating the project construction, and entrusting Shaoguan Digital Investment Company to implement the whole process of construction. The construction of the project is divided into short-term (2022-2025) and long-term (2025-2030). The main contents of the short-term construction are: site leveling and slope support, electric power relocation, road engineering and supporting facilities. At present, the "Infrastructure Construction Plan for Shaoguan Data Center Cluster Start-up Area (Zhenjiang Area)" has been completed.
5 major projects
China Telecom Guangdong-Hong Kong-Macao Greater Bay Area integrated data center project, covering an area of 180 mu, with a planned total investment of 3.2 billion yuan, including infrastructure investment of 2.5 billion yuan, PUE value less than 1.25, equipment investment of 700 million yuan, and planned construction of 50,400 Standard rack. Among them, 36,000 2.5kW standard racks will be built by 2025, which will be constructed in two phases, including public cloud, industry cloud, edge cloud, etc. China Telecom plans to simultaneously upgrade the node level of the Shaoguan data center cluster network, promote the construction of the direct connection network, build a national data transmission core node, and comprehensively improve the cross-regional computing power scheduling capability; and deploy the national core node of Tianyi Cloud South China in Shaoguan, bringing together Guangdong, Hong Kong and Macao The Greater Bay Area cloud, network, and edge capabilities provide customers with services such as cloud access, computing power operation, management, and scheduling. It is expected to serve more than 500,000 government and enterprise users on the cloud.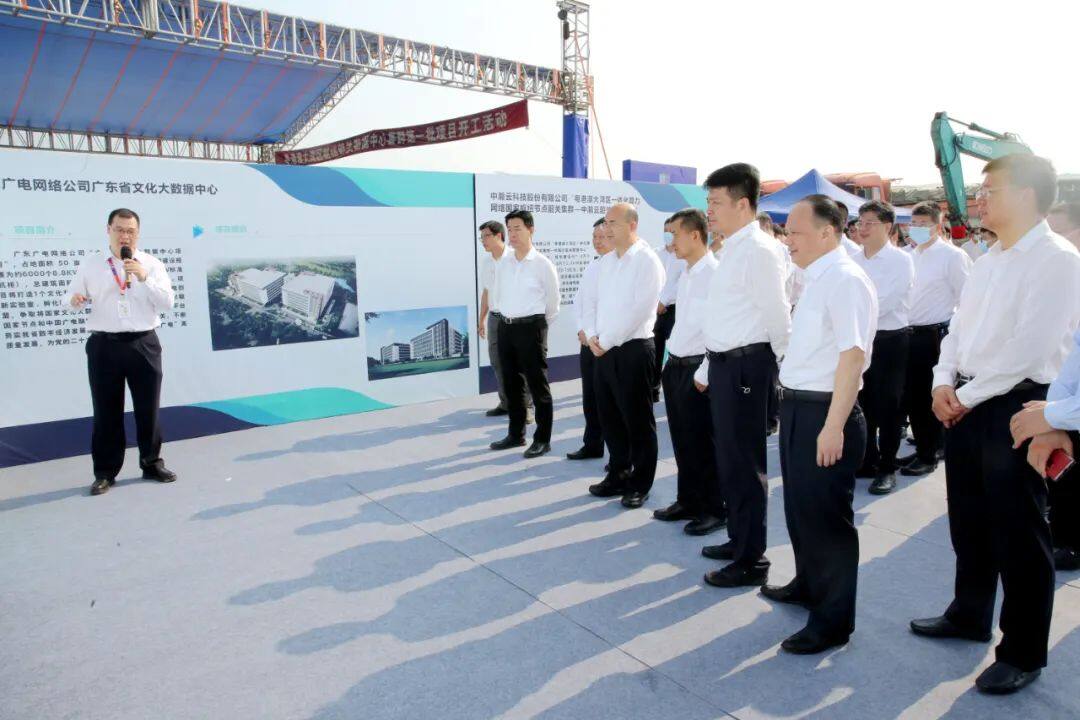 China Mobile Guangdong-Hong Kong-Macao Greater Bay Area National Hub Node (Shaoguan) Data Center Project. The project will be launched in 2022, covering 110 acres of land in Zhenjiang Industrial Park, with a total project investment of over 5.6 billion yuan, building 4 data centers, 2 power centers, and 1 production operation and maintenance building. By 2025, 32,000 2.5kW standard machines will be put into production. frame, the PUE value is less than 1.25. The project serves China Mobile's Greater Bay Area, radiates the Internet and IDC needs of the entire South China region, and implements the "East and West" project. In terms of network, China Mobile will rely on this project to upgrade Shaoguan to a national backbone network node, build a direct all-optical network base with one network, and realize a computing power network.
China Unicom Guangdong-Hong Kong-Macao Greater Bay Area hub data center cluster project, the first phase of the project covers an area of about 100 mu, with a total construction area of about 120,000 square meters. It is planned to build 9 buildings with a total investment of about 4.8 billion yuan, and 28,800 yuan will be completed by 2025. 2.5kW standard rack. China Unicom fully undertakes the "East Number and West Calculation" project, and builds the core nodes of China Unicom's computing power carrying network, communication cloud hub nodes, international Internet import and export bureaus, Guangdong, Hong Kong and Macau computing power hubs, and COP Cloud South China Region nodes, etc., and comprehensively improve Shaoguan The status of the computing power hub.
The Guangdong Provincial Cultural Big Data Center project of Guangdong Radio and Television Network Company covers an area of 50 acres and has a total investment of about 4.9 billion yuan. The construction scale of the first phase is about 6,000 8.8kW cabinets (equivalent to about 20,000 2.5kW standard cabinets). The total building The area is 60,000 square meters, and the PUE value is less than 1.25. The project will build a cultural science and technology innovation base, a national-level smart radio and television innovation laboratory, incubate eight product innovation teams, and establish an industrial technology alliance, striving to combine the National Cultural Big Data Trading Center, China Radio and Television Cloud Platform National Node and China Radio and Television Financial Media Cloud and other resources landed in Shaoguan, Guangdong.
Zhonghanyun Technology Co., Ltd. Guangdong-Hong Kong-Macao Greater Bay Area integrated computing power network national hub node Shaoguan cluster - Zhonghanyun Shaoguan data center project, covering an area of 140 acres, plans to build about 14,000 (6kW-8kW) cabinets ( Equivalent to 38,000 2.5kW standard cabinets), the PUE value is less than 1.25, and the total investment is about 2.975 billion yuan. Editor/He Yuting