Hydroproject
Chongqing Zaodu Reservoir Project Preliminary Project Bidding
The normal water level of Zaodu Reservoir is 375m, and the total storage capacity of the reservoir is 199 million m3
The total planned construction period of the project is 18 months, and the total investment of the project is about 3 billion yuan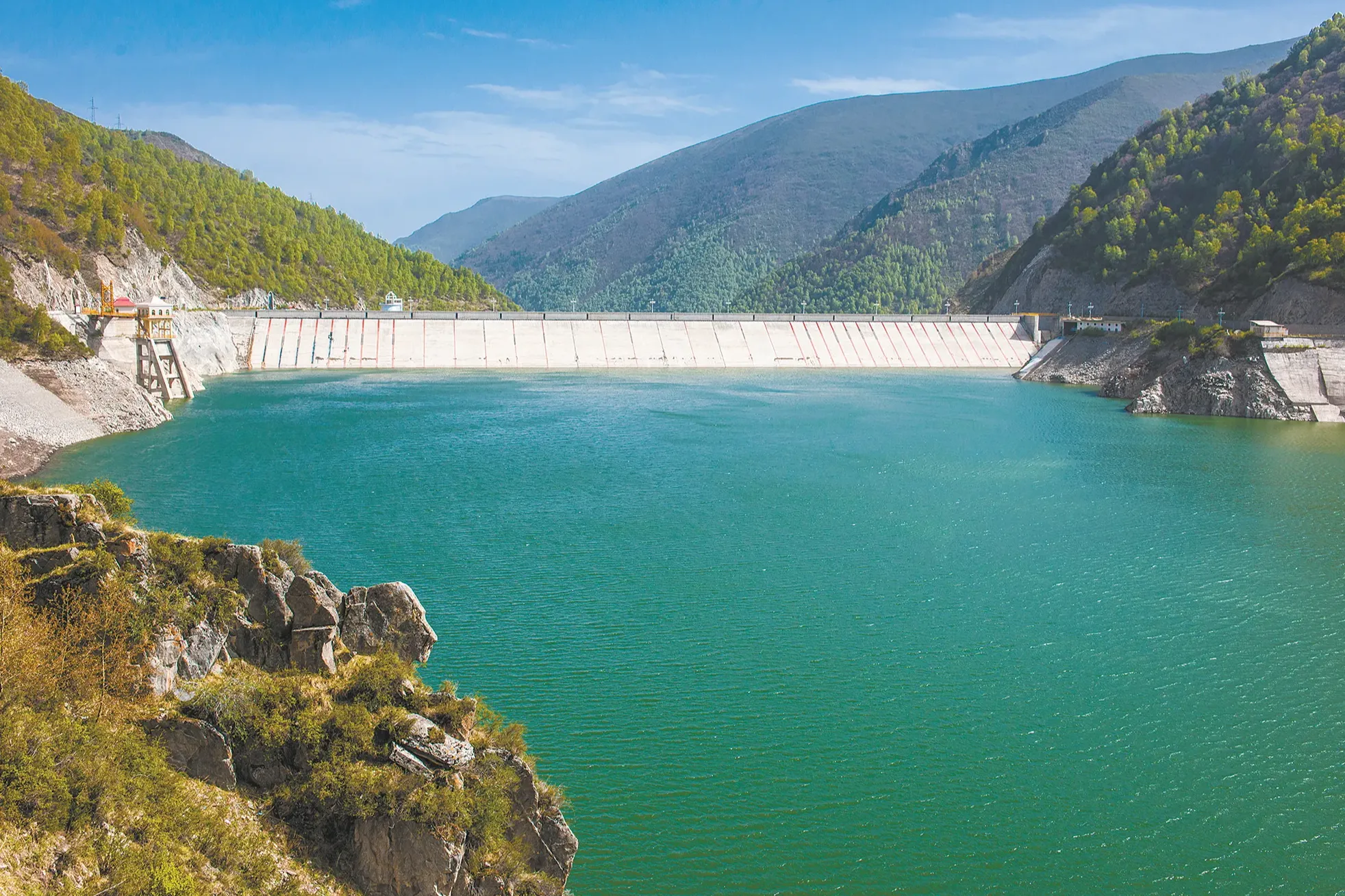 Reading this article requires
On August 5, 2022, Chongqing Public Resource Trading Network released the EPC general contract bidding announcement for the preliminary project of the Zaodu Reservoir Project in Chongqing. This bidding project has been approved for construction by the Chongqing Municipal Water Conservancy Bureau. The tenderer is Chongqing Zaodu Water Resources Development Co., Ltd. The total investment of the project is about 3 billion yuan.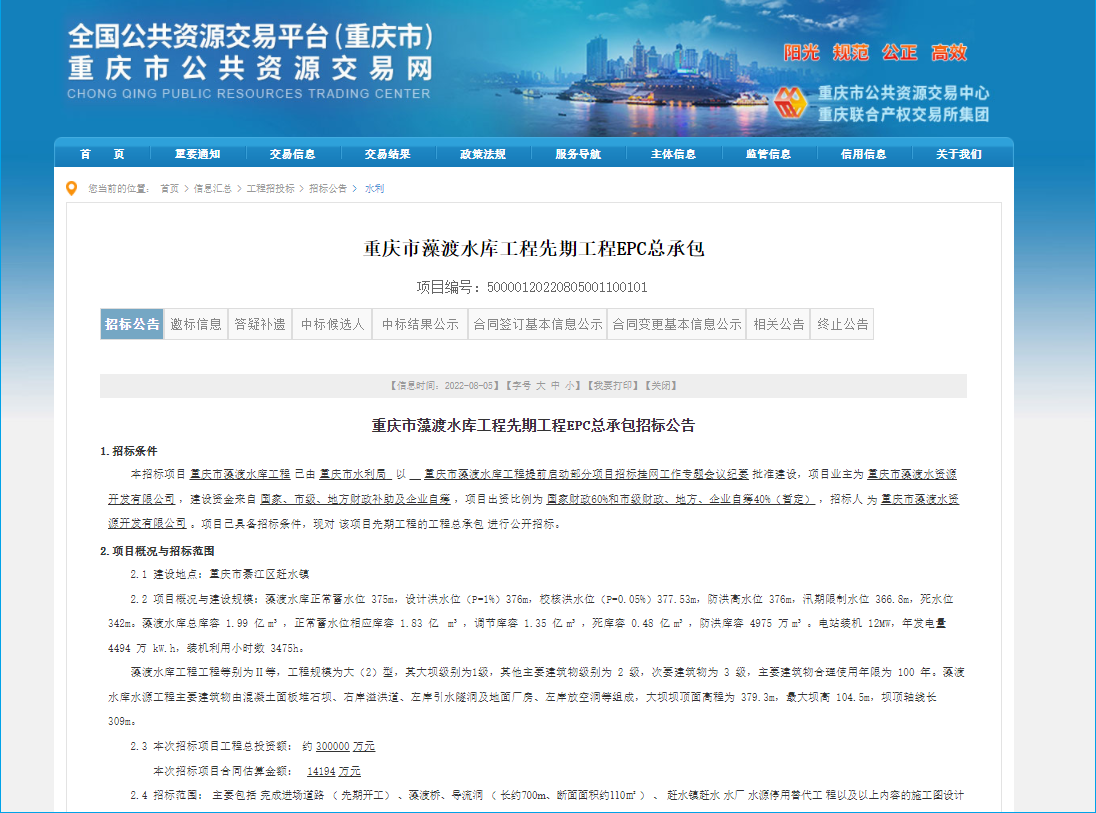 Project Overview
The normal water level of Zaodu Reservoir is 375m, the design flood level (P=1%) is 376m, the check flood level (P=0.05%) is 377.53m, the flood control high water level is 376m, the flood season limit water level is 366.8m, and the dead water level is 342m. The total storage capacity of Zaodu Reservoir is 199 million m3, the corresponding storage capacity of normal water level is 183 million m3, the adjusted storage capacity is 135 million m3, the dead storage capacity is 48 million m3, and the flood control storage capacity is 49.75 million m3. The installed capacity of the power station is 12MW, the annual power generation is 44.94 million kW.h, and the installed capacity utilization hours are 3475h.
The Zaodu Reservoir project is grade II, the project scale is large (2), the dam grade is grade 1, the other main buildings are grade 2, the secondary buildings are grade 3, and the main buildings are reasonably used. The period is 100 years. The main buildings of Zaodu Reservoir water source project are composed of concrete face rockfill dam, spillway on the right bank, diversion tunnel on the left bank and ground powerhouse, and venting hole on the left bank. 309m long.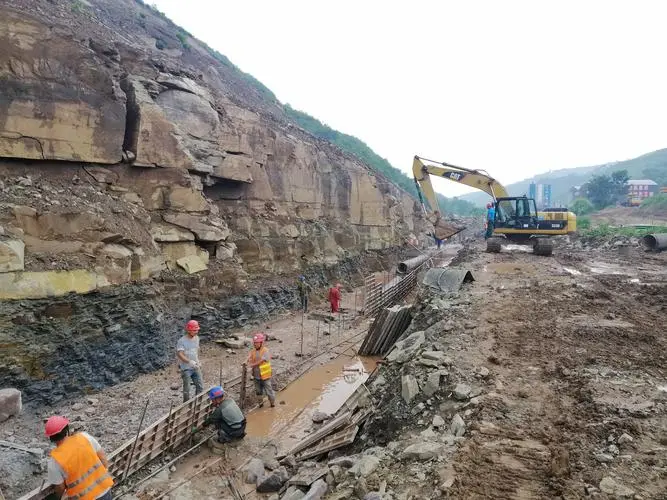 Bidding scope
It mainly includes the completion of the approach road, the Zaodu Bridge, the diversion tunnel with a length of about 700m and a cross-sectional area of about 110㎡, the replacement of the water source of the Ganshui Water Plant in Ganshui Town, and the construction drawing design and construction of the above contents. The scope is: including all the survey and design in the design stage of the construction drawing, as well as the representative service and post-service of the project construction site design, and cooperate with the tenderee to complete the approval procedures for the construction stage; complete the construction preparation stage and construction stage according to the approved construction drawing. , completion stage, completion acceptance, delivery for use until the end of the defect liability period. Keywords: engineering news, engineering construction, water conservancy engineering
Construction period requirements: total construction period of 18 months, defect liability period of 24 months
Acquisition and submission of tender documents
This bidding project adopts the whole process of electronic bidding. Bidders can download bidding documents, bills of quantities, electronic drawings and other materials on the Chongqing Public Resources Trading Network before bidding. The deadline for submitting bidding documents is 11:00 on August 26, 2022. Before the deadline for bidding, the bidder should log in to the Chongqing electronic bidding system using the CA digital certificate through the Internet, and upload the encrypted electronic bidding documents. (Please indicate Seetao.com www.seetao.com for reprint) Seetao.com Engineering Column Editor/Zhao E
Comment
Please Login to post a comment