Product
China's first permanent magnet maglev rail transit project test line completed
The maglev train is composed of 2 cars, with a passenger capacity of 88 people and a maximum design speed of 80km/h
On the morning of August 9, 2022, China's first permanent magnet maglev rail transit project test line, "Red Rail", was successfully completed in Xingguo County, Ganzhou, Jiangxi. The test line was led by Jiangxi University of Science and Technology, and was jointly developed with Xingguo County People's Government, China Railway Sixth Institute, China Railway Industry, National Rare Earth Functional Materials Innovation Center and other units.
The biggest highlight of the "red track" permanent magnet suspension train "Xingguo" is that it does not rely on rubber wheels for load-bearing running, but uses the principle of repulsion between permanent magnet materials and the track, which can maintain a suspended state in the center line of the slot, and the electromagnetic guidance can achieve zero Frictional operation, only need motor drive to operate.
The permanent magnetic levitation air rail has the characteristics of non-contact and suspension operation, strong climbing ability, small turning radius, low noise, and more energy saving and environmental protection. With the characteristics of "zero power" suspension, the advantages of no magnetic pollution are obvious. Permanent magnet magnetic levitation air rail is not only suitable for conventional environments such as cities and scenic spots, but also suitable for difficult geographical environments such as rivers, high cold, and deserts, and can complement each other with subways and light rails.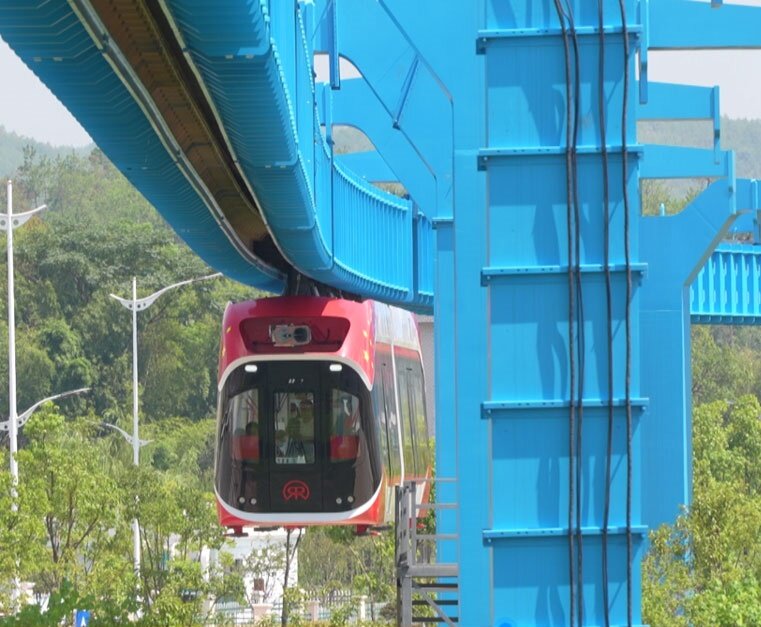 Yang Bin, Secretary of the Party Committee of Jiangxi University of Science and Technology and chief technical expert of the "Red Rail" project, introduced that as a pioneer of the international rare earth permanent magnet maglev track system and an important exploration of the combination of permanent magnet maglev technology and rail transit, "Red Rail" is expected to become a kind of A high-quality, personalized and intelligent transportation system with low cost and excellent cost performance, the "red track" covers a number of strategic emerging industries such as new materials, rail transit, artificial intelligence, wireless communication, intelligent manufacturing, and motor drive, and will lead the way. Green transportation and low-carbon travel, reconstruct the high-quality development of new industrial ecology.Editor/Ma Xue