Interconnection
Belt and Road projects help modernize Uzbekistan's industry
Uzbekistan is an important partner of China in the Belt and Road construction and production capacity cooperation in Central Asia
Since the Uzbekistan PVC production complex project was put into operation, a large number of jobs have been created, which has promoted the modernization of Uzbekistan's chemical industry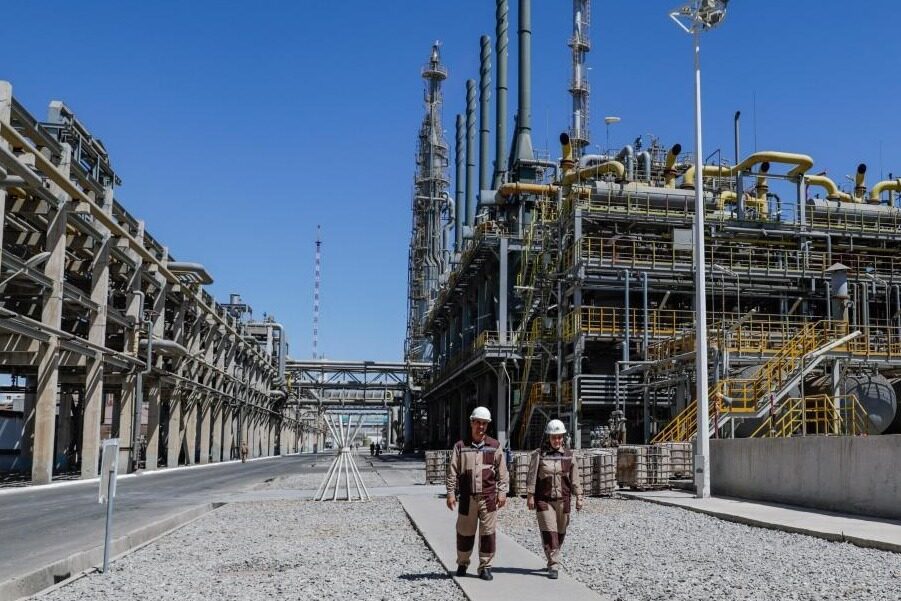 A few days ago, the high temperature continued in Navoi, the capital of Navoi state in central Uzbekistan, but the PVC production line of Navoi Nitrogen Fertilizer Co., Ltd. was still busy: with the flexible movements of the robot, 25 kilograms of polyvinyl chloride were loaded on the conveyor belt. Vinyl chloride was filed out and stacked neatly one by one before being transported by forklifts into rail and truck boxes outside the packing house.
According to Chinese engineer Li Siyuan, the production line produces polyvinyl chloride 24 hours a day, and the automated packaging robot can pack 40 bags of polyvinyl chloride into 8-layer cubes within three minutes.
The Uzbekistan polyvinyl chloride production complex project is an important project to promote international production capacity cooperation under the joint construction of the Belt and Road Initiative, and an important achievement of international production capacity cooperation between China and Uzbekistan. Joint construction. The project officially started construction in September 2016 and was officially put into operation on December 28, 2019. It can produce 100,000 tons of PVC, 75,000 tons of caustic soda and 300,000 tons of methanol per year. The related products can not only meet the domestic demand of Ukraine, but also Can be exported to neighboring countries and markets.
Uzbekistan President Mirziyoyev said when attending the completion and commissioning ceremony of the project that the project will change the current situation of Uzbekistan's dependence on imports of products such as polyvinyl chloride and caustic soda, which will not only create a large number of jobs, but also drive the development of related chemical industries. Uzbekistan hopes to continue to cooperate with Chinese enterprises on other landmark production capacity projects.
Li Jinwei, general manager of the Fifth Engineering Division of CAMCE, said that as the first PVC production unit in Uzbekistan, this project is a major chemical project successfully completed and put into operation in Uzbekistan in recent years, and it is very important to promote Uzbekistan and Central Asia. The development of economy and related industries is of great significance.
Group photo of Chinese and Uzbek personnel after the Uzbekistan polyvinyl chloride production complex project was completed and put into operation
According to reports, the PVC products produced by this project have won high recognition from the international market for their excellent quality, and the market demand is huge. In recent years, with the rising price of polyvinyl chloride in the international market, Uzbekistan has further increased its export efforts.
While achieving good economic benefits, the project has also cultivated a group of new industrialized talents for Uzbekistan. Kamoliddin Asadov, deputy general manager of the PVC production complex of Navoi Nitrogen Fertilizer Company, said that after the project was put into operation, the Chinese side selected more than 30 local technicians to study the latest production technology and management process in China. At present, these technicians have become technical experts, and some of them have been assigned to management positions.
Odyr Temirov, Chairman of Navoi Nitrogen Fertilizer Company, is very satisfied with the cooperation between the two teams. He said that this project is a key cooperation project between Uzbekistan and China, and it is also the starting point of the company's modernization.Editor/Ma Xue