Hydroproject
Jiangsu Sulian Waterway Phase II project started
The second phase of the 43.7 km project is scheduled to open in 2025
Upon completion, it will speed up the construction of a modern and comprehensive transportation system, make every effort to fill up the weak links of sea access, and realize sea-river combined transportation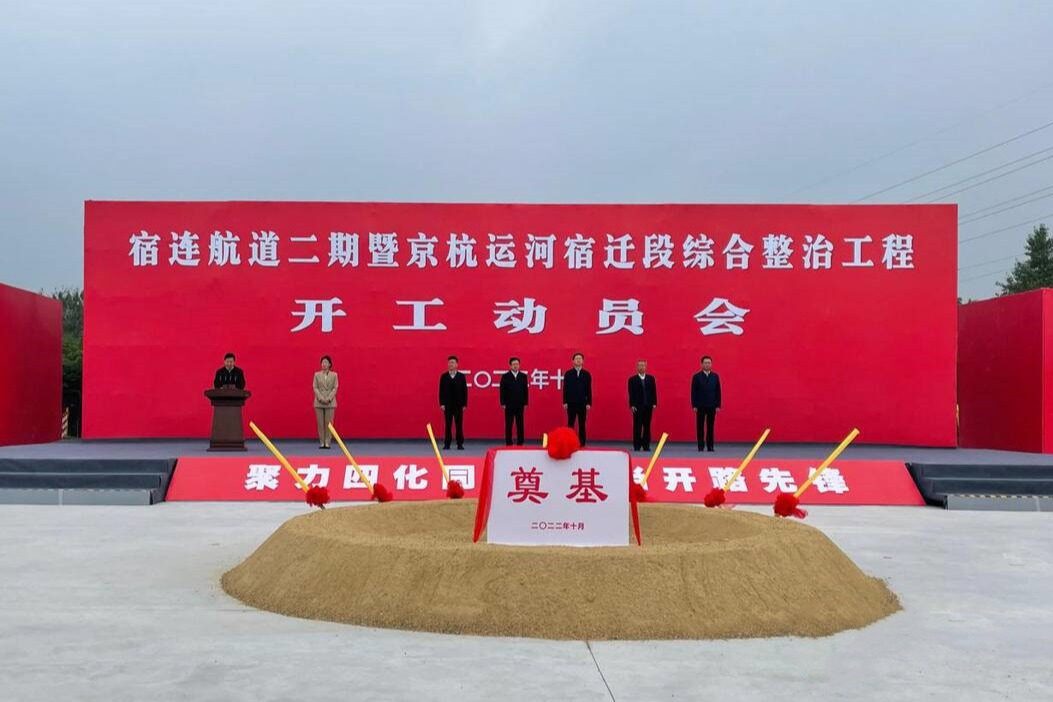 On the morning of Oct 9, 2022, the second phase of the Suqian section of the Sulian Canal and the comprehensive renovation project of the Beijing-Hangzhou Canal started construction. After the completion of the whole route, the Sulian waterway will become an important golden waterway for the transportation of materials from Sulu, Anhui and Henan. The cost of bulk materials transported by water can be reduced by more than two-thirds compared with that by road.
Move to Lianyungang Harbor Channel
The Suqian to Lianyungang Port channel is the northernmost horizontal of the two vertical and five horizontal main skeleton of the main waterway network in Jiangsu Province. It is an important water transport channel connecting Lianyungang Port and realizing the combined transport of Haihe River in the hinterland of northern Jiangsu Province, and also an important water transport channel for Xuzhou and Suqian areas to go east to sea. The renovation issue construction began in June 2020, the east dike in suqian city hangzhou canal canal lu node, to effect on new henan lock downstream anchorage, total length of 58.5 km, the present new rebuilt three lock body project has been completed, the bridge completed 40% of quantities, navigation plan construction in 2024, when the host channel which can realize restricted navigation, Ships of 500 tons can reach Lianyungang Port directly from the Beijing-Hangzhou Canal through the Sulian Channel. The second phase starts from the downstream of Shuxin Henan Lock, follows HuaiShuxin River to the north, connects to Gupo River to the east, and ends at the city boundary of Gupo River Suqian and Lianyungang, with a total length of 43.7 kilometers (including 42.3 kilometers of regulation mileage). It is planned to be completed for navigation in 2025.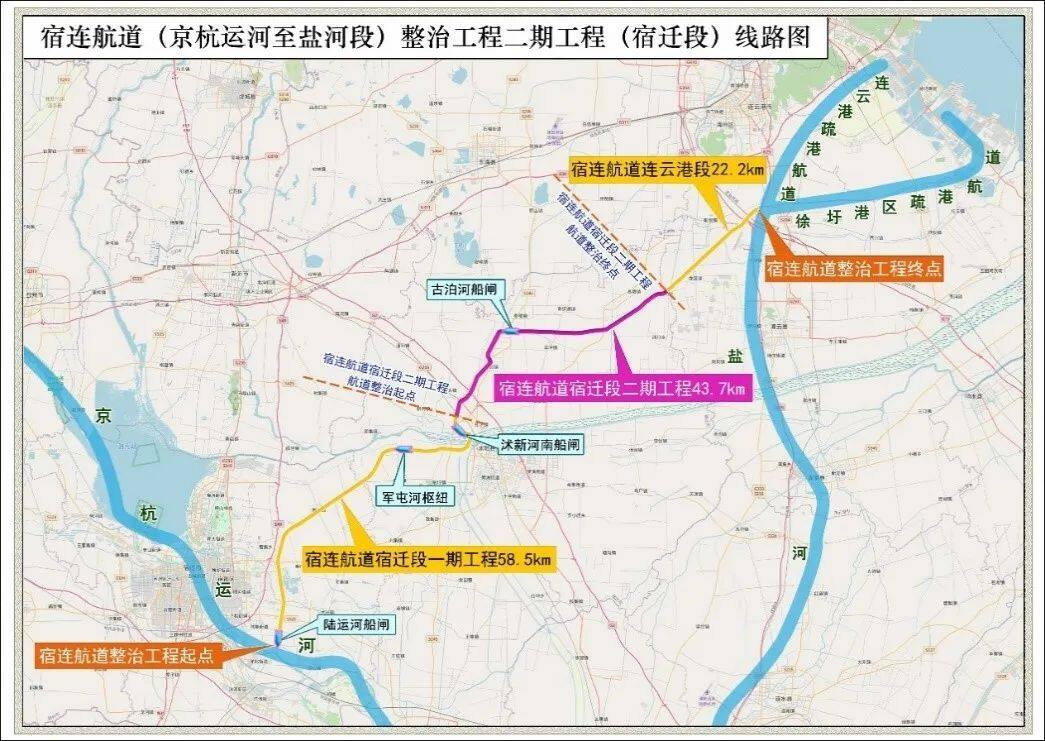 Lodge waterway navigation after all built, will direct suqian east sea, suqian inland port and harbor quickly unicom, become the important gold waterway dabie-sulu anhui and material transportation, bulk goods by waterway transport of highway transportation cost can be reduced by more than two-thirds, which can effectively promote the inland coastal economic depth extension, expand the scope of coastal ports group of radiation.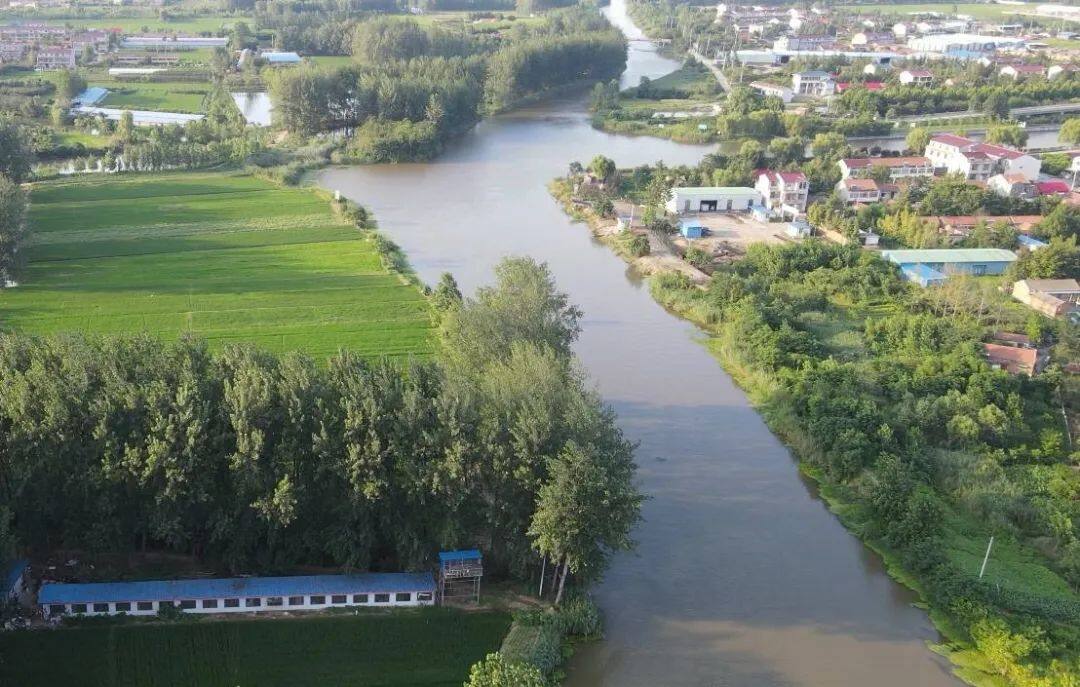 The comprehensive renovation project of Suqian section of the Beijing-Hangzhou Canal is 110.16 kilometers long, which mainly includes bank protection ecological improvement project, slope protection ecological restoration project, gate bridge navigation mark construction project, emergency law enforcement support project, etc. The project is expected to be completed in the first half of 2024 as a benchmark for inland waterway navigation and a model project for building a transportation country with clean and ecological waterways, clean and efficient port production, energy-saving and environmentally friendly ship equipment, safe and convenient shipping services, and significantly improved cultural quality. By then, the Suqian section of the Beijing-Hangzhou Grand Canal will be connected with LIANYungang port efficiently, and thousand-ton ships can directly reach LIANYungang port from the central city of Suqian. Editor/He Yuting