Hydroproject
Chongqing Shuangjiang Avionics Hub Phase II project started construction
Shuangjiang avionics hub focuses on shipping and gives consideration to comprehensive utilization benefits such as power generation
After completion, it will not only open up the golden waterway of Fujiang River, but also inject new impetus into the construction of Chengdu-Chongqing economic circle
On October 14, 2022, as one of the first major cooperation projects between Sichuan and Chongqing, the cofferdam of Phase II of the cascade channelized Shuangjiang Avionics Hub project in the main stream of Fujiang River closed smoothly, marking the official start of the construction of Phase II of the Shuangjiang Avionics Hub project, laying a solid foundation for the first unit to generate power in 2024 and the full completion and operation in 2025.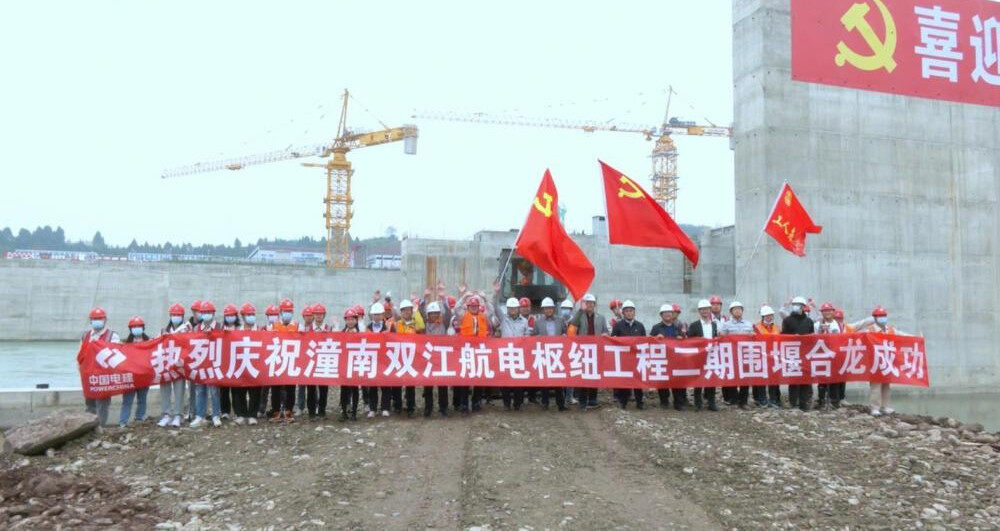 At 10:30 a.m., on the cofferdam of the second phase of Shuangjiang Aviation Power Junction in Tongnan district of Chongqing City, dump vehicles and bulldozers, under the dispatch of construction personnel, poured the filled earth and stone into the cofferdam mouth, which gradually narrowed. At 11:10, with the last dump truck slowly pouring the filling material to Longkou, the cofferdam closed successfully in the second dry season.
The closure of the second phase cofferdam is an important node in the construction of Shuangjiang aviation-electric hub project, which provides good conditions for the completion of the subsequent joint objectives of cofferdam air closure, earthwork excavation, construction of high-pressure cutoff wall and concrete pouring of the main structure. The designed retaining flow of cofferdam is 561 cubic meters per second, and the total length of the designed axis is 416.26 meters, of which the total length of the upstream cofferdam is 209.53 meters and the designed filling elevation is 242.70 meters, and the total length of the downstream cofferdam is 206.73 meters and the designed filling elevation is 241.10 meters.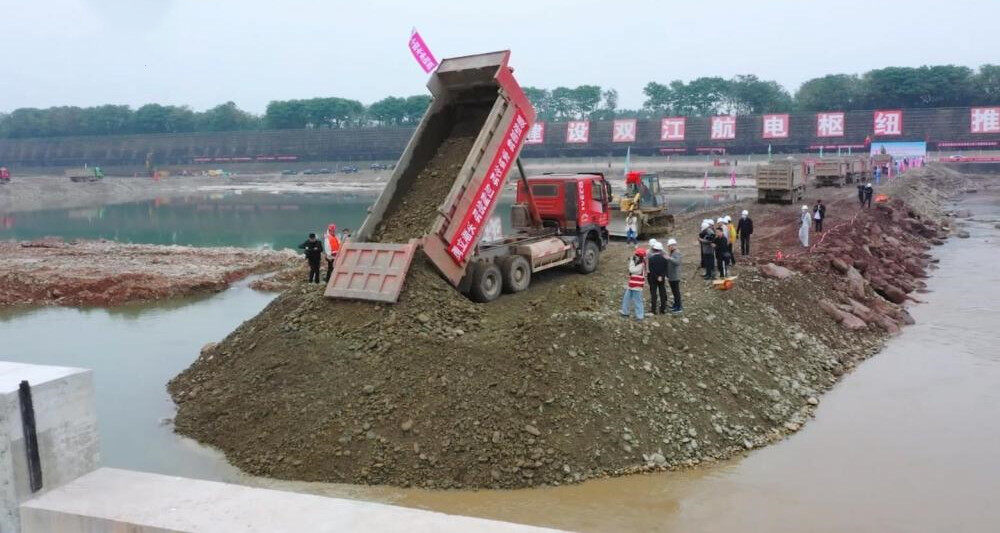 Liao Jinsong, general manager of Chongqing Shipping Construction and Development (Group) Co., LTD., said that the next step will be to gather forces from all sides and strive to achieve the goal of generating power of the first unit in 2024 and putting it into full operation in 2025. Upon completion, the Shuangjiang aviation-power hub will have a channelized channel of 25 kilometers, an annual transit capacity of 6.11 million tons, and an annual average power generation of 188.5 million kilowatt hours, promoting further connectivity in the Sichuan-Chongqing region. Editor/He Yuting