Editorial
See how Xiong'an gets from the paper to the ground
World vision, international standards, Chinese characteristics, and high point positioning are the era height of Xiong'an New Area
Xiong'an, a wonderful and aspiring city of the future, is spreading out, and a Chinese model city with high-quality development in the new era is striding forward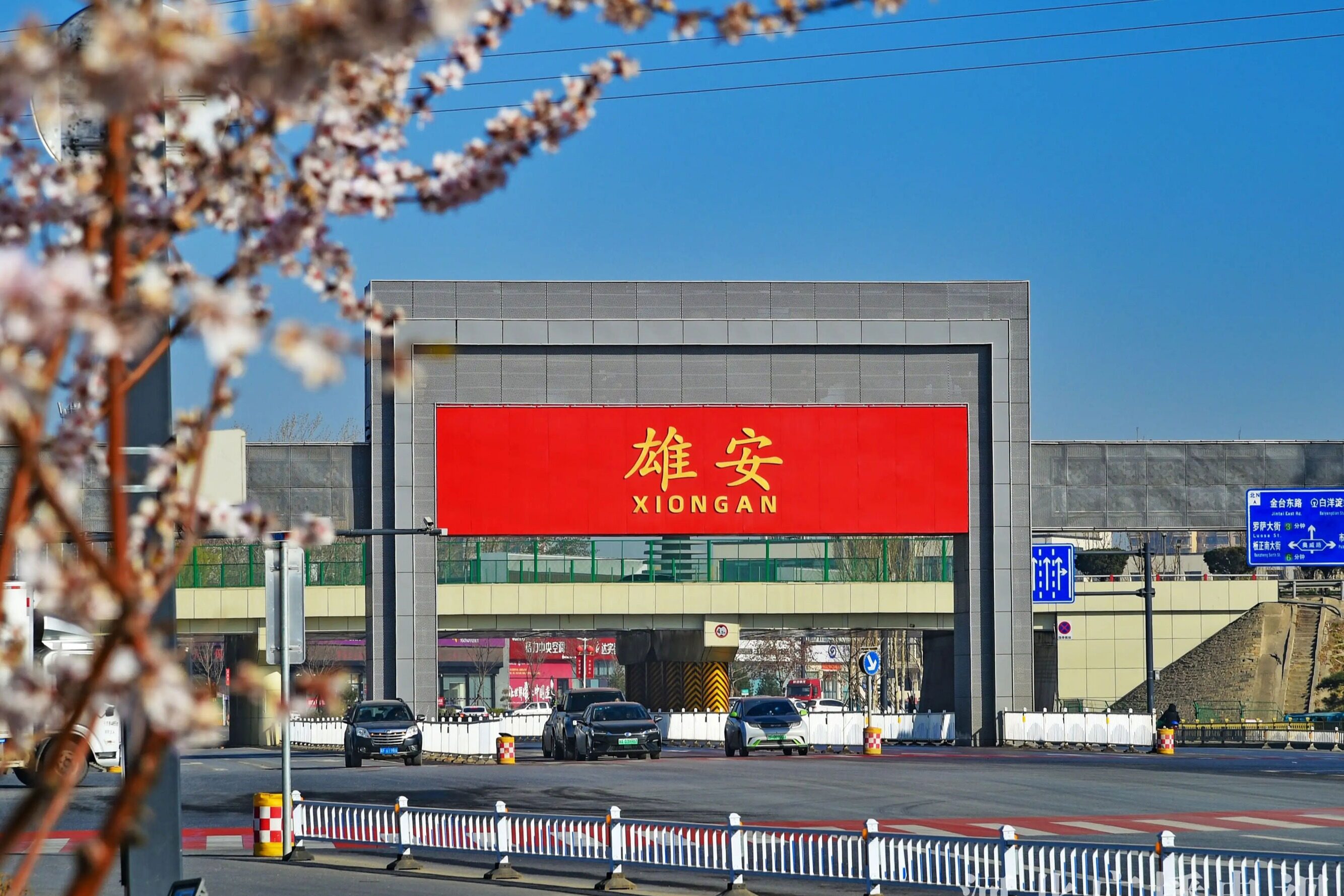 Recently, the relevant person in charge of the Party Working Committee of Xiong'an New Area introduced that Xiong'an New Area has shifted from the stage of planning, large-scale development and construction to the stage of large-scale development and construction and undertaking the synchronous promotion of non capital functions in Beijing. Phased achievements have been made in all aspects of work, and urban construction is showing its embryonic shape and image. It is understood that since the establishment of Xiong'an New Area, 240 key construction projects have been planned and promoted, with a total investment of 804.7 billion yuan and a total investment of more than 470 billion yuan. 322 overall construction projects have been planned and promoted in the New Area.
Up to now, the New Area has achieved initial success in relieving Beijing's non capital functions. China Star Network, Sinochem and China Huaneng launched the construction of the first three decentralized central enterprise headquarters, China Mineral Resources Group registered and completed the site selection, the first four universities and two hospitals were successively located, Xiong'an Innovation Institute of the Chinese Academy of Sciences, China Telecom, China Unicom, China Mobile Internet Industrial Park and other dredging projects in line with the functional orientation of the new zone were started, The construction of functional areas such as the Science Park in the start-up area accelerated.
Build a green ecological happy city
"Build a city after afforestation". From the beginning of planning, Xiong'an is a city construction mode different from the previous development concept. According to the ecological construction requirements of the New Area, the proportion of blue and green space in the New Area will be more than 70% in 2030, and the forest coverage will reach more than 40%, which is one time higher than the average level of China.
With the development of industrialization, the pollution is becoming more and more serious. The 2019 China Ecological Environment Status Bulletin shows that the Haihe River basin where Baiyangdian is located is one of the most serious water system pollution in China. Over the years, Baiyangdian Lake, known as the kidney of North China, has been comprehensively treated through water replenishment, pollution control, dredging, relocation and other measures. In 2021, the overall water quality of Baiyangdian Lake will be upgraded from the inferior fifth to the third, and it will become one of the best lakes in China. Nowadays, there are elegant and clean wild white water lilies in Baiyangdian Lake, which only live in lakes with good water quality. Not only that, but also 237 species of wild birds live here. New species, new hopes and more new life are born and settled here.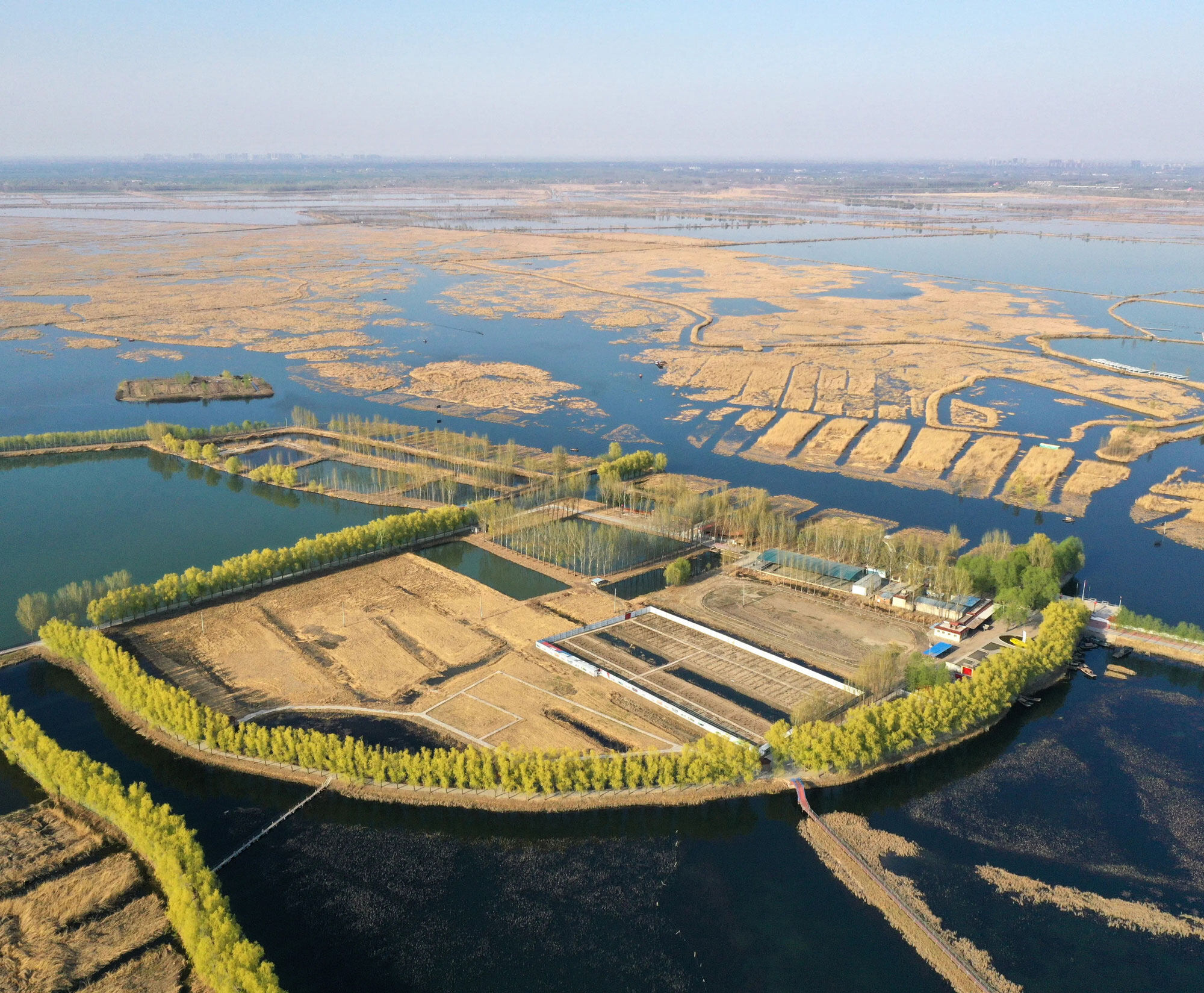 300 meters into the park, 1 kilometer into the forest belt, and 3 kilometers into the forest... A number of parks such as the country park, Jinhu Park, Yuerong Park have been built, the Millennium Forest, Central Green Valley, etc. are under continuous construction, and the idyllic city scenery and life that urban people yearn for is becoming a reality in Xiong'an New Area. Up to now, nearly 60000 resettled people in three batches in Rongdong District have moved to new houses. Xiongdong District and Rongxi District are about to hand over their houses. High quality public service facilities enable more and more resettled people to live and work in peace and contentment here. They firmly believe that Xiong'an New Area will be a green, ecological and livable city in the future.
The city of the future has great mystery
It is often said that there are three cities in the New Area, but people usually refer not to Xiongxian County, Rongcheng County and Anxin County, which constitute the main body of Xiong'an, but to three cities on the ground, underground and cloud. Over the past five years, the planning and construction of Xiong'an New Area has been forward-looking and leading, and the three cities on the ground, underground and cloud have been promoted simultaneously.
In the underground city of Xiong'an, the plot of science fiction film is being staged in life. It looks like an ordinary light pole, but it has thousands of miles of eyes and ears. It is full of radar and intelligent cameras. There are about 10000 intelligent light poles on the 450km digital road. They are all prepared by Xiong'an for unmanned driving and vehicle road coordination. These intelligent cameras can not only see the traffic flow status, but also understand the complex traffic changes. They cooperate with the radar to capture real-time road information, and send the data back to the unified cloud platform, so that the traffic can be commanded and managed like a symphony. Xiong'an is the first city with intelligent transportation layout. There are about 200000 sensors per square kilometer, including radar and intelligent camera. Through 5G Internet connection, these sensors can make the whole city hear and see, and realize the interconnection of everything.
In urban municipal infrastructure, underground space comprehensive pipe gallery is a lifeline. The future Xiong'an underground comprehensive pipe gallery will integrate water supply, reclaimed water, electricity, communication, heat supply, pressure sewage, natural gas and other pipelines. In addition, there are roads specially reserved for the logistics transportation system, which can not only ensure the ground traffic efficiency, but also reserve space for the construction of new cities such as unmanned logistics in the future. Rongdong pipe gallery adopts efficient digital management and control means, from planning, design, construction to later operation and maintenance, to establish a BIM (building information model) management and control system for full professional and full life cycle projects, truly realizing the whole process of digital construction. The construction of the comprehensive pipe gallery in Xiong'an New Area will meet the overall requirements of systematization, intelligence and intensification, and will strive to create an economic, practical, reproducible, innovative and exemplary comprehensive pipe gallery system, which will have a far-reaching impact on the world's comprehensive pipe gallery industry.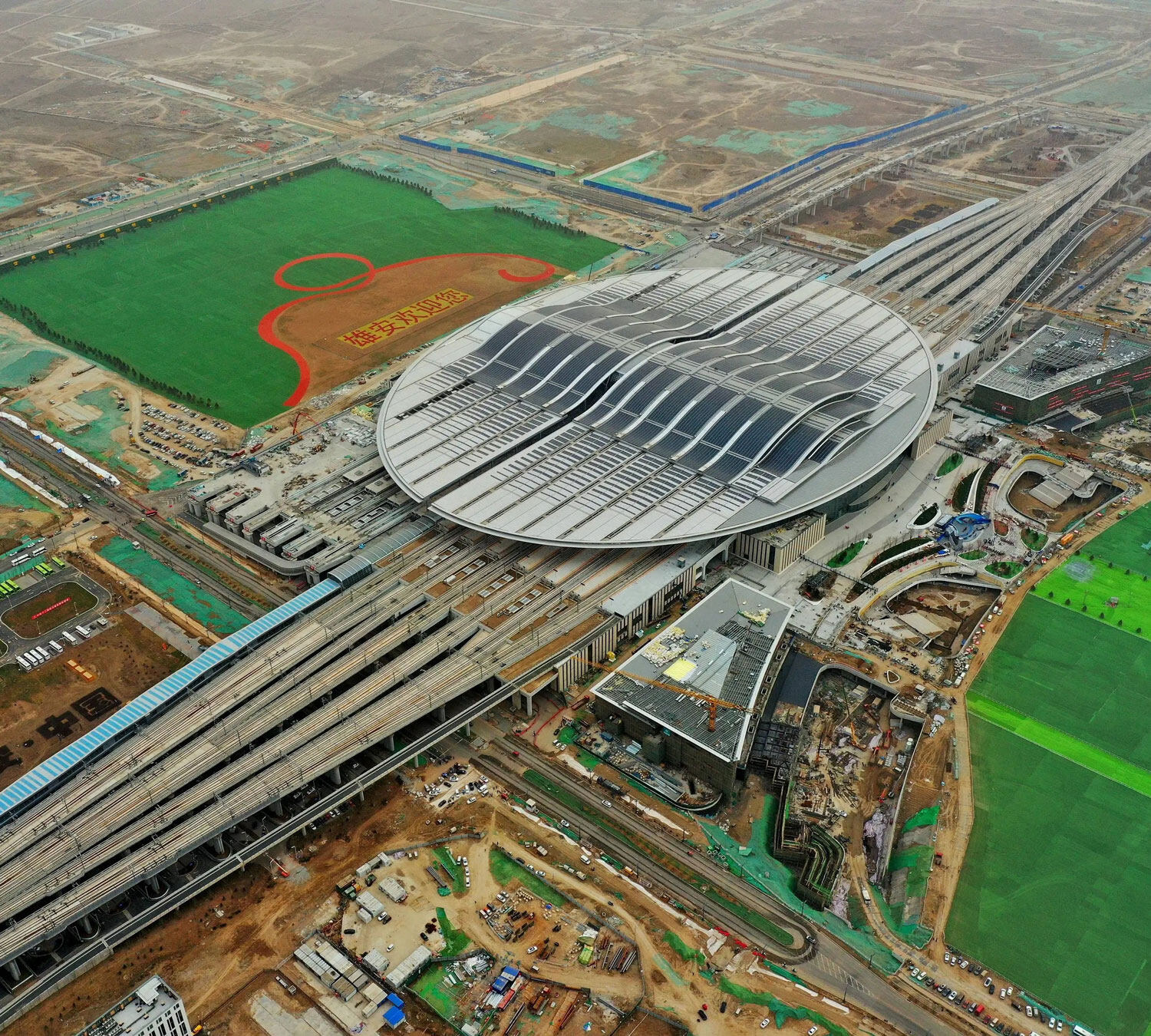 In addition to the cities under construction in reality, a digital twin city is also growing together. At the beginning of construction, each building will form its twin digital modeling. During construction and after completion, the digital model will be continuously updated synchronously. The accuracy error of the model should be controlled at 1.5 cm. The great black technology has been implanted in every corner of Xiong'an. Digital genes are integrated into buildings, parks, green spaces, water systems, etc. This is the first city in the history of urban construction in China to realize the simultaneous construction of digital city and real city. In Xiong'an, a new urban computing center is also under construction, which is the first landscape hidden urban computing center in China. The main building is like a crystal clear square stone inlaid on the lake. The arc front door under the square stone and the reflection of the lake form the eye of Xiong'an Digital City. Here, China's first garden ecological machine room hall will be built, which can accommodate 3600 equipment cabinets, Internet data center, cloud platform The supercomputing system constitutes Xiong'an's super brain.
Coordinated Development of the Beijing-Tianjin-Hebei Region
In the past five years, Xiong'an New Area has built two new high-speed railways, four expressways, and seven connections with Beijing, Tianjin, and Daxing International Airport. The one hour traffic circle in Beijing, Tianjin, and Xiongyang has basically taken shape. In the words of Yang Shenwu, deputy director of the Planning and Construction Bureau of Xiong'an New Area, "the rhythm of Xiong'an is different from day to day." Yang Shenwu said that he still remembered that when he first arrived in Xiong'an, he went to the construction site where there were many tower cranes. Standing on the top of the prefabricated buildings, he could see the whole Rongdong area. Now, a rudimentary urban form has been presented.
"Three schools and one hospital" is the representative of the coordinated development of Beijing, Tianjin and Hebei and the implementation of non capital mediation. In order to give full play to the radiation and driving role of Beijing's high-quality education, health care and other resources, and help Hebei Xiong'an New Area to improve the level of public services, Beijing has invested in the construction of a kindergarten, a primary school, a complete middle school, and a general hospital in full on a turnkey basis, which will be transferred to Xiong'an New Area after completion. Beihai Kindergarten, Shijia Primary School, Beijing No.4 Middle School, and Xuanwu Hospital will respectively provide school running and medical support. Xiong'an New Area Hospital Project introduces the natural features of the northwest planned green valley and water system into the hospital area along with the terrain, and comprehensively simulates the shape of Baiyangdian Lake, creating a soothing green environment for medical workers and patients. According to the statistics of Xiong'an New Area, there are nearly 100 well-known medical and health institutions in Beijing, Tianjin and Hebei, and about 60 high-quality schools that have established support and cooperation relationships with various hospitals and schools in the New Area.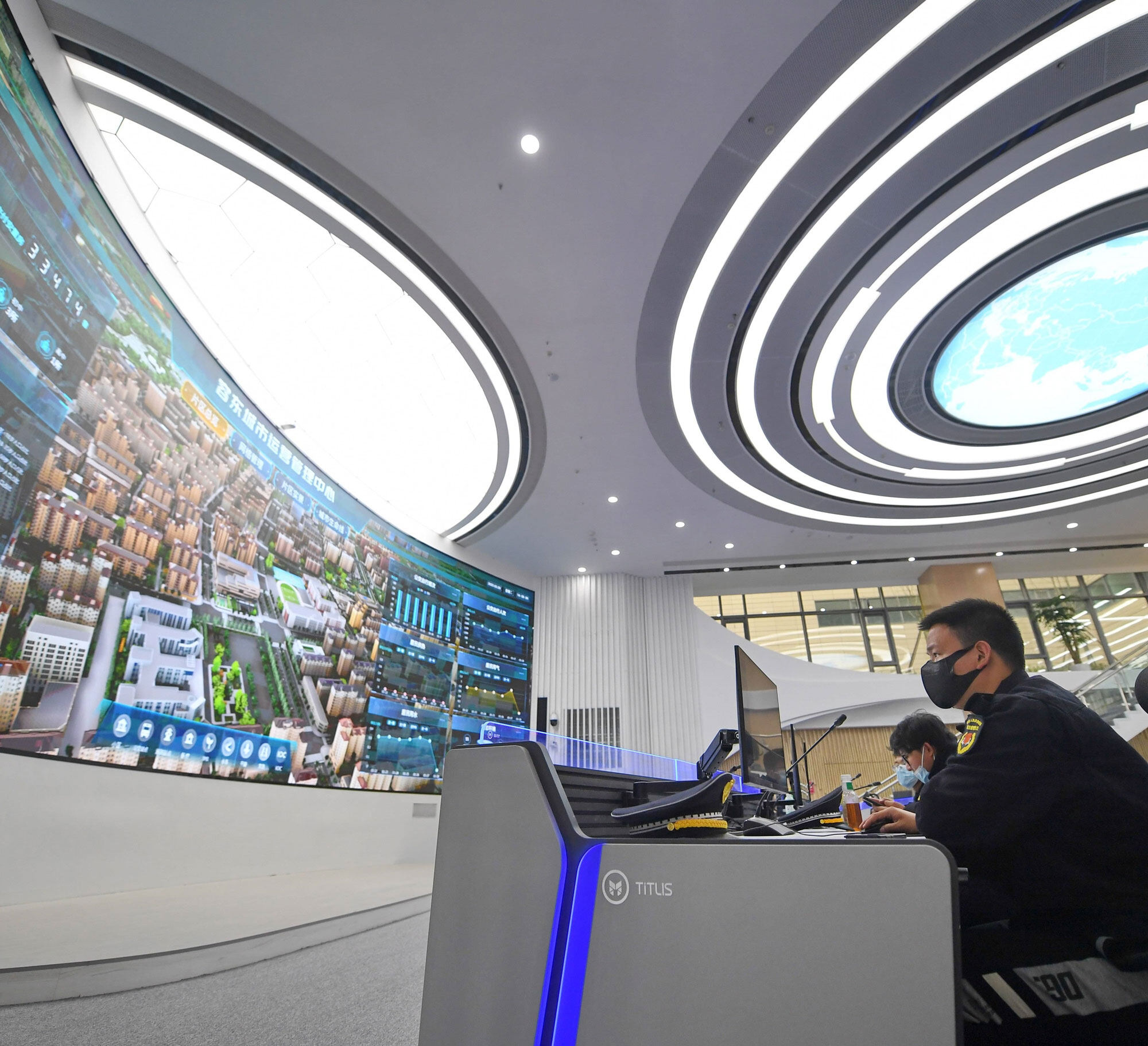 The Planning Outline of Hebei Xiong'an New Area points out that "Xiong'an New Area should aim at the world's scientific and technological frontier, face the major strategic needs of the country, actively absorb and gather innovative element resources by undertaking the non capital functions of Beijing that meet the positioning of the new area, layout high-end high-tech industries from a high starting point, accelerate the transformation of traditional industries, and build a modern industrial system with the coordinated development of real economy, scientific and technological innovation, modern finance, and human resources".
Xiong'an · Powerhouse Smart City is developed by China Power Construction Co., Ltd. The project is centered around Rongdong Jinhu Park, and industrial clusters and service function clusters are located on the east and west sides of Jinhu Park as required. Relying on the urban development axis and commercial development axis of the area, the three core dynamics of business, commerce and exhibition are connected to form a three-dimensional park structure, and radiate outward to Rongdong Area and Xiong'an New Area Startup Area, It is the urban link of Rongdong District. The main types of business include office, commerce, hotel, apartment, etc., which integrates business office, leisure shopping, social entertainment, living and living functions. What they undertake more is the function of the living and commercial service center in the region. It is not only an area with more intensive urban services and consumption scenarios in the future, but also an area with more concentrated commercial offices in Rongdong.
As of March 2022, central enterprises have set up more than 100 branches in Xiong'an New Area. Over the past five years, there have been more than 3600 Beijing investment source enterprises registered at the same level in the New Area, accounting for more than 80% of the total. In Beijing, Tianjin and Hebei, talent sharing is making the whole region an innovation highland. According to the Beijing Tianjin Hebei Talent Integration Development Plan (2017-2030), by 2030, Beijing Tianjin Hebei will basically be built into a world high-end talent gathering area, and 13 key projects, including the global high-end talent recruitment plan, are fully advancing. "Many post-90s have now grown into the backbone of various departments in Xiong'an New Area." Yang Shenwu said that the enthusiasm of these colleagues from all over the world to start their own businesses is very high, which has also driven him to become a young man.
The millennium city is emerging, and Xiong'an New Area is creating a new history every day. Over the past five years, more than 100000 constructors have been working day and night. From planning first to prototype, from a piece of white paper to a forest of tower cranes, Xiong'an is growing. The exploration and practice of the three cities, namely, Xiong'an, on the ground, underground, and above the clouds, is changing from a blueprint to a practical model. The city of the future, the future has come.Editor/Ma Xue