News
Xi'an Railway Station Reconstruction and Expansion Project won FIDIC Award
Xi'an Railway Station Reconstruction and Expansion Project is rare in the history of passenger station reconstruction in China
Recently, the International Federation of Consulting Engineers ("FIDIC") issued the 2022 Global Engineering Project Award Certificate. The overall design of the First Railway Institute and the reconstruction and expansion project of Xi'an Railway Station jointly applied by CSCEC Northwest Engineering Institute won this award. The First Railway Institute has won the FIDIC award for ten consecutive years.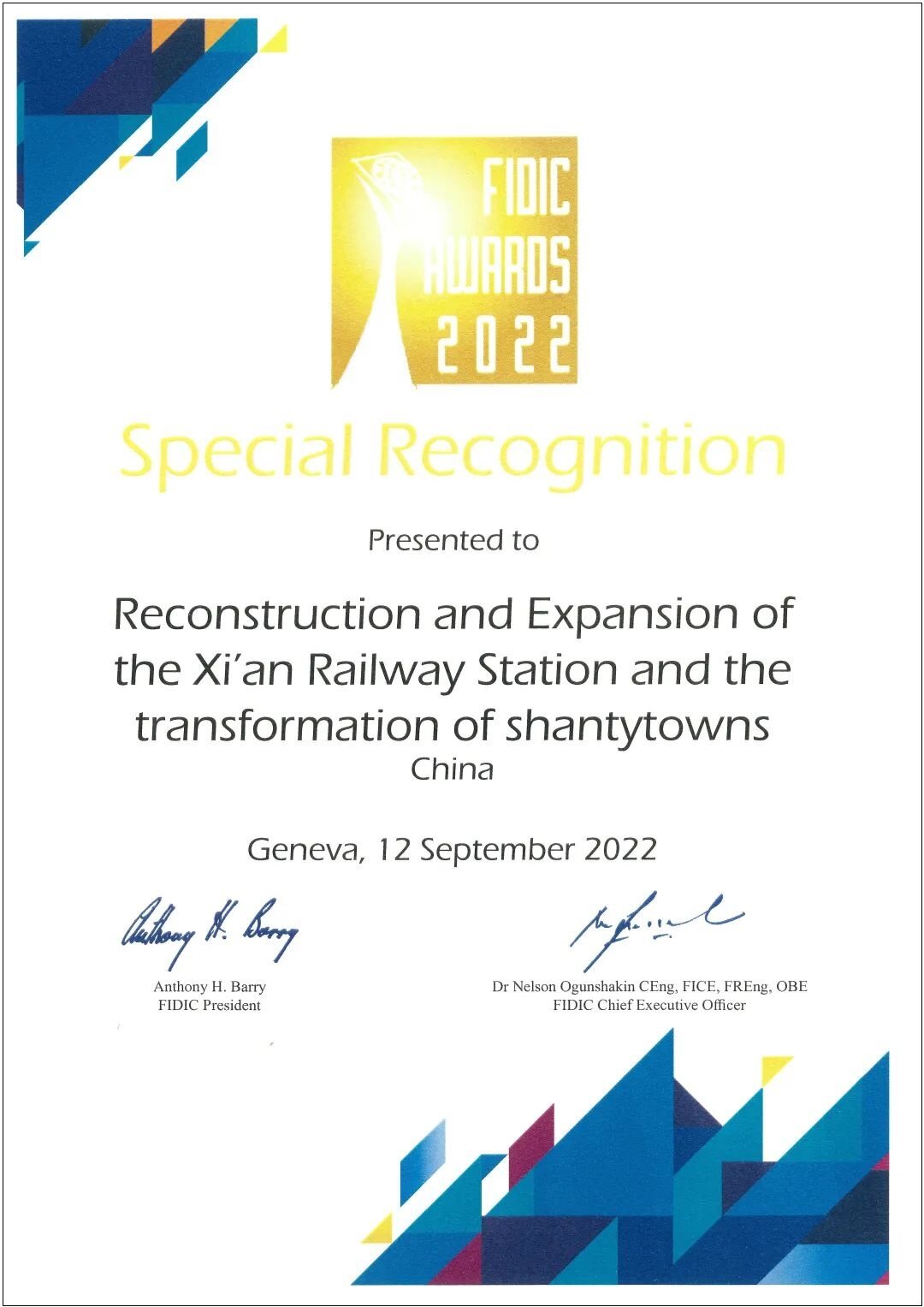 award certificate
Xi'an Railway Station is one of the main passenger stations in the "four main and one auxiliary" passenger transport system layout in Xi'an hub. Its reconstruction and expansion project is a systematic reconstruction project of an extremely complex hub and a large passenger transport integrated transport hub. Its design, reconstruction difficulty and reconstruction scale are rare in the history of passenger station reconstruction in China. Since the approval of the project proposal in 2010, the First Railway Design Institute has carried out the overall design. The station buildings have been jointly designed by the Northwest Railway Design Institute of CSCEC and closely cooperated with other relevant units. It took 12 years to help this 87 year old city card to achieve a magnificent transformation with first-class technical strength and quality services.
According to Li Pengbin, chief designer of Xi'an Railway Station Reconstruction Project of CREEC, "the total building area of Xi'an Railway Station after reconstruction is 282000 square meters, including 127000 square meters of station building (including 22300 square meters of waiting area) It can accommodate 12000 people at the same time during peak hours. After the station transformation project is fully put into use, the annual passenger traffic volume of Xi'an Railway Station is expected to reach 48 million person times, 2.4 times higher than the passenger traffic capacity before the transformation. It will become a zero transfer and comprehensive transportation hub integrating high-speed rail, ordinary rail, intercity rail, subway, bus (intercity passenger transport), and public transport, and its passenger transport hub status will be further highlighted. "
According to the Xi'an Railway Terminal Planning (2016-2030), the reconstructed Xi'an Railway Station is mainly responsible for the departure and arrival of ordinary speed and regional medium and short distance bullet trains in the near future, mainly handling the departure and arrival of ordinary passenger trains of Longhai, Baotou Xi'ang, Ningxi, Houxi and Xiping railways, and the departure and arrival of medium and short distance bullet trains in the region, as well as the operation of Longhai Line and ordinary speed passing with Ningxi, Xikang, Baotou Xi'ang and Houxi railways, as well as the Xuzhou Lanzhou high-speed railway to Xiwu high-speed railway The bullet train of the West Chongqing High speed Railway passes through.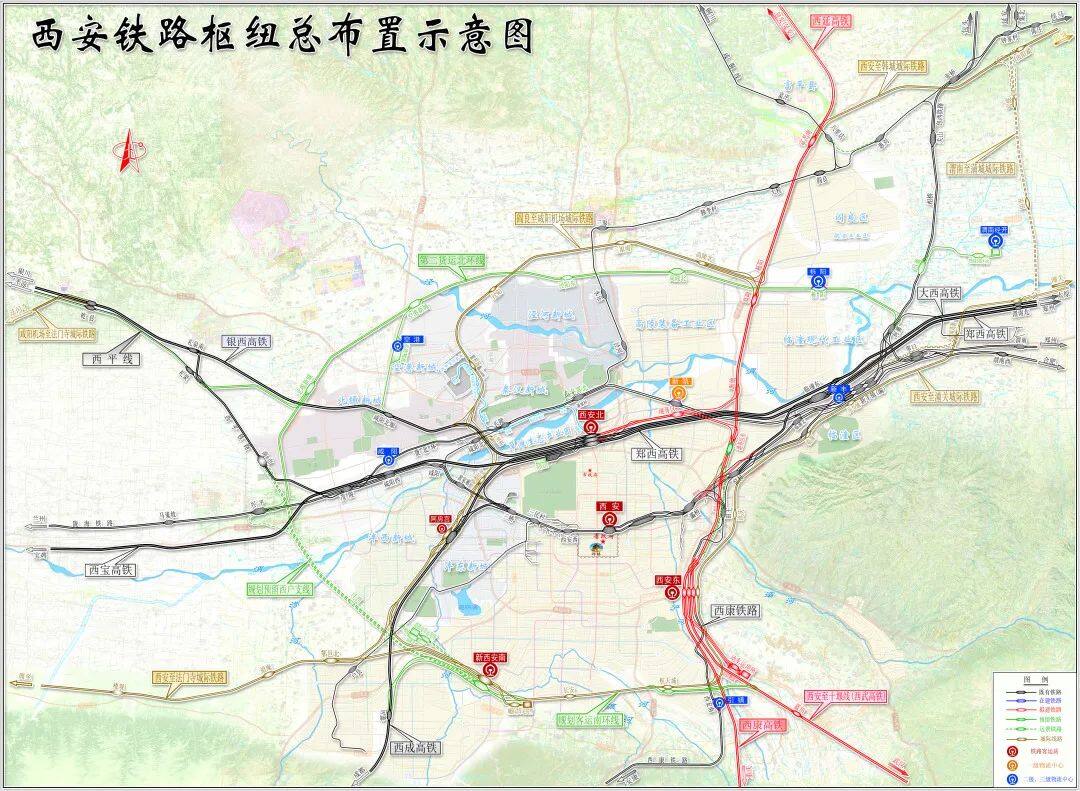 Overall concept
Xi'an Railway Station is the only reconstruction and expansion project located in the cultural relics group in China. Through the group planning and layout of "Palace Station City" and the isomorphic design of buildings, it has achieved the integration of traffic functions and urban functions, the coordination of traffic environment and urban style, the integration of the interior appearance of buildings and traditional culture. The project, the Daming Palace site and the Ming City Wall, two world-class cultural heritages, co-exist and complement each other, Achieve the overall harmonious beauty of "new" engineering technology and "old" classical architectural art.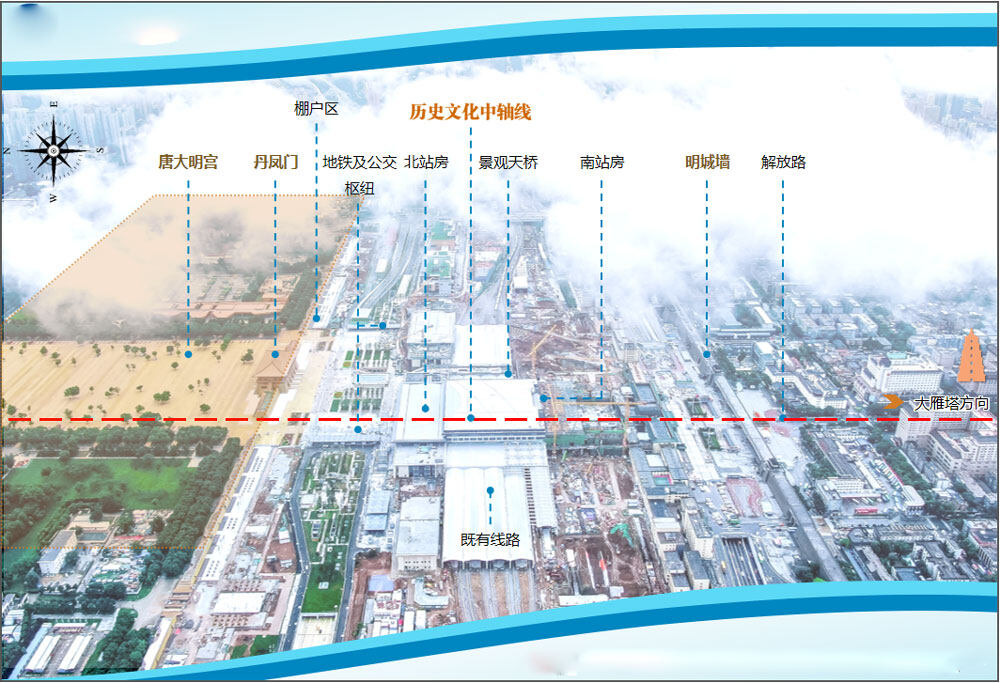 Schematic Diagram of Palace Station City Location
Hub design
The newly-built North Square follows the three principles of functional layering, vehicle streamline and three-dimensional transportation, and finally realizes the separation of passenger flow from arrival to departure, and seamless transfer of various means of transportation. It is the only station in China that realizes the concept of zero distance transfer in the reconstruction of existing stations.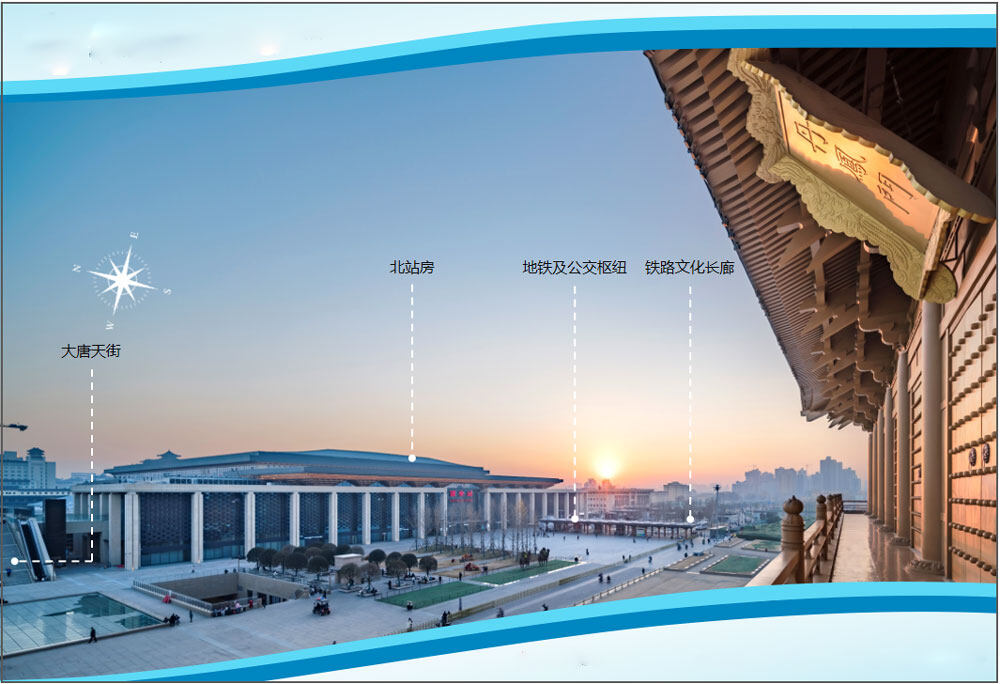 North Station Building Hub
Decoration style
The interior and exterior decoration is interpreted by the wood structure elements of traditional Chinese buildings, creating a space form that combines traditional charm and contemporary flavor, and making visitors perceive and associate the overall impression of Xi'an's millennium ancient city from the space atmosphere.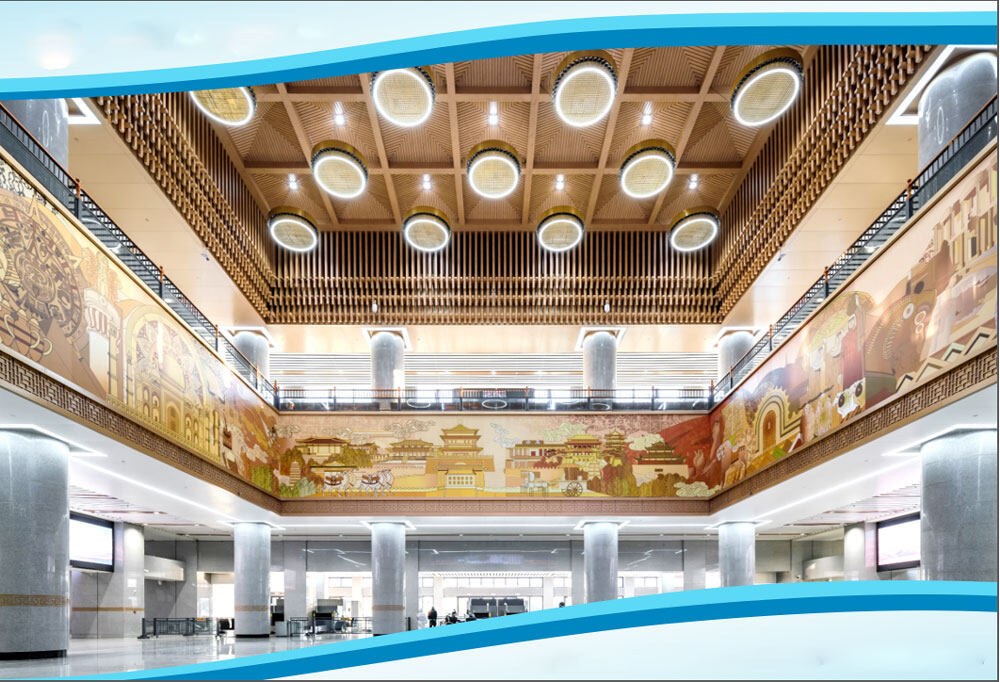 Interior view of entrance hall of south station building
space design
Make full use of the space of the east and west four halls on the first and second floors to design four train culture theme exhibition areas, namely steam locomotive, diesel locomotive, electric locomotive and high-speed railway, so as to realize the three functions of people passing, train culture exhibition and commercial operation. Let passengers in the waiting process, as if in the past and future.
security management
"Heart surgery in this city and railway hub, which is rare in the world engineering history", first used UAV detection technology, BIM modeling technology and smart site management platform, creating a engineering miracle that no safety and quality accidents occurred in seven years.
5G network construction
Comprehensively carry out 5G networking construction, build a smart hub, effectively improve the convenience of public travel, and improve the service level.
Energy conservation and environmental protection
Establish six environmental protection systems, including three-dimensional transportation system, low-carbon operation management system, efficient energy-saving lighting system, indoor environment monitoring system, green ecosystem and water-saving and energy-saving system, to minimize resource waste.
Diversified investment and financing
Through diversified investment and financing modes, the government's financial pressure can be effectively alleviated, so as to improve the efficiency of hub investment, construction and operation, and realize the virtuous circle and sustainable development of urban upgrading and comprehensive transportation hub construction and operation.
Since 2013, when FIDIC selected the "Global Centennial Major Project" in the world, the First Academy of Railways has selected projects every year. At present, 15 projects and one individual have won FIDIC awards, making it one of the enterprises that has won the most FIDIC awards in the world. CREEC fulfilled the mission of scientific and technological central enterprises with practical actions.Editor/Ma Xue