Hydrogen + Storage
Jinfeng Technology's National Hydrogen Energy Headquarters Settled in Wuxi
Goldwind Technology deeply focuses on energy development, energy equipment, energy service and energy application
Goldwind Technology will focus on wind energy, energy storage, hydrogen energy and comprehensive energy services Goldwind Technology will focus on wind energy, energy storage, hydrogen energy and comprehensive energy services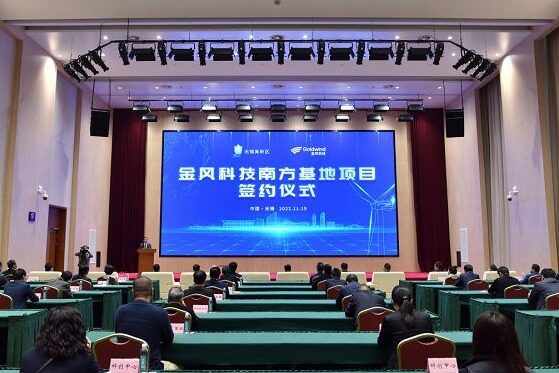 On the morning of November 19, 2022, the signing ceremony of Jinfeng Technology South Base project was held in Wuxi High tech Zone. Cui Rongguo, Secretary of the Party Working Committee of the High tech Zone and Secretary of the Xinwu District Committee, Gu Guodong, Han Yang, Ding Hongjun, Hua Yanhong and Zhu Xiaohong, District leaders, Cao Zhigang, President of Jinfeng Technology, and Liu Rixin, Vice President of Jinfeng Technology attended the event.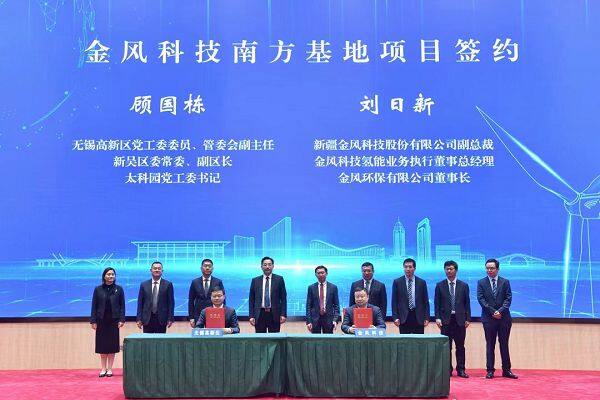 Signing ceremony
Goldwind Technology is a global leading wind power enterprise, which is consistent with the strategy and philosophy of Wuxi Hi tech Zone, and is our high-quality partner to build a green low-carbon industry. The implementation of Jinfeng Technology South Base Project will strongly support the integrated cluster development of green and low-carbon industries in the high-tech zone, and make the relevant innovation chain and industrial chain bigger and stronger as a whole, so as to build an advanced manufacturing base with international competitiveness and an innovative economic development highland, build a deep "low-carbon brand" and add a strong "green power". Wuxi High tech Zone will always adhere to the service concept of "no difficulty, do it carefully", strive to provide the best environment, the most intimate services, and the most preferential policies for the development of Goldwind Technology in Wuxi, and support Goldwind Technology to build the southern base as the most important growth point and support pole of the company.
Goldwind Technology will set up a southern base and a strategic innovation business base in the high-tech zone. The newly established national hydrogen energy headquarters of Goldwind Technology will set up a professional platform in the high-tech zone for key equipment manufacturing and key process technology research and development in the field of new energy hydrogen production, and become the national headquarters of Goldwind Technology for new energy hydrogen production business. At the same time, we will integrate and expand the existing business of Goldwind Environmental Protection, establish Goldwind Technology National Environmental Protection Headquarters, combine green energy with water environmental protection, and improve the comprehensive efficiency of water operation. The newly established Goldwind Offshore Wind Power Design and Research Institute relies on Goldwind's "National Local Joint Engineering Laboratory", "National Wind Power Engineering Technology Center" and other national research and development platforms to conduct research on cutting-edge technologies of wind power and build core overall technical capabilities in China's offshore wind power engineering field. On the basis of Goldwind Software, it will also build a new energy digital innovation center of Goldwind Technology, focusing on the new energy Internet of Things, big data, digital twins and other technical fields, committed to building a global leading zero carbon digital solution, and promoting the digital transformation of the industry. During the activity, the business license of the operating entity of Goldwind Technology National Hydrogen Energy Headquarters was also issued.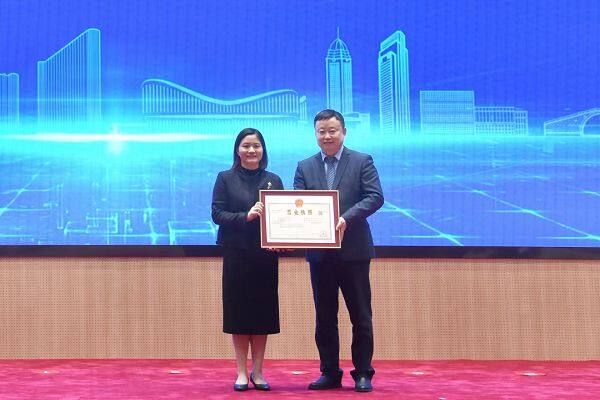 Issuance of business license
Goldwind Technology deeply focuses on energy development, energy equipment, energy services and energy applications, and is listed on Shenzhen Stock Exchange and the Stock Exchange. By the end of 2021, the total assets of Goldwind Technology will exceed 119.3 billion yuan, with a total revenue of 50.57 billion yuan and a net profit of 3.46 billion yuan. According to Bloomberg Energy Finance's installed capacity statistics, Goldwind Technology ranks second in the world and first in China in 2021.
Goldwind Technology will set up a southern base and strategic innovation business base in Wuxi High tech Zone around green and low-carbon industries such as wind energy, energy storage, hydrogen energy, comprehensive energy services, environmental protection and water. It is estimated that within five years, Goldwind Technology South Base will gather 1000 Goldwind Technology employees, achieve an annual revenue of 10 billion yuan, and drive Wuxi to form a localized industrial cluster of Goldwind supply chain. Editor/Zhao E