Company
20GWh! BYD Power Battery Production Base Settles in Wenzhou
It is estimated that BYD's planned capacity of power battery will exceed 500GWh by 2024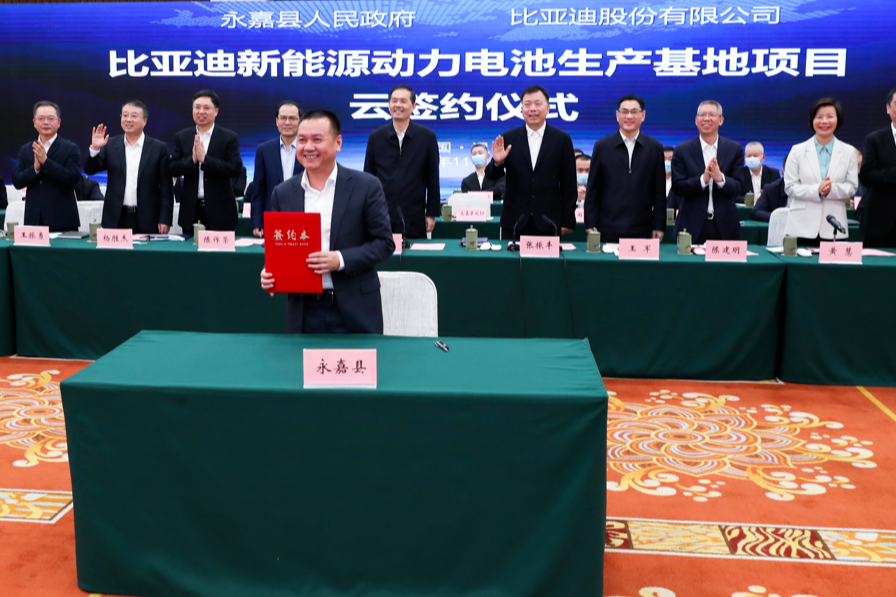 Since 2022, BYD has signed contracts or opened battery production bases in Changchun, Yancheng, Guiyang, Taizhou, Xiangyang, Nanning, Yichun and other places. Recently, another power battery base of BYD settled in Wenzhou, Zhejiang Province. On November 23, the cloud signing ceremony of BYD's new energy power battery production base project was held.
The power battery to be produced in this project adopts one of the battery technologies with great potential at present, which is expected to drive the high-quality and large-scale development of the whole new energy industry chain, and link with the transformation and upgrading of Wenzhou's existing power battery, automotive electronics, auto parts and other industries. In June 2022, the party and government delegation of Wenzhou went to Shenzhen to investigate and promote the project cooperation between BYD and Wenzhou. The new energy power battery production base project signed and implemented this time is one of the cooperation achievements of both parties.
Wang Chuanfu, chairman and president of BYD Group, said that in recent years, BYD has maintained a good interaction with Wenzhou City. The company will give full play to its own advantages to cultivate, build and develop the project well, achieve early commencement and production, and build a strategic base for new energy power batteries.
According to statistics, in 2021, BYD plans to increase its production capacity by more than 205GWh. In 2022, BYD plans to increase its production capacity by 187GWh. The growth rate of new production capacity is higher than that in 2021. With the completion of Wenzhou Power Battery Base, BYD's capacity is expected to further improve. On the same day when it landed in Wenzhou base, BYD officially announced that it would adjust the official guidance price of new energy vehicles related to Dynasty, Ocean and Denza, with an increase range of 2000-6000 yuan. However, BYD did not disclose the specific model of the price increase.
It is understood that this round of price increase has been the third price adjustment by BYD this year. BYD has adjusted the official guide price of dynastic and ocean related new energy vehicles by 1000-7000 yuan. In March, BYD's new energy vehicles were raised by another 3000-6000 yuan. The official guide prices of new energy vehicles related to Dynasty, Ocean and Denza will be adjusted by 2000-6000 yuan. If the minimum increase is calculated, BYD will increase the price by at least 6000 yuan after three price increases.
As for the reason for this price increase, BYD explained that it was because the national subsidy policy for the purchase of new energy vehicles would end on December 31, 2022. The current subsidy amount is 4800 yuan/set for plug-in hybrid vehicles and 12600 yuan/set for pure electric vehicles. The price increase of BYD is basically half of the existing subsidy amount. Another reason is that since the second half of the year, the price of main battery raw materials has risen sharply. According to BYD's statement, customers who pay deposit before January 1, 2023 will not be affected by this price adjustment.Editor/XingWentao