Humanities
Old man Le drives into Africa
In many African countries, the consumption power is not strong, but the demand for automobiles is growing
China's high-quality and cheap low-speed electric vehicles can help Africans realize their car dreams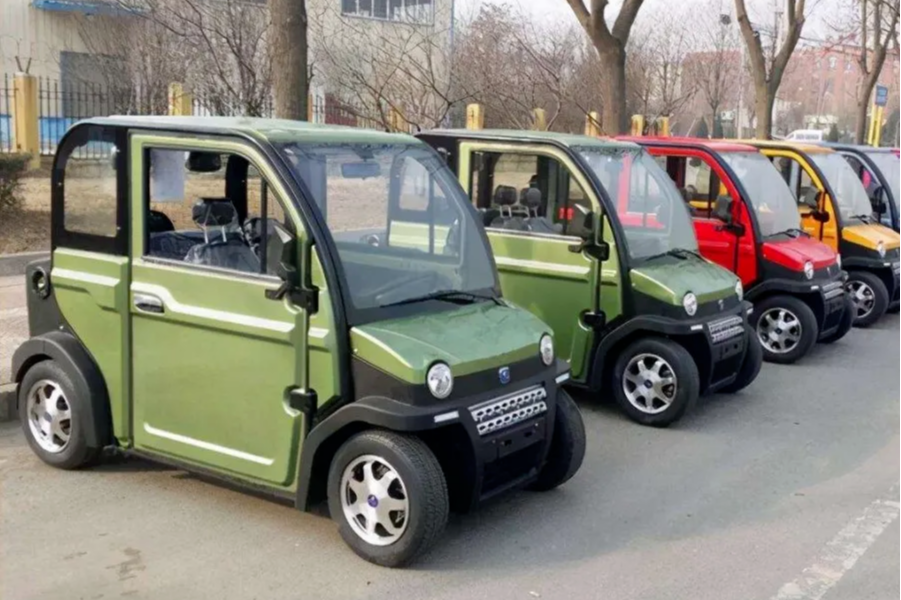 In China's rural areas, the urban-rural fringe, and even the third and fourth tier cities, low-speed electric vehicles, which we often call "Laotoule", are now driving to the streets of Africa to meet the new needs of local people for life and travel. China's low-speed electric vehicles are being exported to some countries in West Africa. Even Zimbabwe, which uses right-hand drive vehicles, can find Chinese brands.
Benefiting from the incomparable price advantage and the overall background of reducing carbon emissions and promoting clean energy, China's low-speed electric vehicles are entering the African market. Ethiopia has become the first African continent country to accept "Laolaole", and other countries may also follow.
Chinese cars emerge in Africa
"I also hope to have an 'Old Man's Le'." Adil, a local employee working in a Chinese clothing company in Ethiopia's Oriental Industrial Zone, told reporters that he could commute to and from work more easily.
Hamid, vice president of Bavaria Automobile Group in Egypt, said in an interview that China's "Laotou Music" has emerged in the local market of Egypt. Local media reported that in the first half of 2022, China's leading low-speed electric vehicle enterprise Leiding and Ethiopia Africa Green Technology Group reached a cooperation on the sales of new energy vehicles and after-sales supporting services.
It is reported that thousands of Reading "Mango" new energy vehicles are sent to Ethiopia by sea. When replying to the reporter's interview, Reading said that at present, it has been sold to Ethiopia, Egypt and other large African population countries, as well as Ghana, Equatorial Guinea and other western African countries with economic and political stability. According to Reading, the company plans to enter North African countries with higher economic development level, such as Morocco, and Nigeria, a major economic country in West Africa, on the basis of the existing African market in 2023, and cover right-hand drive vehicle markets, such as South Africa. In addition, localization assembly and production in Africa will be realized from 2024 to 2025.
In order to cover the needs of different income groups, the electric vehicle center, the official authorized dealer of BYD Motor in Zimbabwe, is also introducing the V7 low-speed electric vehicle manufactured by Henan Deli New Energy Automobile Co., Ltd. and changing it into a right steering vehicle suitable for the local market. The reporter learned in the interview that Deli Automobile is expected to release a detailed export plan in the second half of 2023.
Suitable for African scenes
For automobile consumption, especially for the African market where electric vehicles have just started, low-speed electric vehicles have broad market prospects due to their low price, small size and other characteristics.
According to the information obtained by the reporter, according to the requirements of China's laws and regulations, low-speed electric vehicles are simple four-wheel pure electric vehicles with a speed of less than 70km/h. Because its shape and structure are similar to that of a car, but its size is smaller. Its price is only a few thousand to 20000 yuan, and its use cost is only a few yuan per hundred kilometers. This makes it popular in rural, urban and other areas with low consumption power, which also implies the travel needs of Africans.
"Although I can't drive fast, the price of 'Old Man's Fun' is cheap and I can afford it. I can't keep up with other cars." Adil said that compared with electric bicycles and motorcycles, low-speed electric vehicles can protect them from the bad environment, and the price is generally less than $3000. Clean Technica believes that China's low-speed electric vehicles are very suitable for the logistics industry, the Last Mile Express Company, as well as new graduates and new workers.
Young group may become a new target of the market
At present, electric vehicles are taking root in Africa. According to Hamid, Egypt will launch its first electric vehicle "E70 Nasser" in the second half of 2021, which will be jointly manufactured by Nasser Automobile Co., Ltd., a subsidiary of the Egyptian State owned Enterprise Department, and China Dongfeng Corporation. However, as the high price of electric vehicles makes it difficult for Africans to afford, low-speed electric vehicles with good quality and low price are becoming "replacement", and young people in Africa may become the main driving force behind this new consumption trend.
"Africa has a target market of nearly 1.4 billion users, of which 70% are young people." The relevant person in charge of Reading told the reporter that "Africa's youth oriented population structure is conducive to cultivating new consumption habits, providing a good foundation for the development of the new energy industry, and the generation group effect of the younger generation will also lead to a huge potential automobile consumption market." Hamid also said that Egypt's "old man's music" is mainly sold to rural areas, with a low proportion in urban areas. However, Egypt's urban youth are in the majority, with huge potential for emerging consumption development. He believed that with the progress of technology, especially with the further improvement of security, "Laolaole" would be more and more popular with young people in Egypt. Editor/He Yuting