Product
The world's largest shaft roadheader was launched in Changsha
Dream TBM is applicable to the construction of super large diameter shaft in soft soil and soft rock stratum
Reading this article requires
On November 29, 2022, the "Dream", the world's largest shaft roadheader independently developed by China, was launched in Changsha, Hunan Province. The whole machine of "Dream" is about 10 meters high and its excavation diameter is 23.02 meters. It is the largest tunnelling machine in the world so far, filling the world gap in the product type spectrum of tunnelling machines, and marking a new stage in the scientific and technological research of China's underground engineering equipment.
"Dream", jointly built by CRCC Heavy Industry and China Railway 15th Bureau, integrates excavation, slag removal, support, guidance and other functions, and is applicable to the construction of super large diameter shaft projects in soft soil and soft rock strata. Its overall technology has reached the international advanced level. The equipment is designed with full sealing and high pressure bearing. During construction, the host machine will dive into the water to excavate soil. The maximum excavation depth can reach 80 meters. At the same time, it has the capacity of variable diameter excavation. It will participate in the construction of underground smart garage in Jing'an District, Shanghai.
Previously, domestic and foreign enterprises have developed shaft tunnellers with excavation diameters of 13 meters to 14 meters for mechanized caisson construction, but it is the first time in the world to develop ultra large diameter shaft tunnellers with excavation diameters of 15 meters and above.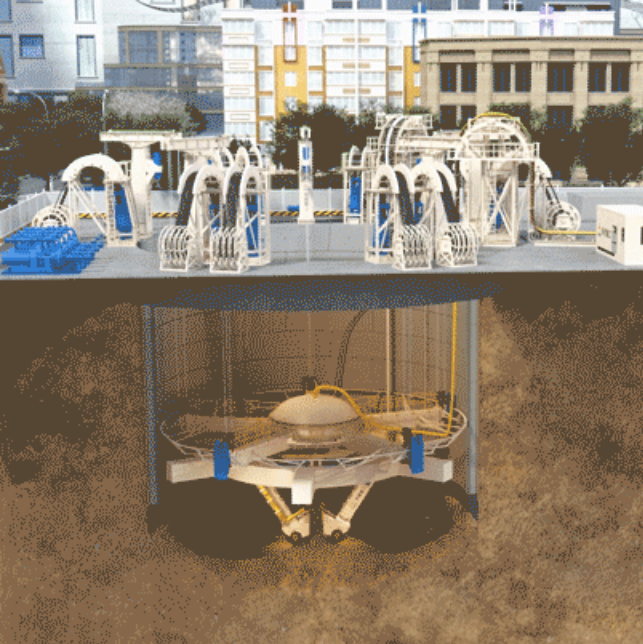 On site construction simulation of Dream
Compared with the traditional open caisson construction method of manual excavation, the mechanized open caisson operation adopted by "Dream" can achieve the goal of no one under the shaft and few people on the ground, so as to achieve the goal of "well builders can not go down the well", save more than 50% of the construction cost, and effectively improve the safety of construction operations.Edit/Ma Xue
Comment
Please Login to post a comment