Editorial
Ambassador Li Changlin published a signed article on the ChinaArab States Summit
The Moroccan side firmly believes that it is necessary to consolidate the strategic partnership between Afghanistan and China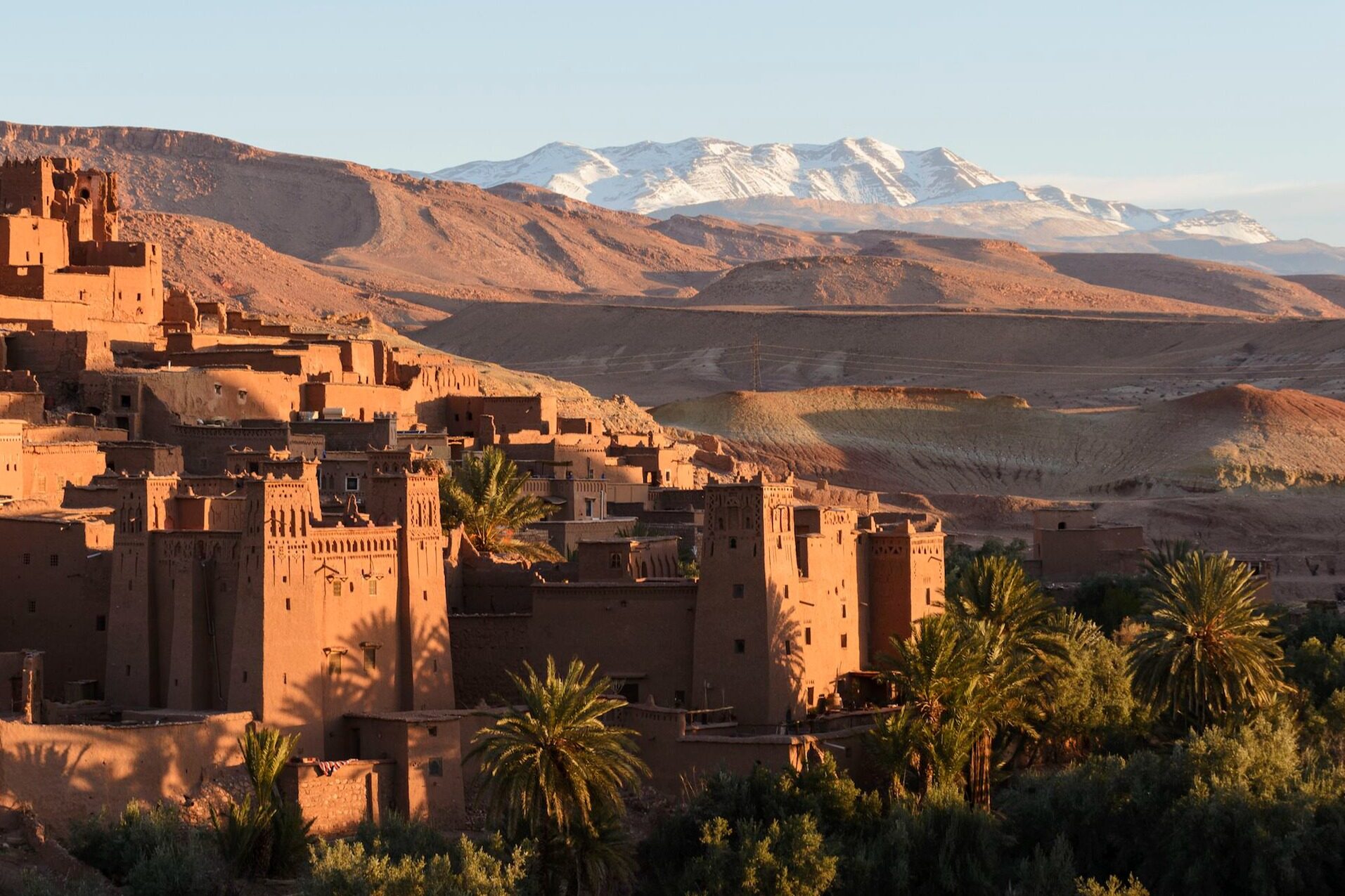 Reading this article requires
On December 12, 2022, Li Changlin, the ambassador to Morocco, published a signed article entitled "The First China-Arab States Summit Is a Milestone in the History of China-Arab Relations" in the Moroccan mainstream media "Challenger Weekly", giving a comprehensive introduction to the first China-Arab Summit. Situation and Outcome Initiatives. The main contents are as follows.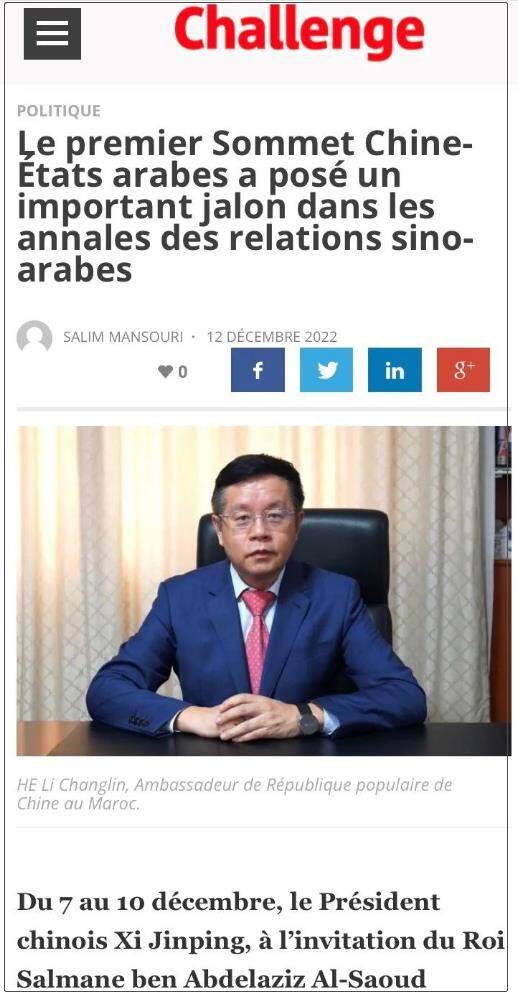 From December 7th to 10th, at the invitation of King Salman of the Kingdom of Saudi Arabia, Chinese President Xi Jinping went to Riyadh, Saudi Arabia to attend the first China-Arab States Summit and the China-Gulf Cooperation Council Summit and pay a state visit to Saudi Arabia. This meeting is President Xi Jinping's first visit to a country in the Middle East after the 20th National Congress of the Communist Party of China. It is also China's largest and highest-level diplomatic action to the Arab world since the founding of New China. President Xi Jinping, leaders of 21 Arab League countries and heads of international organizations including the Secretary-General of the League of Arab States attended the summit. The summit released the "Riyadh Declaration of the First China-Arab Summit", the "Outline of China-Arab Comprehensive Cooperation Plan" and the "Document on Deepening China-Arab Strategic Partnership for Peace and Development". community.
The world today is facing major changes unseen in a century. The convening of the first China-Arab States Summit is a strategic choice for China and the Arab states to strengthen solidarity and cooperation under the background of the world entering a new period of turmoil and change. China hopes to use the summit as an opportunity to further consolidate strategic consensus on major regional and international issues, issue a strong voice to strengthen solidarity and coordination, firmly support each other, promote common development, and maintain multilateralism, and jointly implement global development initiatives, Global Security Initiative.
President Xi Jinping delivered a keynote speech at the summit, calling on China and Arab countries to join hands to build a closer China-Arab community with a shared future to better benefit the two peoples and promote the cause of human progress. President Xi Jinping pointed out that China and Arab states should adhere to independence and safeguard common interests. China supports Arab countries in independently exploring a development path that suits their own national conditions, and is willing to deepen strategic mutual trust with the Arab countries and firmly support each other in safeguarding national sovereignty, territorial integrity and national dignity. The two sides should focus on economic development and promote win-win cooperation. It is necessary to strengthen the docking of development strategies and jointly build the Belt and Road with high quality. It is necessary to consolidate traditional cooperation in economy and trade, energy, and infrastructure construction, and strengthen new growth poles such as green and low-carbon, health care, and investment and finance. The two sides should maintain regional peace and realize common security. China supports Afghanistan in promoting political solutions to hotspot and difficult issues and building a common, comprehensive, cooperative and sustainable Middle East security architecture. The two sides should strengthen cultural exchanges and enhance understanding and trust. We must jointly oppose "Islamophobia", carry out de-radicalization cooperation, and oppose linking terrorism with specific ethnic groups and specific religions. President Xi Jinping emphasized that the Palestine issue bears on peace and stability in the Middle East. China will continue to firmly support the establishment of an independent State of Palestine enjoying full sovereignty based on the 1967 borders, with East Jerusalem as its capital, and Palestine becoming a full member of the United Nations.
At the summit, President Xi Jinping proposed eight common actions for China-Arab practical cooperation, laying a solid foundation for building a China-Arab community with a shared future for the new era.
Support the development of joint action. China will discuss with Arab countries the implementation of development cooperation assistance projects totaling 5 billion yuan (about 719 million U.S. dollars), and include 30 qualified Arab projects into the global development initiative project library. Provide humanitarian and reconstruction assistance to Palestine, Yemen, Lebanon, Syria and other countries; strive to reach a trade volume of 430 billion US dollars in 2027.
Common action on food security. China is willing to help Arab countries enhance food security and enhance comprehensive agricultural production capacity; jointly build five modern agricultural joint laboratories with the Arab countries, carry out 50 agricultural technology cooperation demonstration projects, and send 500 agricultural technical experts to the Arab countries.
Health together action. China is willing to work with Arab countries to jointly build a public health science and technology cooperation center and a vaccine innovation and R&D cooperation alliance, implement five traditional Chinese medicine cooperation projects in the country, continue to send Chinese medical teams to work in the country, and perform 2,000 cases of free cataract surgery.
Green innovation in action. China is willing to establish a China-Arab International Research Center on Drought, Desertification and Land Degradation with Arab countries, and implement five South-South cooperation projects in response to climate change; use the China Fengyun Meteorological Satellite and the Beijing World Meteorological Center to support Afghanistan in disaster prevention and mitigation; A Beidou Application Industry Promotion Center.
Joint action on energy security. China is willing to work with Arab countries to build a China-Arab Clean Energy Cooperation Center, support Chinese energy companies and financial institutions to participate in renewable energy projects with a total installed capacity of more than 5 million kilowatts in the country, and carry out energy technology research and development cooperation with the country.
Dialogue among civilizations and common action. China will invite 1,000 people from political parties, parliaments, media, and think tanks from Arab countries to come to China for exchanges; promote cooperation between 500 Chinese and Arab cultural and tourism companies, and train 1,000 cultural and tourism talents for the country; and jointly implement the mutual translation of 100 classics with the country Project and 50 audio-visual program cooperation projects.
Young talents act together. China will hold the China-Arab Youth Development Forum and launch the "China-Arab 10+10 Cooperation Plan for Universities"; invite 100 young scientists from the Arab country to come to China for scientific research exchanges, invite 3,000 young people to participate in Sino-Arab cultural exchanges, and invite 10,000 Arab talents to participate Professional training in poverty alleviation, health care, green development and other fields.
Safe and stable joint action. China will strengthen strategic dialogues, military-arm exchanges, and academic exchanges between defense departments and militaries with Arab countries, and deepen cooperation in areas such as maritime security, international peacekeeping, and professional technology; train 1,500 people for Arab countries in smart police construction, network security law enforcement, etc. field personnel; jointly implement the "China-Arab Data Security Cooperation Initiative".
Recently, the successful holding of the first China-Arab States Summit has become a local headline in Morocco. Moroccan Prime Minister Akhnoush attended the summit and read a speech from King Mohammed VI. In his speech, the king pointed out that Morocco firmly believes that it is necessary to consolidate the strategic partnership between Afghanistan and China. Arab-Chinese cooperation in the fields of politics, economy, trade, and people-to-people and cultural exchanges continues to expand. The two sides should fully tap the huge potential for cooperation, and support Arab countries to achieve economic take-off by vigorously implementing development projects, strengthening the construction of infrastructure and logistics equipment, and promoting personnel training and technology transfer. and technological progress. The king spoke highly of the profound historical friendship between Morocco and China, and highly appreciated the fruitful cooperation results in various fields between the two sides as well as the constructive coordination and consultation on issues involving common interests. It supports China's global development initiative and other initiatives, and hopes to further deepen the strategic partnership established between the two countries in 2016.Editor/Xing Wentao
Comment
Please Login to post a comment