Editorial
Ambassador Qian Minjian published an article
The world has entered a new period of turmoil and change, and the Middle East is undergoing new and profound changes
China firmly supports Lebanon in safeguarding its sovereignty, independence and territorial integrity, and supports Lebanon in maintaining national security and stability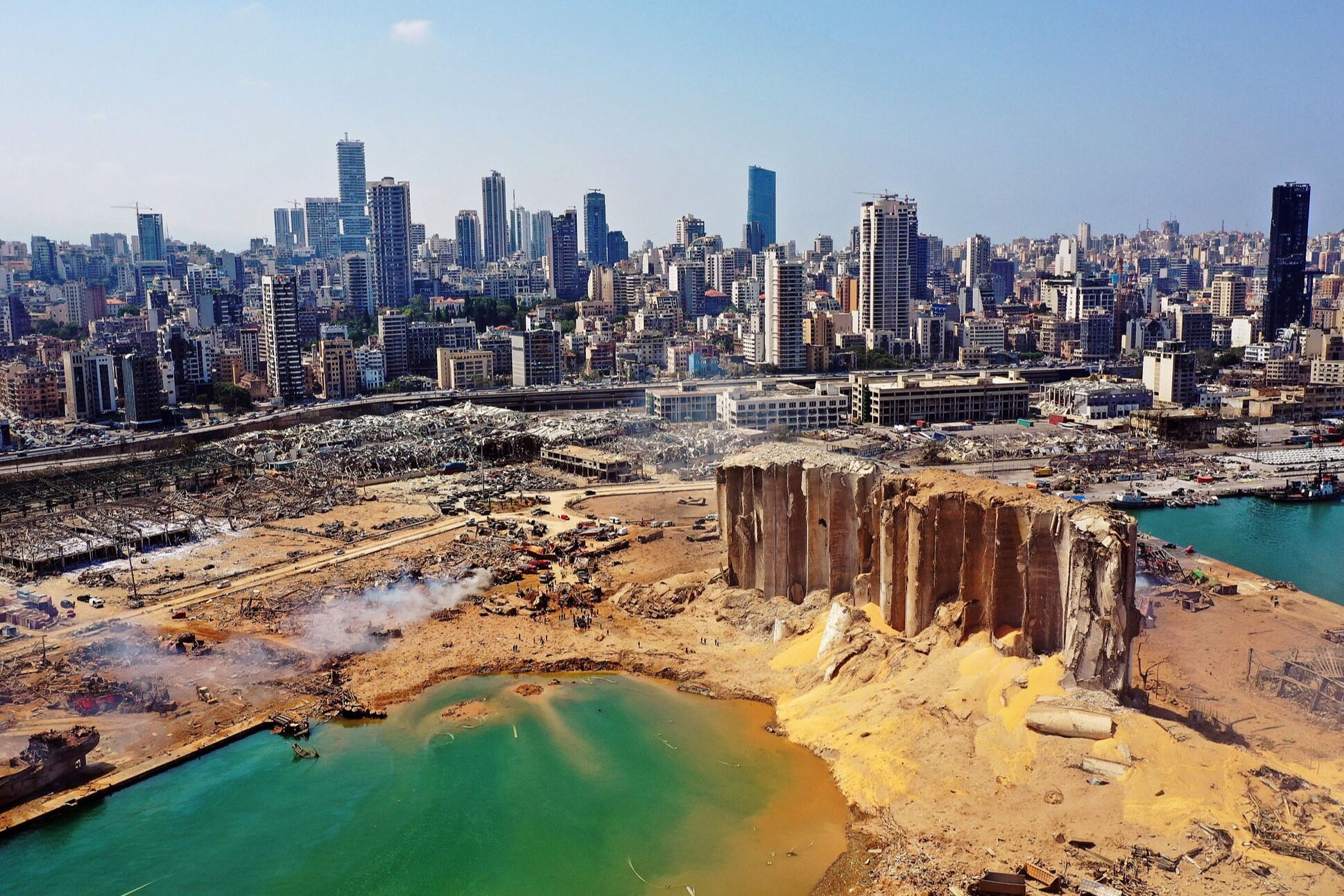 On December 12, 2022, Qian Minjian, Ambassador to Lebanon, published a signed article "Promote Traditional Friendship and Jointly Draw a Blueprint for Development" in the mainstream Lebanese newspaper "Day" to promote the first China-Arab States Summit.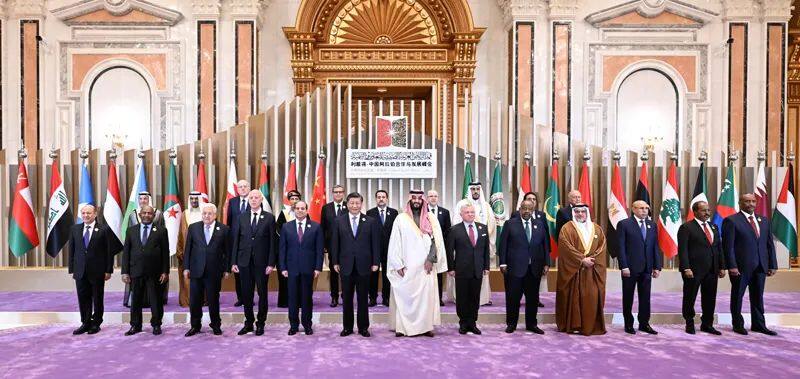 From December 7th to 10th, Chinese President Xi Jinping paid a state visit to Saudi Arabia and attended the first China-Arab Summit. This is China's largest and highest-level diplomatic action to the Arab world since the founding of New China, and it is also President Xi Jinping's first visit to the Middle East after the successful convening of the 20th National Congress of the Communist Party of China. The first China-Arab Summit will usher in a new era of relations between China and the Arab world and become an epoch-making milestone in the history of China-Arab relations.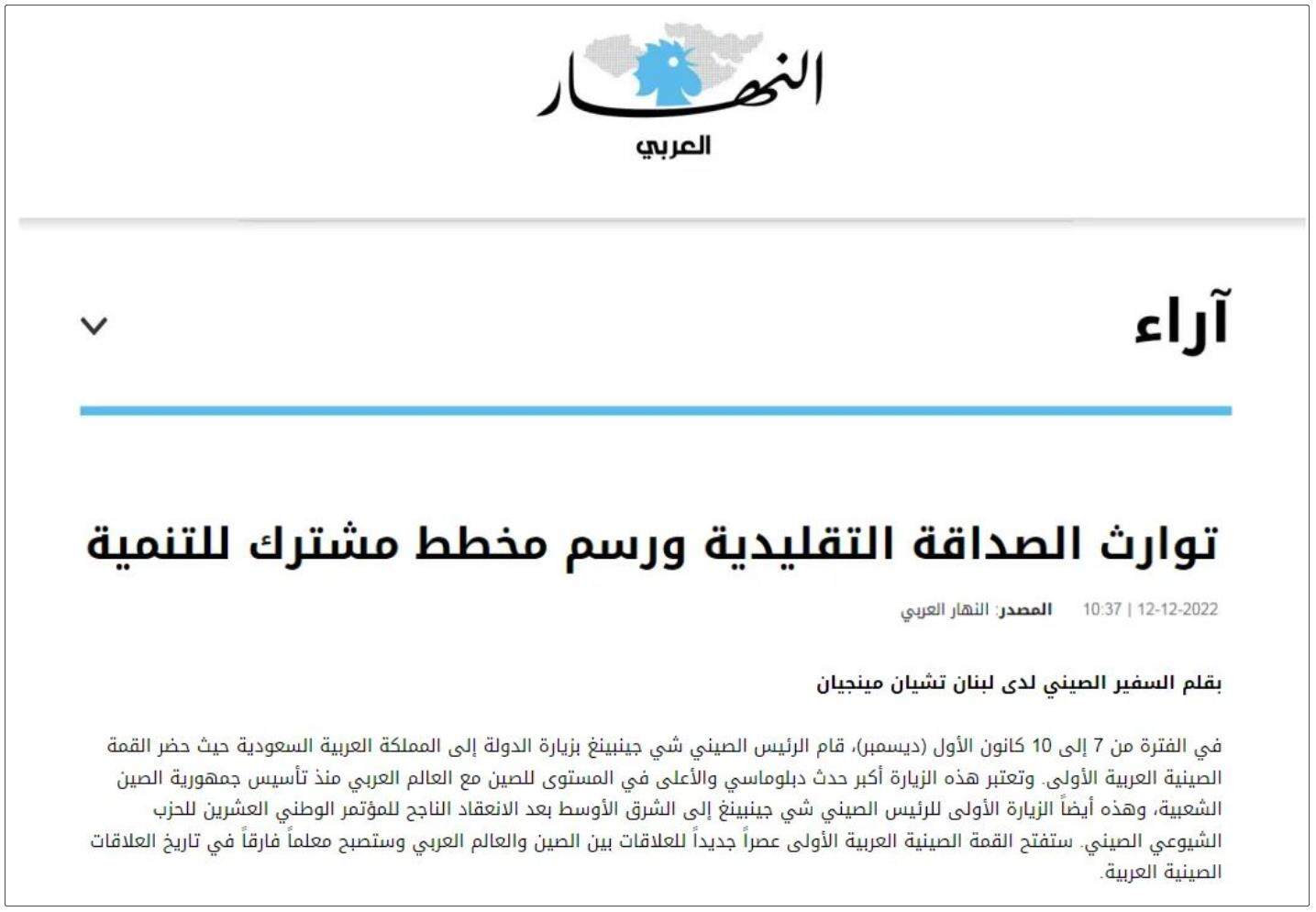 China-Arab relations have a long history. As early as more than 2,000 years ago, China and Arab countries made diplomatic relations through the Silk Road, writing a historical story of mutual learning, mutual benefit and win-win results. Since the founding of New China, China and the Arab countries have always understood and respected each other, supported each other on issues concerning each other's core interests, worked together in the cause of realizing the dream of national rejuvenation, and stood together in the fight against the new crown epidemic. The two sides have condensed into the Sino-Arab friendship spirit of "mutual assistance, equality and mutual benefit, tolerance and mutual learning".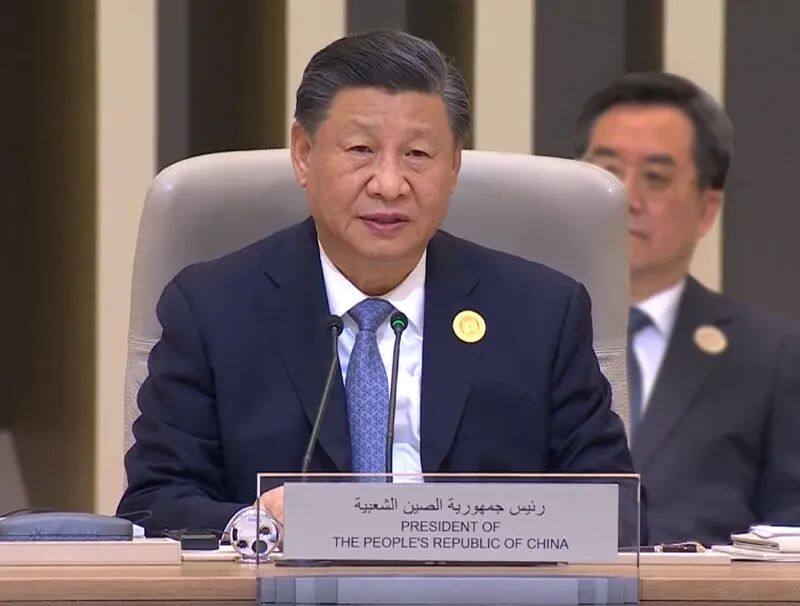 In the past 10 years, socialism with Chinese characteristics has entered a new era, and China-Arab relations have also entered a new era. China and Arab countries have collectively established strategic partnerships featuring comprehensive cooperation, common development, and future-oriented development, and established 17 cooperation mechanisms within the framework of the China-Arab States Cooperation Forum. China's direct investment in Arab countries increased by 2.6 times, and the stock reached 23 billion US dollars. 20 Arab countries have signed cooperation documents with China on the joint construction of the "Belt and Road", and implemented more than 200 projects, benefiting nearly 2 billion people on both sides. Seventeen Arab countries support global development initiatives, 15 Arab countries have become members of the Asian Infrastructure Investment Bank, and 14 Arab countries have participated in the China-Arab Data Security Cooperation Initiative. Lebanon is involved in these collaborations.
At present, the world is entering a new period of turmoil and change, and new and profound changes are taking place in the Middle East. Inheriting and carrying forward the spirit of China-Arab friendship and building a closer China-Arab community with a shared future is a strategic choice for China and the Arab states to strengthen solidarity and cooperation. The summit issued the "Riyadh Declaration of the First China-Arab Summit", "Document on Deepening China-Arab Strategic Partnership for Peace and Development" and "Outline of China-Arab Comprehensive Cooperation Plan", announcing that China and the Arab states agreed to build a new era-oriented China A community with a shared future for Afghanistan, jointly drawing a blueprint for the future development of China-Arab relations. As the first step in building a China-Arab community with a shared future and implementing the "China-Arab Comprehensive Cooperation Plan", in the next 3 to 5 years, China will work with the Arab side to promote the "eight major joint actions", covering support for development, food security, health, Eight fields including green innovation, energy security, dialogue among civilizations, youth development, security and stability.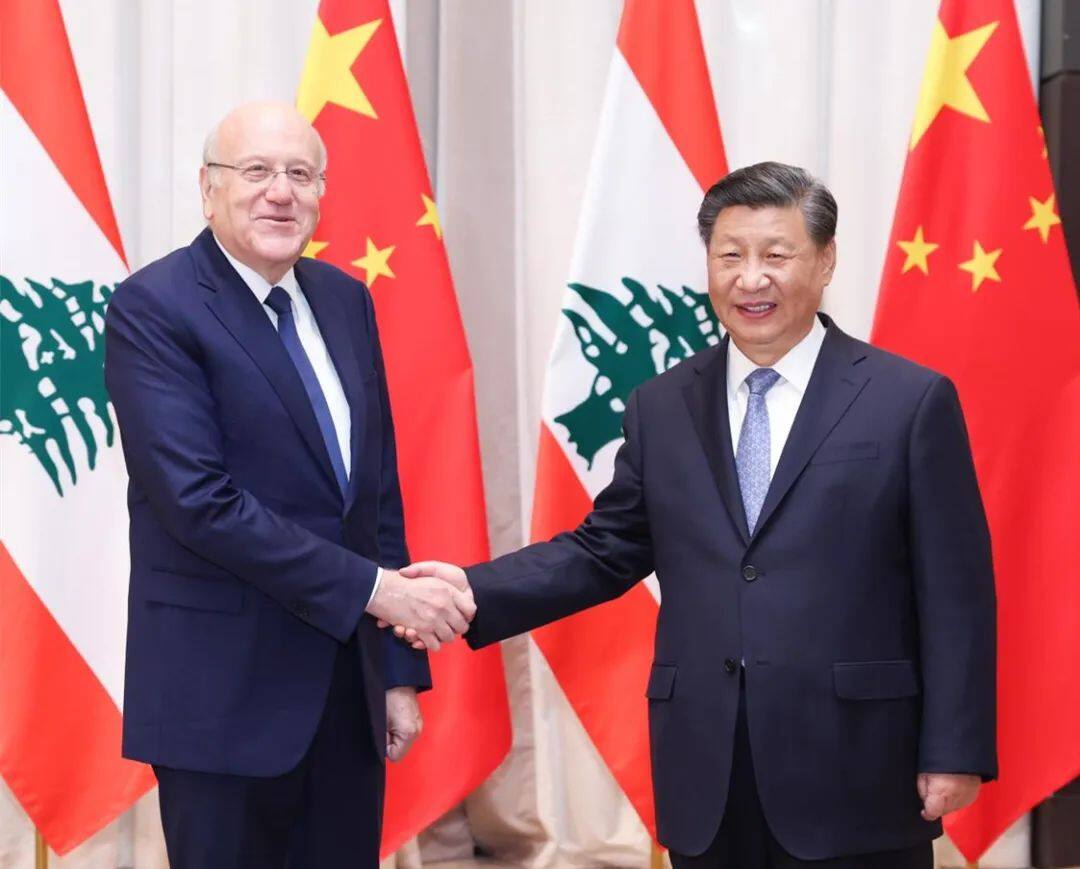 During the summit, President Xi Jinping held a bilateral meeting with Prime Minister Mikati. President Xi Jinping pointed out that China firmly supports Lebanon in safeguarding its sovereignty, independence and territorial integrity, supports Lebanon in maintaining national security and stability, opposes external forces interfering in Lebanon's internal affairs, and will continue to faithfully fulfill its peacekeeping mission and speak out for Lebanon on international and multilateral occasions. China is willing to deepen cooperation with Lebanon in jointly building the Belt and Road Initiative, and encourages competent Chinese enterprises to participate in Lebanon's economic and social construction. This is the most important meeting between the leaders of China and Lebanon in recent years. It has pointed out the direction for the development of bilateral relations in the next stage, and will surely promote the practical cooperation between China and Lebanon to achieve new results in various fields.
On the new journey of comprehensively advancing the great rejuvenation of the Chinese nation with Chinese-style modernization, China will always adhere to the foreign policy purpose of maintaining world peace and promoting common development, firmly pursue an independent foreign policy of peace, adhere to the basic national policy of opening up to the outside world, and actively participate in global The reform and construction of the governance system will provide new opportunities for the world with China's new development. China is willing to take this China-Arab summit as an opportunity to work with Arab countries including Lebanon to carry forward the traditional friendship between China and Arab countries, continuously enrich and deepen the pattern of all-round, multi-level and wide-ranging cooperation between China and Arab countries, and jointly build a China-Arab cooperation in the new era. The Arab community of destiny will benefit the people of both China and Afghanistan, drive the unity and cooperation of developing countries, and jointly maintain the cause of world peace and development.Editor/Xing Wentao