Technology
The most beautiful oasis of card punching Traveling to Peru with XCMG pump truck
XCMG will continue to provide high-quality products with excellent performance to the market based on the needs of global customers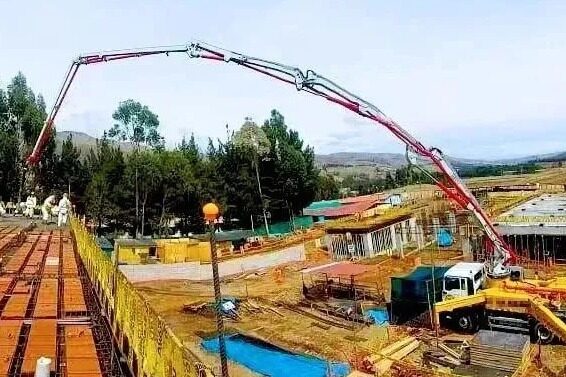 Reading this article requires
The coast, mountains, plains and forests are on the beautiful west coast of South America, and XCMG pump trucks are busy to inject new impetus into the "most beautiful oasis" - Peru's infrastructure
In the mountains and plains of Peru, the V7 series concrete pump truck of XCMG is flexible and efficient, which makes it stand out in the front line of the project. With the continuous development of the economy, the Peruvian government has recognized that insufficient infrastructure restricts economic and social development. In recent years, the Peruvian government has continuously prepared and issued development plans for relevant infrastructure and livelihood projects to encourage and support infrastructure construction.
One third of Peru's land area is mountains, with plains, forests, coasts and other geographical environments. Peru has 28 of the world's 32 climates. The complex geographical and climatic environment has great challenges to the adaptability and reliability of construction machinery and equipment.
XCMG pump truck is customized and upgraded according to the complex local geographical environment: the whole vehicle is lightweight designed, matched with high-power engine, and has more power. It can easily face the potholes and muddy road conditions during construction and driving. At the same time, the adaptive energy-saving technology of pumping power and the optimized pumping strategy are adopted, so that the pumping capacity of the whole machine is stronger, the fuel consumption is lower and the performance is more lasting.
In addition, for the problem of limited construction area, XCMG also optimized and upgraded the boom and outrigger of the pump truck, with a smaller floor area, a larger scope of work, and stronger environmental adaptability, bringing customers a better construction experience.
In the future, XCMG will continue to provide high-quality products with excellent performance to the market based on the needs of global customers, bring new value experience to customers, and provide comprehensive construction solutions for global engineering construction and sustainable development.Editor/Xing Wentao
Comment
Please Login to post a comment