Construction
Fenghuangshan Reservoir Project in Guangde, Anhui Province starte
After the completion of the project, the drinking water safety of 500000 people will be guaranteed
Fenghuangshan Reservoir is a Class II large reservoir that combines flood control with irrigation, water supply and ecological environment improvement and comprehensive utilization of power generation
On February 6, 2023, the construction of Fenghuangshan Reservoir Project in Anhui Province was commenced in Wusha Village, Shijie Town, Guangde City, with a total investment of 6.05 billion yuan approved in the feasibility study.
The Fenghuangshan Reservoir Project is one of the planned projects listed in the Flood Control Plan of the Yangtze River Basin approved by the State Council in 2008 and the Flood Control Plan Report of the Shuiyang River, Qingyi River and Zhanghe River Basins approved by the Ministry of Water Resources in 2004. It is also the first major water conservancy project to be constructed in Anhui Province in 2023.
Project overview
The project is a Class II large (2) reservoir with comprehensive utilization of irrigation, water supply and ecological environment improvement combined with comprehensive utilization of power generation. The total storage capacity is 145 million cubic meters, and the flood control storage capacity is 45 million cubic meters. The main construction content of the project includes the main dam and auxiliary dam secondary buildings, including fishways and temporary buildings on the dam road, including diversion channels and other auxiliary facilities on the upstream and downstream cofferdams of the dam, The main construction period of the dam is 26 months.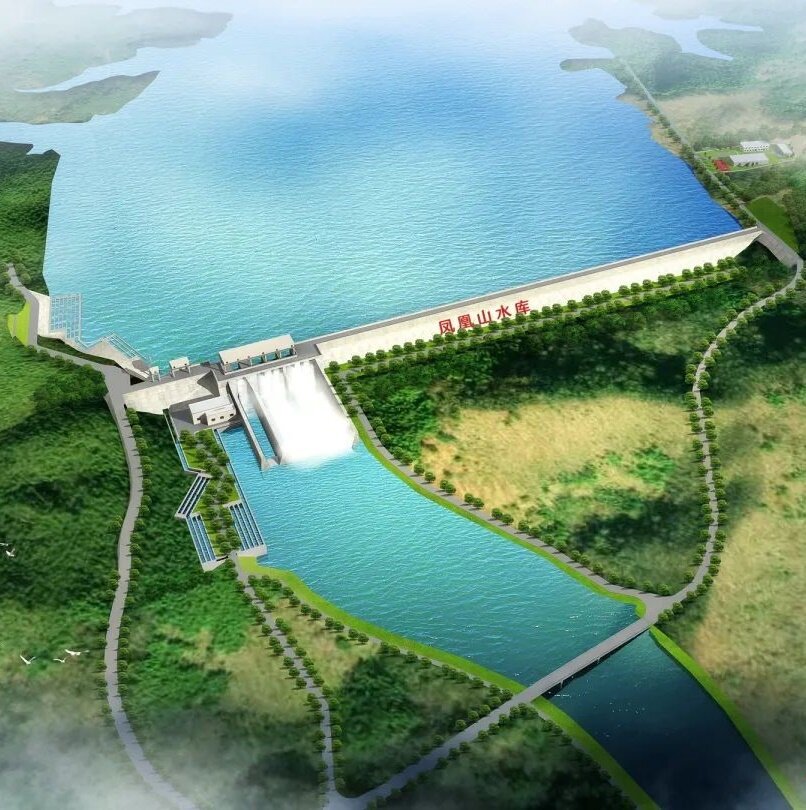 Rendering of Fenghuangshan Reservoir
It is reported that the completion of the Fenghuangshan Reservoir Project can effectively improve the downstream flood control standard. The flood control standard of Langxi County can reach a 50-year return period, which can irrigate 173200 mu of farmland, and provide reliable water supply with high assurance rate for Guangde.Editor/Ma Xue