Construction
20 major projects in Qingyang District, Chengdu started intensively
The fourth phase of the Qingyang Headquarters Economic Base project is expected to have a total investment of 2 billion yuan
In the first quarter of 2023 in Qingyang District, Chengdu, three major projects will be optimized and strengthened, with a planned total investment of 16.87 billion yuan
On February 6, 2023, the on-site promotion activities for three major projects to be optimized and strengthened in the first quarter of 2023 in Qingyang District, Chengdu were held at the site of the Phase IV project of the Qingyang Headquarters Economic Base, and 20 major projects with a planned total investment of 16.87 billion yuan were started intensively .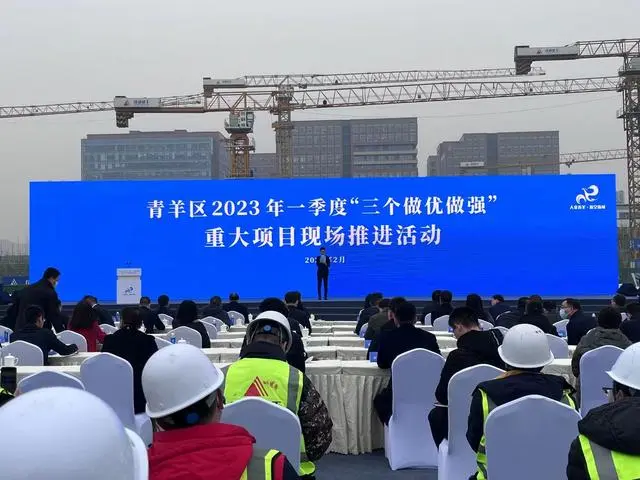 The fourth phase of Qingyang Headquarters Economic Base, where on-site promotion activities are held, has a total construction area of 252,000 square meters and an estimated total investment of 2 billion yuan. After the completion of the project, the first, second and third phases of the Qingyang Headquarters Economic Base will be linked. The headquarters economy will be the functional form and the technology service will be the main development direction. It will be one of the core functional projects of Tianfu Power Source in 24 key areas of Chengdu. , the future Qingyang Headquarters Economic Base will become a Chengdu new economic industrial eco-city full of innovative vitality and international competitiveness.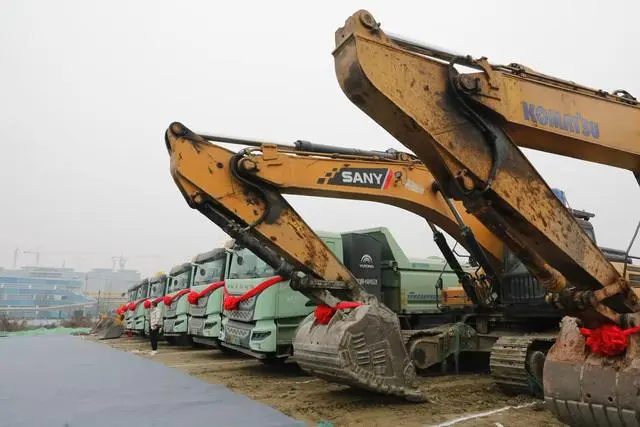 At the event site, relevant persons in charge of Chengdu Industrial Innovation Design Functional Zone Management Committee and Tianfu Cultural Park Development Service Bureau respectively introduced the two key areas of Tianfu Power Source and Tianfu Cultural Park: Focusing on high-level construction of Tianfu Power Source, 2023 It will build a strong aviation technology innovation platform, accelerate the construction and implementation of the National High-end Aviation Equipment Technology Innovation Center, High-end UAV Science and Technology Innovation Center, and Sichuan Sensor Innovation Center; optimize and improve basic functions, and speed up the planning and construction of 8 future park communities including Wenjia; weave The traffic road network of Mixin City has implemented 55 infrastructure projects such as Guangying 1st Road and Guanghua North 9th Road; strengthened high-quality public services, and accelerated the implementation of 16 public construction supporting projects such as Kanghe Group 5 Primary School. Focusing on high standards, Qingyangyuan City with Tianfu Cultural Park as the core will be optimized. In 2023, key projects such as Kuanzhai Manli and Kuixing No. 1 Animation Industrial Park will be built with high standards; high-quality urban cultural brands will be built, and the first phase of Maha Pool will be strived for. It will be presented before the Universiade to promote the construction of the Donghuamen Heritage Park as soon as possible; to revive and strengthen the financial and commercial features, to speed up the construction of the Qingyang Financial Technology Industrial Park, and to complete the global bidding for the architectural design scheme of the TOD Financial Center project in Luoma City as soon as possible.
The relevant person in charge of Qingyang District said that in 2023, Qingyang District will closely focus on the high-quality construction of humanistic Qingyang·Aviation New City, adhere to the excellent city in two districts and the development of industries in four industries, and focus on the two key demonstration areas of Tianfu Power Source and Tianfu Cultural Park. Implement policies to speed up the optimization and strengthening of core functions, characteristic functions, and basic functions, and always regard project construction as the top priority of high-quality development, with the core goal of improving the quality and efficiency of key industrial chains, and solidly promote the establishment of industrial circles and strong chains. Plan an industrial map and strive to build a modern demonstration zone for the integration of industry and city. Editor / Zhao E