Product
China's first HA-class heavy-duty gas turbine was offline in Qinhuangdao
The offline gas turbine will be used in the comprehensive energy station of Huizhou Daya Bay Petrochemical Zone
The first domestic HA-class heavy-duty gas turbine is produced by Harbin Electric Power General Gas Turbine Qinhuangdao Co., Ltd., a joint venture between GE Gas Power and Harbin Electric Group
On February 14, 2023, the reporter from www.chinadao.com learned from Harbin Electric Power Group that the first domestic HA-class heavy-duty gas turbine produced by Harbin Electric Power General Gas Turbine (Qinhuangdao) Co., Ltd., a joint venture between Harbin Electric Power Group and GE Gas Power Generation, was successfully put off the production line at Qinhuangdao Heavy Combustion Base. This marks a breakthrough in the production and manufacturing technology of domestic heavy-duty gas turbines, which has played an exemplary role in China's energy equipment manufacturing.
It is understood that HA gas turbine technology represents one of the most advanced technologies in the field of gas turbine power generation. GE HA gas turbine is one of the largest and most efficient gas turbine generator units in the world, and also the fastest growing gas turbine installed capacity in the world in recent years. It is especially suitable for use as pure condensing power generation in large urban clusters or as peak-shaving units to complement renewable energy.
Among them, the output of 9HA.01 gas turbine power plant can reach 661 MW, and 9HA.02 gas turbine can reach 838 MW, which is equivalent to 660 MW and 1000 MW coal-fired power units in China, and can be used as base load power to replace coal-fired power plants. In terms of efficiency, the efficiency of 9HA.02 gas turbine combined cycle has reached more than 64%.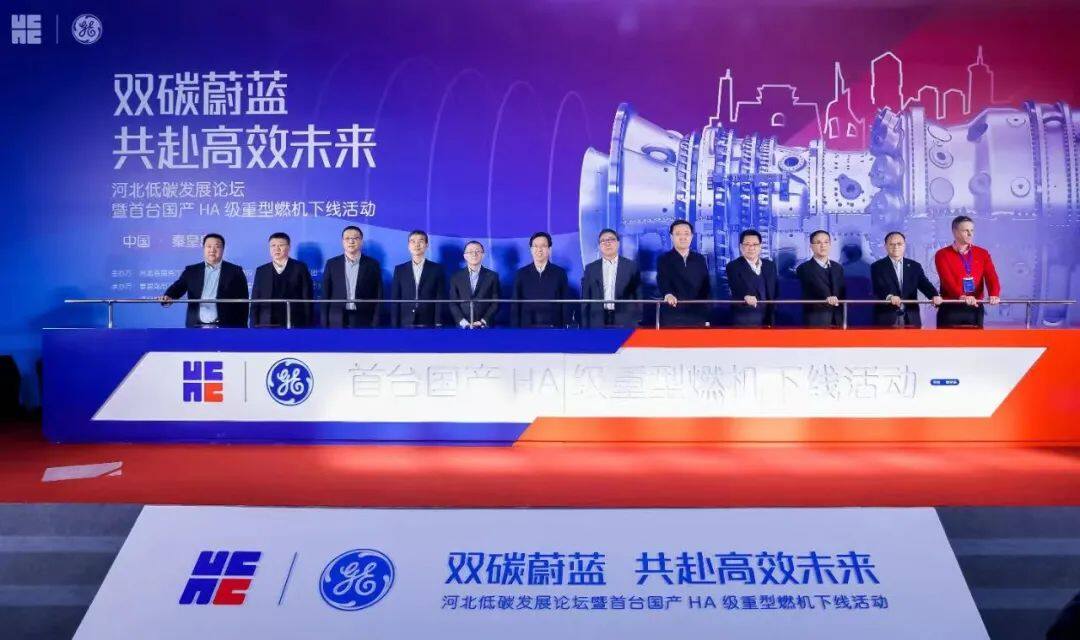 Guests jointly launched GE 9HA.01 gas turbine offline on site
It is reported that the offline gas turbine will be transported to Huizhou, Guangdong Province, for use in the comprehensive energy station of Huizhou Daya Bay Petrochemical Zone. After the project is put into operation, the gas turbine will use 10% (by volume) hydrogen blending ratio to mix with natural gas for combustion, becoming the first 9HA power plant with natural gas-hydrogen dual fuel in China, adding 1.34 gigawatts of power supply capacity to the local area.Editor/Ma Xue